Amber Heard's Team Claims Johnny Depp's New Interview Is "Continuing His Psychological Abuse"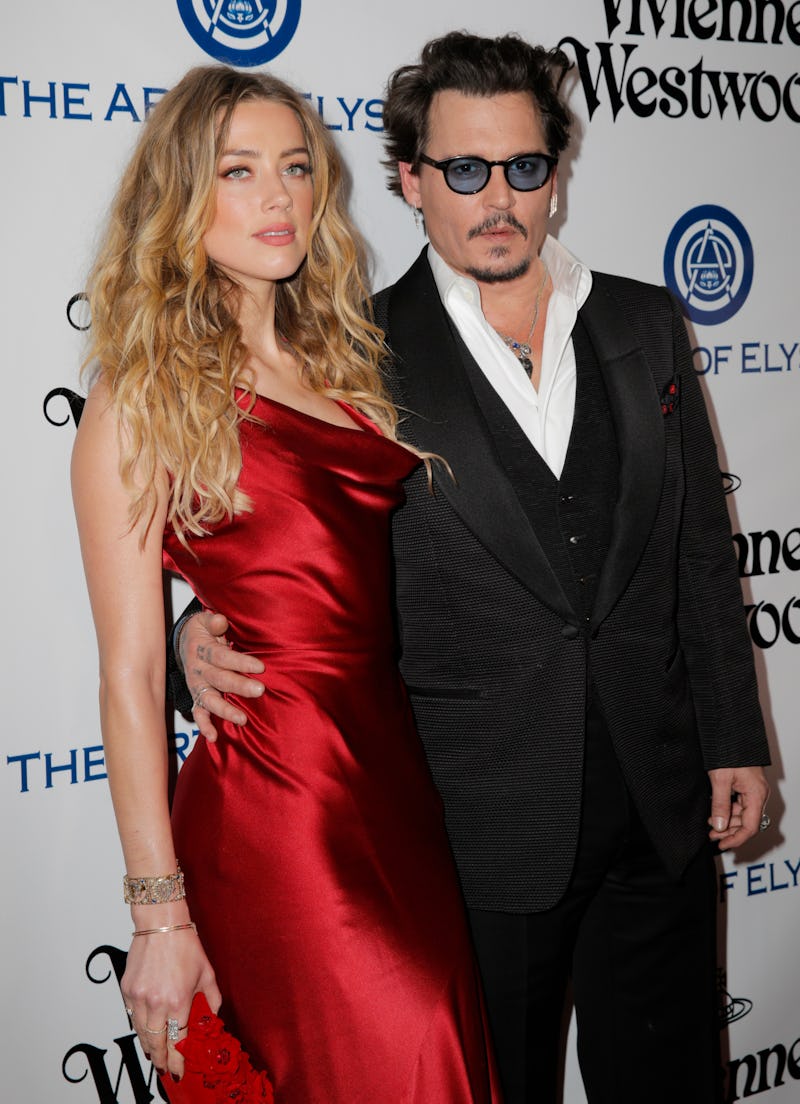 Alison Buck/Getty Images Entertainment/Getty Images
Their divorce was settled two years ago, but Amber Heard and Johnny Depp are still making headlines. On Thursday, Heard responded to Depp's recent British GQ interview, where he opened up about the domestic abuse allegations she made against him. (Depp previously denied the abuse allegations through his lawyer.) And after Depp told GQ that Heard was making him sound like a "bully" and he would "never stop fighting" the claims she made about him, the Aquaman actor has issued a statement through her lawyer.
In the U.K. magazine, which hit newsstands on Thursday, Depp said that he wasn't interested in getting in a "pissing contest" with Heard and would rather let their lawyers handle it. He said to GQ:
"To harm someone you love? As a kind of bully? No, it didn't, it couldn't even sound like me. So, initially, I just kept my mouth shut, you know? I knew it was going to stick on me and it would get weirder. Keep going, you know? Go nuts. I ain't going to get into a pissing contest with someone about it. Spit out what you need to spit out and, you know, my attorneys will take care of the rest. I never went out and spoke about the sh*t."
Then, Depp went on to claim that Heard's divorce settlement was going to "take away future earnings that are for my kids," later adding that he "probably shouldn't be talking about this."
On Thursday, Heard's lawyer released a statement to various publications, including Bustle, regarding the situation:
"It is outrageous that GQ never spoke to any of the multiple witnesses to Mr. Depp's physical abuse of Ms. Heard prior to publishing its article. If GQ had done even a basic investigation into Mr. Depp's claims, it would have quickly realized that his statements are entirely untrue. Mr. Depp has blatantly disregarded the parties' confidentiality agreement and yet has refused to allow Ms. Heard to respond to his baseless allegations, despite repeated requests that she be allowed to do so."
The statement went on to claim that, through his GQ interview, "Mr. Depp is shamefully continuing his psychological abuse of Ms. Heard, who has attempted to put a very painful part of her life firmly in her past. One need only look at the physical evidence to draw the proper conclusion."
In response to Heard's new comments, Depp's lawyer, Adam Waldman, released a statement to Bustle via email, which reads, in part:
"In his GQ interview, Mr. Depp is simply defending himself against Ms. Heard's lingering false abuse accusations. Johnny Depp is a victim of violent abuse. In UK court proceedings next month, we will be submitting clear evidence of the violence committed serially against him by Ms. Heard and the serious injuries that he suffered. We will also submit overwhelming evidence that Ms. Heard faked the abuse allegations against Mr. Depp."
Waldman also addressed the former couple's confidentiality agreement: "Ms. Heard started violating it before the ink dried, first with a statement, and soon after with a domestic violence PSA asking 'how is this happening to me?' purporting to give advice to real victims. More breaches followed."
The statement on Depp's behalf continued, "The only 'shameful psychological abuse' stems from Ms. Heard's continuing cynical manipulation of the important #metoo movement and its real victims, that she has used to pursue her own ends."
As a refresher, in August 2016, when Depp and Heard settled their divorce, they made a joint statement to TMZ stating that neither of them made "false accusations for financial gains." The statement read:
"Our relationship was intensely passionate and at times volatile, but always bound by love. Neither party has made false accusations for financial gains. There was never an intent of physical or emotional harm. Amber wishes the best for Johnny in the future. Amber will be donating financial proceeds from the divorce to a charity."
When the divorce was finalized, TMZ also reported that Depp would have to pay Heard $7 million as part of the settlement. In April of this year, it was reported that Heard followed through with donating a portion of the money to charity.
If you or someone you know is experiencing domestic abuse, call 911 or the National Domestic Violence Hotline at 1(800) 799-SAFE (7233) or visit thehotline.org.