America Is Split On Whether We Need New LGBT Protections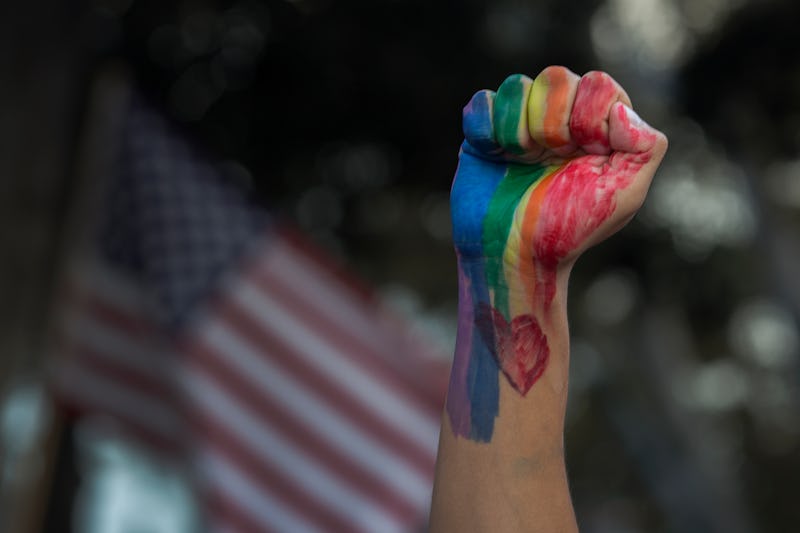 David McNew/Getty Images News/Getty Images
A recent poll from Gallup shows that Americans are split when it comes new LGBT protections, with 51 percent in favor of new civil rights laws that specifically protect lesbian, gay, bisexual, and transgender people. Forty-six percent say that such laws are not needed, while three percent had no opinion. To likely little surprise, this relatively even divide correlates heavily with party lines.
Among the demographics surveyed, liberals were the group most in favor of more legal protections for LGBT people, with 76 percent saying new laws are needed and 20 percent saying they are not. Republicans were the least in favor with only 27 percent saying new laws are needed and 70 percent saying they are not. Women, young people, and people who aren't white were among demographics most in favor of new LGBT protections. While the U.S. has made strides in favor of LGBT rights, both in terms of public opinion and public policy, we arguably still have a ways to go.
According to another recent Gallup poll, support for marriage equality is at an all-time high. Sixty-four percent of Americans support the legalization of same sex marriage. However, that in turn means roughly one third of Americans don't think gay marriage should be legal. While the opinion of one out of three people doesn't negate the fact that marriage equality is a constitutional right, it is certainly shows our country is not in completely agreement when it comes to LGBT rights.
When Gallup first polled Americans in 1996 on their opinions on same sex marriage, the numbers were almost inversed. Only 27 percent of Americans surveyed said they supported the legalization of same sex marriage. In a little more than two decades, and in many of our lifetimes, we've seen the public opinion of gay marriage change drastically. While not yet perfect, LGBT representation in film is improving. Legislation, media representation, and public opinion are all deeply intertwined. Strides made in one help influence change in the others.
A survey done last year shows Gen Z is more queer when it comes to sexual orientation than previous generations. Only 48 percent of young adults born between 1996-2010 identify as exclusively heterosexual. They are reason number one why we need to make sure there are ample legal protections for LGBT people. If you need reason beyond that, here are seven.