Leslie Grossman Believes Women Will Save The World On 'AHS: Apocalypse' — And IRL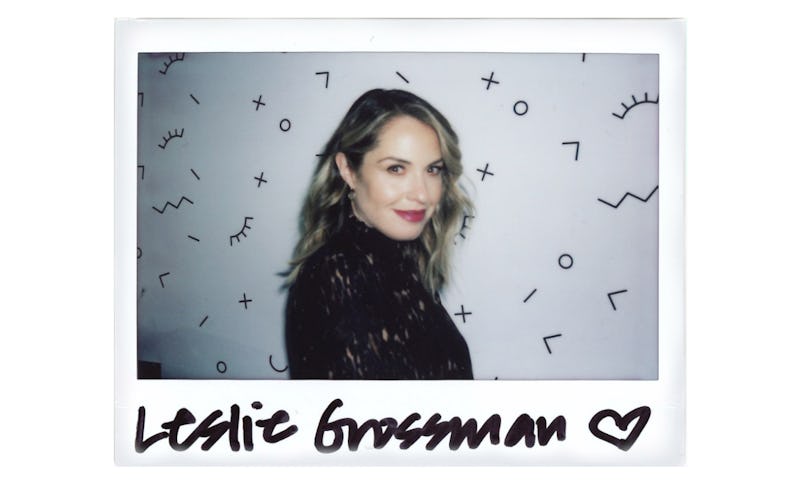 When celebrities hang out with Bustle writers, we want to give them the chance to leave their mark. Literally. So we hand them a pen, a piece of paper, a few questions, and ask them to get creative. The rest is up to them. This time, American Horror Story star Leslie Grossman is leaving her mark in the Bustle Booth.
Like many of the characters she's played, Leslie Grossman is candid and effortlessly hilarious when she visits the Bustle offices. And while you might have started this season of American Horror Story writing off Grossman's Apocalypse character as callous and self-absorbed, Coco St. Pierre Vanderbilt has proven to also be warm and gracious like the actor who portrays her. Besides AHS, Grossman recently returned to The Good Place as Eleanor's mom, and no matter what project she's discussing, she praises the many women (and men) she has acted with and the work-turned-real friendships she cherishes. Clearly, Grossman understands the importance of collaboration, genuine bonds of friendship, and the power of women — all things that she promises will come into play during the AHS: Apocalypse finale on Nov. 14.
Grossman calls the ending of Apocalypse a "battle royale." Yet, the battle in "Apocalypse Then" against Antichrist Michael Langdon (Cody Fern) will bring out the best in the Coven witches. "The connections between the witches really deepen," Grossman says. "They're unstoppable once they work together."
The last time viewers saw Coco in the present of AHS: Apocalypse, she had just been told she was a witch. She pledged to fight alongside Cordelia (Sarah Paulson), Myrtle (Frances Conroy), and Madison (Emma Roberts), and newly-awakened witches Mallory (Billie Lourd) and Dinah (Adina Porter) to take down Michael. Since then, AHS revealed Coco's unconventional power of detecting gluten, but also that the witches have a time travel plan to stop the nuclear holocaust from ever happening. Grossman says the Apocalypse finale will be a "really satisfying ending for the fans" that answers a lot of questions. "You'll see exactly how it goes down," she says. "Exactly who we are, how we know each other, why we're there. That will be very clear."
Apocalypse marks Grossman's second appearance in Ryan Murphy's anthology franchise, but her relationship with the prolific creator started two decades ago. Grossman's breakout role was as the iconic Mary Cherry on Murphy's Popular. "I really owe everything to Ryan. His first series was my first series," Grossman says. "I tested for a part that I did not get and Ryan then wrote me a part in the show. He has been a guardian angel. He's been someone who's always believed in me."
In the world of AHS, women are in control, as witches are more powerful than warlocks. And while the time-jumping Mallory appears to be the most skilled witch, there are fan theories that Grossman's Coco could actually be the next Supreme. Either way, it's no coincidence that women are in power in Apocalypse. Grossman says that Murphy "has been such an incredible ally to women" and cites his Half Initiative, which aims to create equal opportunities for women and minorities behind the scenes. When talking about opportunities for women, it may seem ironic to give credit to a man. But Grossman notes the importance of someone as powerful as Murphy stepping up to fight inequality. "You need allies to help and to open doors for people," she says.
Gender equality is important to Grossman in realms beyond the entertainment industry, too — she calls the number of women who ran for political office in the 2018 midterm elections "extraordinarily energizing and exciting." She's open about her liberal political views on social media, and while she says she was devastated by the results of the 2016 presidential election, she has been able to find a silver lining. "I have to say that it got people involved in a way that I don't think they ever were," she says. And when it comes to more women running for office? "It's what I want my daughter to see and I think this is a momentum that's only going to continue."
Over 20 years ago when I started acting, I just felt like I didn't even have a right to exist because I didn't look like a model.
Her daughter just turned 12, and Grossman strives to lead by example regarding gender expectations. "I know that she's watching every single thing that I do and I don't want her to see a mother who makes herself smaller to accommodate other people's wants and needs. I want her to see a mother who's making choices that are best for her," Grossman says. "Obviously, always leading with kindness, treating everyone well. But ultimately, you have to do what's best for yourself."
Grossman knows too well the limitations placed on women as an actress in Hollywood. "Over 20 years ago when I started acting, I just felt like I didn't even have a right to exist because I didn't look like a model," she says. But after "a lot of trial and error," she says she gained the confidence to realize: "I have more to offer than that. I think that you can have talent and a perspective and I think that there's other people who can relate and connect to me and that's important."
She continues, "I am over 40 and I think that when you turn a certain age, you realize what's important to you, what really matters. I really had a realization like, 'No one is going to tell me when I'm done. No one is going to tell me what I need to look like. No one is going to tell me that I'm not enough. I make those choices — other people don't make those choices."
Grossman says that men made these "rules" that women need to look and act a certain way. "But then women started to impose those rules on themselves. It's sort of like Stockholm syndrome where you start to identify with your kidnapper," she says. "I just think that, as women, we need to say, 'It's enough. We are now going to decide what's in our best interest. Not other people.'"
She adds, "I don't want to sound like an Oprah quote, but it's giving yourself permission to fully inhabit who you really are and not apologize for it. Stop apologizing. Be who you are and if people aren't into it, that's really not your business or your problem. You just find that people that are into it."
Grossman says the Apocalypse finale in some ways mirrors the wave of female empowerment that's occurring in our current social climate. She says it reflects "the idea that it's women who are going to save the world. That we need women to save the world and you need to listen to women and you need to trust women. And that when women work together, that there is nothing that we cannot do." She adds, "I know that sounds like a platitude, but I think it's very real."
Check out her answers in her Bustle Booth below.