This Real Housewife Inspired Leslie Grossman's 'AHS: Apocalypse' Character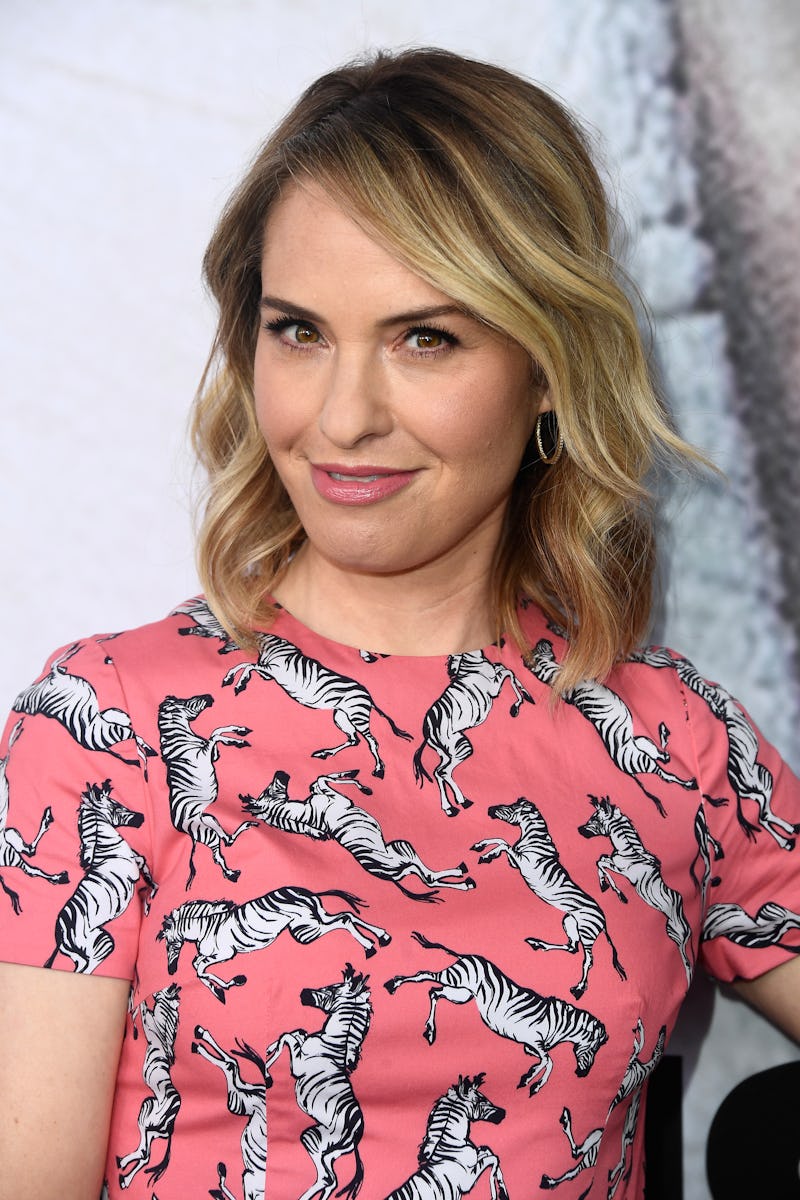 Frazer Harrison/Getty Images Entertainment/Getty Images
Does Coco St. Pierre Vanderbilt also believe that a good set of lashes can fix anything? As it turns out, Leslie Grossman's American Horror Story: Apocalypse character was inspired by a Real Housewife, the actress revealed in an interview with E! News, published on Thursday, Sept. 13. Real Housewives of New York City fans can probably already guess that the reality star she is referring to is, of course, hotel-dwelling socialite Tinsley Mortimer.
"To me, when I'm doing Coco, I draw from lots of different things ... but there's a lot of Tinsley Mortimer in her," said Bravo superfan Grossman. "I find Tinsley to actually be really sweet, but that was sort of my first place that I went to with my inspiration for Coco, with other things thrown in."
Grossman's character, who viewers met in the first episode of AHS: Apocalypse, is part of a group who survived a nuclear explosion and is seeking refuge at a fallout shelter known as Outpost 3. Much like RHONY, Outpost 3 has its own "pecking order," with Sarah Paulson's Ms. Wilhemina Venable assigning survivors to their places in the house's class system.
Uber wealthy heiress Coco, of course, is in the "elite" group known as The Purples, along with her assistant Mallory (Billie Lourd), Evan Peters' hair stylist character Mr. Gallant, his grandmother Evie (played by Dynasty legend Joan Collins), and Adina Porter's talk show host Dinah Stevens. The "worker ants," on the other hand, are relegated to donning a much less majestic gray color.
Which other Bravolebrities does she think would land a coveted spot in the group of purple-wearing elites? "I have to say, let's be honest, [Bethenny Frankel] for sure. Like for sure, for sure," the AHS: Cult alum added in her interview with E! News. "I also think [Vicki Gunvalson] from Orange County, the OG OC. I have joked Vicki is a cockroach and what I mean by that is she's indestructible and she is not going anywhere. I think that even if Bravo decided she was no longer going to be on the show, she'd be like, 'Yeah, I've got other opinions about that.'"
Also earning purple status, according to Grossman: RHOA's NeNe Leakes and RHONY's Sonja Morgan. "You know what? I could even see [Sonja] wriggle her way into that, you know what I mean?" joked Grossman, who also said she encouraged Paulson to watch RHONY in order to relax on the weekends. "I don't know how, but I feel like she would make friends with some sort of security person and sneak herself in in a cart."
Just as viewers know Tinsley — and so many other Housewives — rarely travel without their glam squads, Coco "only cares about [Evan Peters'] character because she needs her hair to be done," Grossman also joked to E! News. "Even though we're in the apocalypse, we can still have good hair." Spoken like a true Real Housewife.
During a November appearance on Bravo's Watch What Happens Live with Andy Cohen, Grossman even got the chance to film her own Real Housewife tagline. With fellow guest and RHOC' star Shannon Beador's encouragement, Grossman held out a prop orange, naturally, and, after one failed attempt, flawlessly delivered an AHS: Cult-inspired tagline: "All of my haters are just a bunch of clowns. No, seriously, they're a cult of clowns are they're going to kill us all."
Now that fans know the inspiration behind Coco's amazing one-liners in the Apocalypse premiere, it should only be a matter of time before she busts out some truly Bravo-level drama.