Women Ran In The 2018 Midterms As Their Unapologetic Selves — And It Worked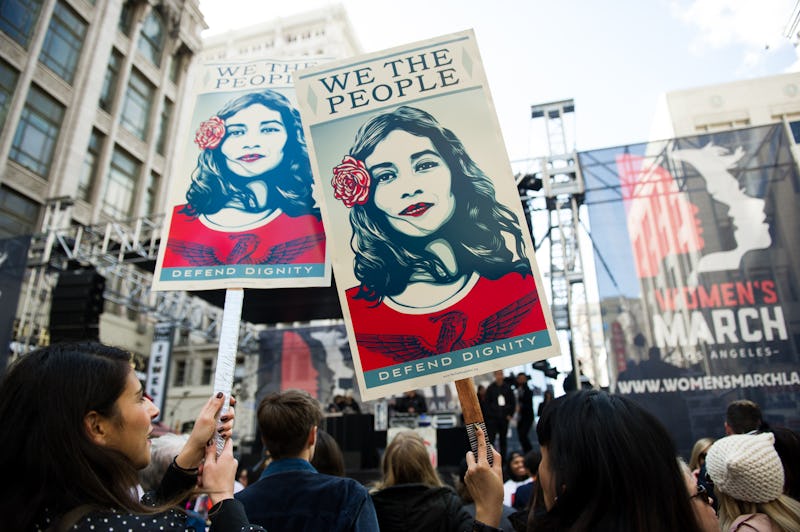 Emma McIntyre/Getty Images Entertainment/Getty Images
In this op-ed, Bustle features editor Gaby Moss looks at the 2018 midterm election results and explains why the way women ran in the 2018 midterms — completely unapologetic about who they are — helped change the face of politics.
Like a lot of Democrats, I woke up on Election Day 2018 prepared to end the night by either popping a bottle of champagne or quietly choking on my own tears. And like a lot of Democrats, I wound up emotionally torn — sad that the long-shot Democratic "blue wave" takeover of the Senate didn't happen, relieved that the "red wave" of Republican House wins never materialized.
I went to bed bummed that in Texas, Beto O'Rourke lost to Ted Cruz, but elated that Laura Kelly defeated Kris Kobach in the Kansas governor's race. It felt like for every thrilling win (don't let the door hit ya on the way out, Wisconsin Gov. Scott Walker!), there was an equally frustrating and depressing loss (how are people still voting for Steve King???). But beyond the high-profile races, there was another set of wins happening: women of color, members of the LGBTQ community, and other marginalized people were winning in Congress and in local races like never before.
While there's a strong impulse to paint the midterms as a referendum on Republican or Democratic policy points, there was an arguably more important conclusion to draw: these wins by marginalized people show that our ideas of what a successful American politician looks like are changing, and radically so.
These candidates refused to make themselves and their ideas smaller, refused to believe that the thing that would improve their chances of election was to stand for nothing much at all. Instead, they went all in on the idea that taking up room matters — with their policy ideas, with their beliefs, with their identity. They didn't just show that diverse candidates can win; they showed that diverse candidates can win with the same kinds of bold ideas that regularly make political stars out of white men.
Last night, we saw a number of firsts and records, including Sharice Davids and Deb Haaland becoming the first Native American women elected to Congress; Rashida Tlaib and Ilhan Omar becoming the first Muslim women elected to Congress; and Alexandria Ocasio-Cortez becoming the youngest woman ever elected to Congress. Overall, around 100 women won House seats.
The 2018 midterms were a sign that the future of politics — and politicians — is going to look different.
But these wins aren't just significant because they're "firsts." These wins shift our ideas of what a successful politician looks like, and how women and people of color should present their ideas in order to appear "electable." Female candidates are told they have to appear "likable," which can often translate to pushing softer, less groundbreaking ideas — see: Hillary Clinton, who admitted post-election that she had tried to refrain from ever appearing angry out of fear of alienating voters.
But the vast majority of the candidates who made up Tuesday's high-profile "firsts" were outspoken about the specifics of their progressive policies, as well as their identities. Ocasio-Cortez identifies as a democratic socialist, as does Tlaib. Omar ran on Medicare-for-all, as well as a $15 minimum wage. Davids and Haaland both spoke about the importance of government representation for Native Americans. Haaland campaigned on clean energy, while Davids openly discussed her own crushing student debt while pushing for student loan reform.
A number of conservative opponents were banking on the idea that these candidates were already potentially alienating to voters by virtue of not being straight, white men. They then worked to push the idea that candidates from marginalized groups who champion progressive ideas are extreme. Davids opponent, Rep. Kevin Yoder, released an ad calling her "Too Radical," while Kentucky representative Andy Barr (R-KY) released ads decrying his opponent, Amy McGrath, as "radical" and "too liberal" (McGrath ultimately lost).
Maybe a couple years living under the Trump administration has led us to view every election as an all-or-nothing battle. The 2018 midterms weren't that. Instead, they were a sign that the future of politics — and politicians — is going to look different. The results indicated voters aren't just ready for that, they're excited for it. They don't ask candidates to be anyone other than themselves, and that's truly revolutionary. In one of her campaign ads, Haaland says, "Congress has never heard a voice like mine." Now Congress will — and hearing those voices will change everything.