This 'America's Funniest Home Videos' Spinoff Definitely Won't Be Family-Friendly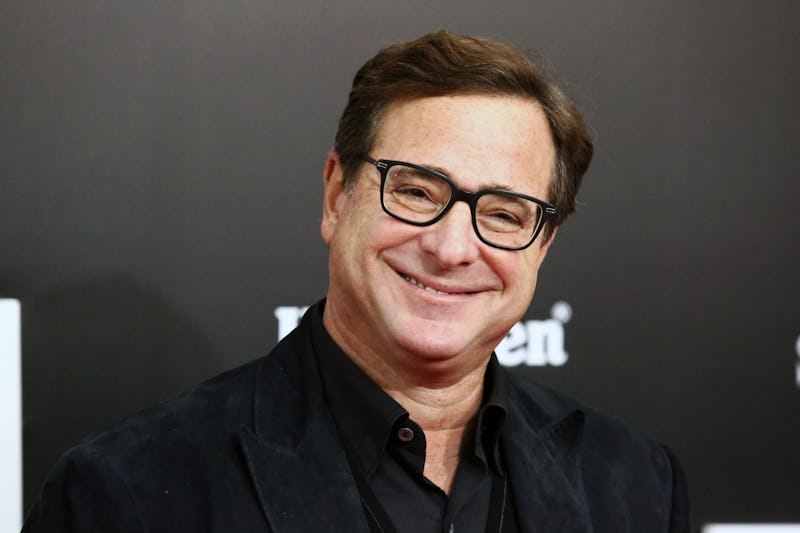 Astrid Stawiarz/Getty Images Entertainment/Getty Images
"You're the red, white and blue. Oh, the risqué, too-hot-for-TV things you do. America, America this is you." OK, those weren't the actual theme song lyrics to America's Funniest Home Videos, but they could very well be the lyrics to the new show now. According to Variety, Bob Saget will host an America's Funniest Home Videos late-night spinoff called Videos After Dark — but you probably won't want to watch this R-Rated version of the original series with your kids.
Chances are, if you grew up in the '90s, you caught at least a few episodes of America's Funniest Home Videos (AFV). Saget was the first-ever host of the now long-running clip show — which is currently hosted by Alfonso Ribeiro — and remained in that position until 1997. He hasn't been back to host, until now.
AFV was (and still is) 30-minutes of non-stop human error or chance occurrences captured on film, all involving some kind of mishap that makes audiences laugh. Perhaps someone bounces off a trampoline, or maybe a dog makes a funny sound. A baby whacks one of its parents in the face with food, or a baseball game goes hilariously wrong. No matter what the accident is, it's often a little painful, and a lot of funny. Granted, if you don't enjoy laughing at other people's pain, some of the videos featured on the show could be a bit much. Either way, the clips that made it to air were all pretty tame, pretty silly, and 100 percent OK for all-ages.
That will not be the case with Videos After Dark. While Ribeiro will continue to host the family-friendly version of AFV — which was just renewed for another two seasons, Variety reported — but Saget will be be breathing some new, slightly more risqué life into his old stomping grounds with the spinoff.
Rob Mills, the senior VP of alternative, late-night, and specials for ABC (the network that airs AFV and will air Videos After Dark in 2019) told Variety of the new show,
"AFV has been a fixture in households across America for decades, and we are so happy that this show still resonates. And now the generation that grew up with the hilarious Bob Saget as the host of AFV is old enough to stay up past 10 p.m. to see him on Videos After Dark."
Aside from the actual content of the videos being shown, there will be a few other differences between AFV and Videos After Dark. First of all, there won't be any kind of contest tie-in to Videos After Dark. Instead, according to the show's producer Vin Di Bona, it'll focus on Saget's commentary and jokes.
"[Videos After Dark] is basically built around Bob [Saget] and his sensibility, his jokes — the one we know we're going to be able to get on the air," Di Bona told Variety. "We've already had meetings with [the network's] censors already, showing them the clips we have and for the most part we're getting their blessing."
It's not exactly clear what kind of videos After Dark will be showing — aside from the fact that they definitely won't be family-friendly — but Di Bona noted that they've been setting aside the more risqué submissions "since day one" of AFV. Sounds like that accidentally nip-slip you sent back in '97 might just see the light of day after all.