Ample Hills Just Announced Its Royal Wedding Flavor & It Totally Pokes Fun At Harry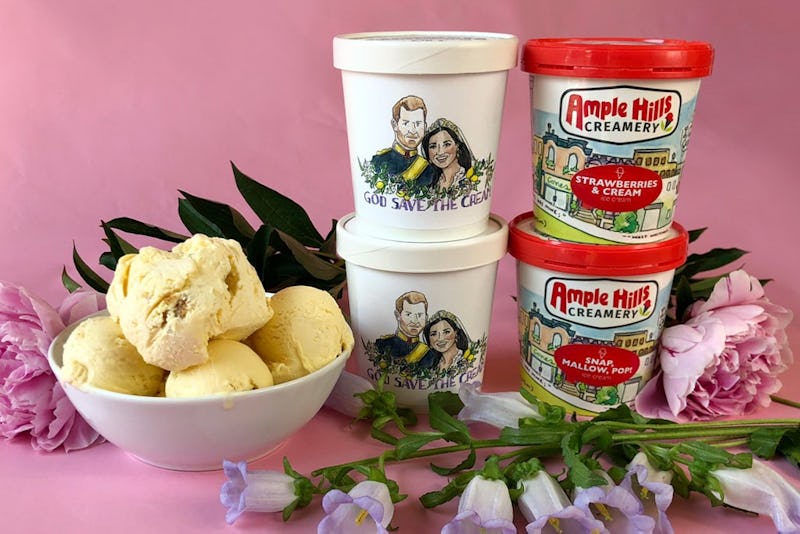 Ample Hills
Friends and fellow royal fanatics, I have good news and bad news. The bad news is that I lost that contest to pick a royal wedding ice cream flavor for Ample Hills in advance of Meghan and Harry's wedding, and I'm spiraling into irrational despair about it. The good news is that Ample Hills has announced the royal wedding ice cream flavor winner, and I begrudgingly have to admit that it is both clever, delicious-sounding, and very on brand for the couple, even if this loss is emotionally derailing for me.
The wedding flavor Ample Hills selected is "God Save The Cream," which, y'know, pun props where props are due. According to Ample Hill's, it's a "smooth lemon ginger ice cream made with pieces of housemade elderflower wedding cake and buttercream frosting." For those of you who aren't stalking royal wedding coverage to the point where you're afraid your life might lose some of its meaning after the big day is over, this ice cream is an homage to the wedding cake flavor that Meghan and Harry chose — a lemon elderflower cake, which caused a stir not just because it was unusual, but because it's a bit of a break in royal tradition. Typically, royal weddings serve fruit cake. (Thank you, Meghan, for saving the monarchy from themselves.) The ginger in the ice cream is likely a cheeky reference to Prince Harry's hair, which makes me hope that someone does the couple the good service of gifting them this ice cream just so he can have himself a well-earned "lol" about it.
The good news is, unlike the royal wedding itself, you don't have to journey far and wide to try this new flavor. Ample Hills is shipping it nationwide in its "Keep Calm & Berry On" four-pack of pints, which includes two pints of "God Save The Cream," one pint of "Strawberries & Cream," and one pint of "Snap, Mallow, Pop!" which is a rice marshmallow ice cream with baked rice krispie clusters.
Here's a picture of the "God Save The Cream" flavor, which looks very regal indeed.
"Keep Calm & Berry On" Four-Pack, $36, Ample Hills
Anyway, I guess all of us who lost this contest are going to have to wait until another extremely high-profile royal couple gets married for redemption, so I'll see y'all on Instagram in however many decades it takes for Prince George to get hitched.
In the meantime, there are plenty of other limited edition royal wedding-themed desserts hitting the market right now to whet your appetite. Dunkin' Donuts recently announced the release of a "Royal Love Donut," which will be available in stores from May 14 through May 20. It's shaped like a heart, filled with jelly, and topped with chocolate icing and strawberry drizzle.
For maximum sugar overload, you can also enjoy royal wedding-themed cupcakes at Sprinkles. The cupcake brand launched a "lemon blueberry cake with St. Germaine vanilla buttercream frosting topped with edible flowers," another tribute to the wedding cake flavor with a fun lil' twist that's only available from May 18 through May 20. They're also selling three packs of royal wedding-themed mini cupcakes in stores this month, so you can start celebrating early. If you don't happen to live within a close enough proximity to a Sprinkles that people are concerned about the number of trips you take to their cupcake ATM (I have NEEDS!!!), then you'll be happy to know that they'll ship these beauties nationwide.
Basically, there is no shortage of royal wedding-themed dessert options headed your way in the coming weeks, so if you find yourself without any grub at 5 a.m. when we all peel ourselves out of bed for wedding watch parties on May 19, you have nobody but yourself to blame.