Dunkin' Just Launched A Royal Wedding Donut That's The PERFECT Flavor For Harry & Meghan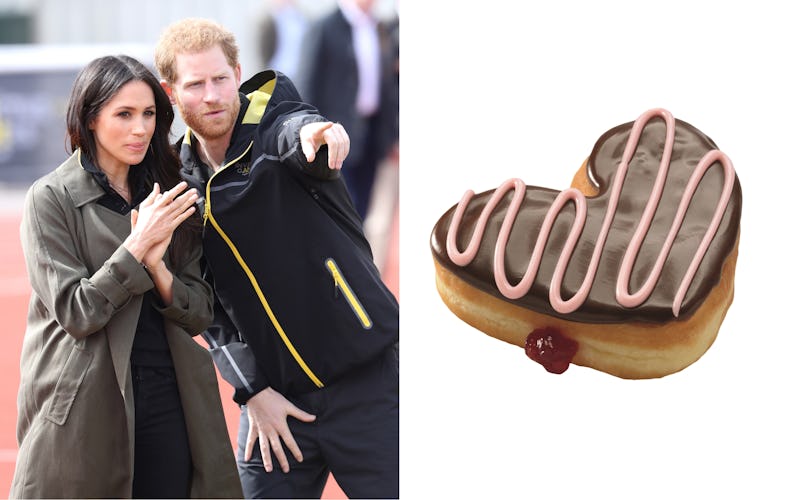 Chris Jackson/Getty Images Entertainment/Getty Images; Dunkin Donuts
It is unclear exactly what the British empire runs on, but here in America, we run on Dunkin'. Thus, it is only appropriate — nay, our patriotic duty — to mark the occasion of American princess-of-my-heart Meghan Markle marrying Prince Harry with Dunkin' Donuts' new royal wedding-themed donut. Dubbed "The Royal Love Donut," Dunkin' unveiled its delicious tribute to Harry and Meghan today in a press release, and it is every bit as extra as you're hoping it will be.
First of all, it's shaped like a heart, which any dessert connoisseur worth their sugar knows is scientifically proven to improve the flavor of everything. The donut is also filled with jelly (romantic!) and topped with chocolate (SWOON!) and a strawberry drizzle (take me, Dunkin'). Yes, it is a departure from the lemon elderflower flavor that Meghan and Harry chose for their wedding cake, but it's still super appropriate for the occasion — Meghan is known for choosing seasonal flavors, and we are right in the peak of strawberry season. And on a more romantic note, strawberries are a fruit with lore based in love and fertility, according to The Practical Herbalist; perfect tidings for a wedding (and for wee royals, if they do end up wanting them in the future).
"As the U.S. donut leader, we love helping our guests make special occasions both big and small even sweeter with fun donut designs and flavors," said Dunkin' Brands Chairman and Chief Executive Officer Nigel Travis — who happens to have a dual U.S./British citizenship — in a press release. "The Royal Wedding represents optimism, happiness and joy, and thus is a perfect opportunity for our brand to celebrate. We hope all donut lovers, royalty or not, will enjoy the new Royal Love Donut this week."
The Royal Love Donut will be available in Dunkin' Donuts stores for a limited time, from May 14 through May 20. That means you can have one every day leading up to the royal wedding, use one as a napkin for your tears during the actual ceremony on May 19 (Dunkin' will be opening at 5 a.m. that day, so they've got you covered!), and use the last one to absorb what I am assuming will be our very emotionally confusing noontime hangovers after popping champagne before the crack of dawn. (Time zones are never less convenient than they are during royal weddings, y'all.)
Behold — an image of the most romantic tribute to Meghan and Harry to date.
If you're profoundly committed to the royal Dunkin' experience, it apparently gets even more adorable than this: Dunkin' will be in New York City on May 14, with a pink and orange Dunkin' Donuts-branded horse drawn carriage that will be giving fans the true royal experience, letting them take rides around Central Park while feasting on Royal Love Donuts. BRB, putting all of that on my dream board immediately.
Of course, this is just one of many ways you can eat your royal wedding feelings this May. There is, of course, the royal wedding tea from Harney & Sons, which may be a saving grace when you're attempting to drag yourself up for early morning wedding watch. Eleni's also just dropped a line of cookies with Meghan and Harry's actual faces on them, so you can have your OTP and eat it, too. And if you're really short on themed ideas, you can channel Markle herself by trying some of her favorite recipes from her old lifestyle blog, The Tig. And then, obviously, wash it all down with a Royal Love Donut — because unlike Meghan and Harry's everlasting true love, these confections are only around for a week.