Amy Poehler Is Directing A Netflix Movie About Wine & Fans Are So Freakin' Here For It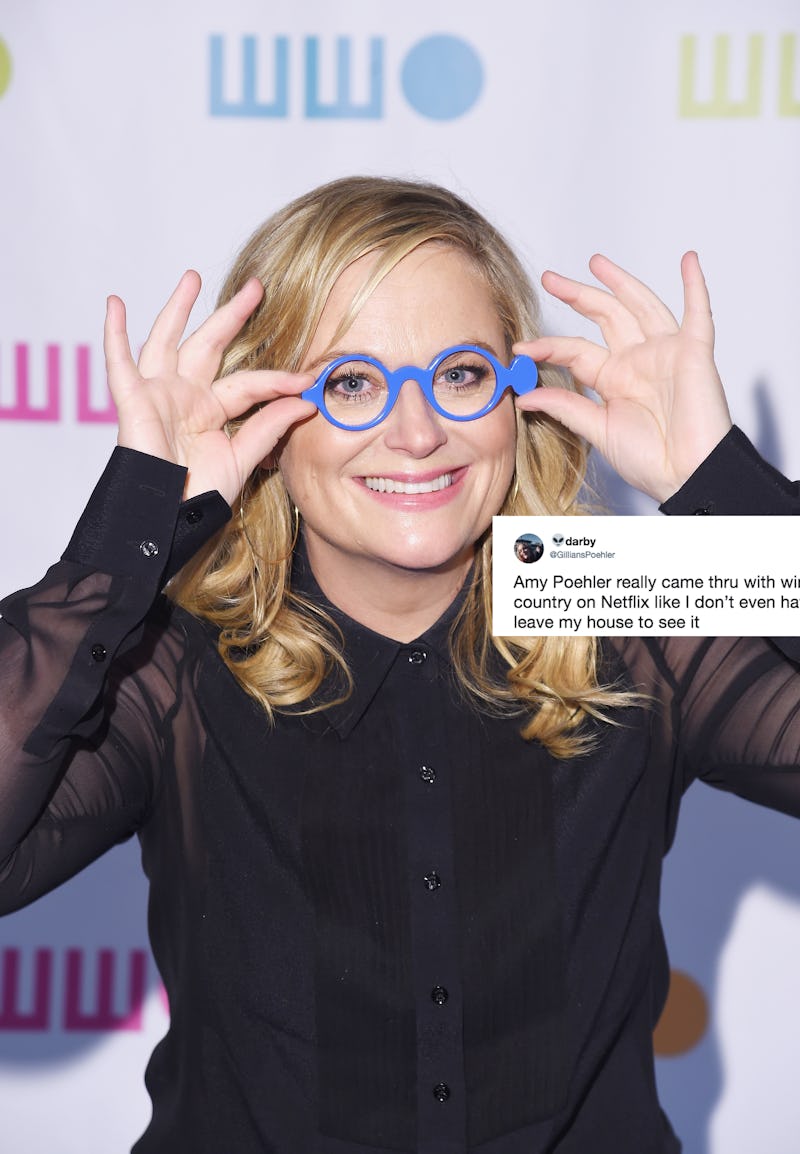 Getty Images/Twitter
Get ready to grab your glasses Amy Poehler's next film is called Wine Country because it's all about wine, and you're not going to want to miss it. The film, which Poehler directs, produces, and stars in, tells the story of a group of longtime friends who travel to Napa for a 50th birthday celebration, according to The Hollywood Reporter. And this Netflix comedy is going to be full of talent, because it also features some of the most kick-ass female comedians. On top of that, the Wine Country teaser that Netflix tweeted for the movie is just delightful. Amy Poehler and her equally hilarious famous friends, wine, and staying in doors? Is it any wonder that the three things inherent in this film already has fans freaking out?
The Hollywood Reporter, the film pairs Poehler with a host of Saturday Night Live alums. We've got Maya Rudolph, Rachel Dratch, and Ana Gasteyer, along with Paula Pell and Emily Spivey, both of whom have served as writers on the long running sketch comedy series. Poehler's friend and frequent co-collaborator, Tina Fey, will also have a feature role in the film. The entire experience should work out to be perfect, especially since, according to CNN, all of the women have collectively spent 39 seasons in front of SNL cameras.
Although there aren't many details about the movie so far, the title, brief description, and casting have fans convinced that the film will, at the very least, be hilarious. And Netflix pretty much set the stage for what's to come in its March 20 Twitter announcement, which features the group singing the late '70s hit "Whenever I Call You Friend" by Kenny Loggins feat. Stevie Nicks in unison, during what appears to be a girls night.
And fans obviously seem to be down with having wine with the women in this group. Twitter lit up with comments about the new movie soon after its announcement.
1. Mood AF
One fan celebrated the moment with throwback meme of SNL's "mom jeans" skit featuring Poehler, Rudolph, Fey, and Dratch.
2. OMG!
Another commenter shared a gif of Poehler and Fey dancing to convey their excitement.
3. More Girl Time, Please!
Someone would love to see an extended version of Netflix's amazing announcement featuring the group of talented women.
4. New Needs
This fan calls the moment something that they never knew they needed.
5. House Party
Another Twitter user is so happy that they won't even have to leave the house to see Poehler's new project.
6. Wine Time
Another social media user can't wait to watch the star studded cast with a bottle of wine in hand.
7. Can't Believe It's Real
Another fan couldn't contain their excitement after finding out that the movie was really happening.
8. Major Moves
Someone pulled out some major dance moves to celebrate the amazing moment.
9. Direct Deposit
Calling the snippet "the most effective movie preview" they've ever seen, this person is ready for Netflix to take all their money upfront.
10. Many Thanks
Meanwhile, this fan seemingly couldn't thank Netflix enough.
Although she's directed episodes of Parks and Recreation and Broad City in the past,Wine Country will be Poehler's feature directorial debut. Keeping things within the SNL family, the script was penned by Spivey and Liz Cackowski (also a former writer for SNL). No premiere date has been released as of yet, although THR reveals that principal photography is scheduled to begin at the end of this month.
With the announcement clip alone giving you all the feels of an ultimate girls' night, it's safe to say that this movie could already be well on its way to becoming one of the most intoxicatingly hilarious comedies to ever exist. At least, fans definitely seem to think so.