Amy Schumer Just Shut Down Pregnancy Rumors In The Most Amy Schumer Way Possible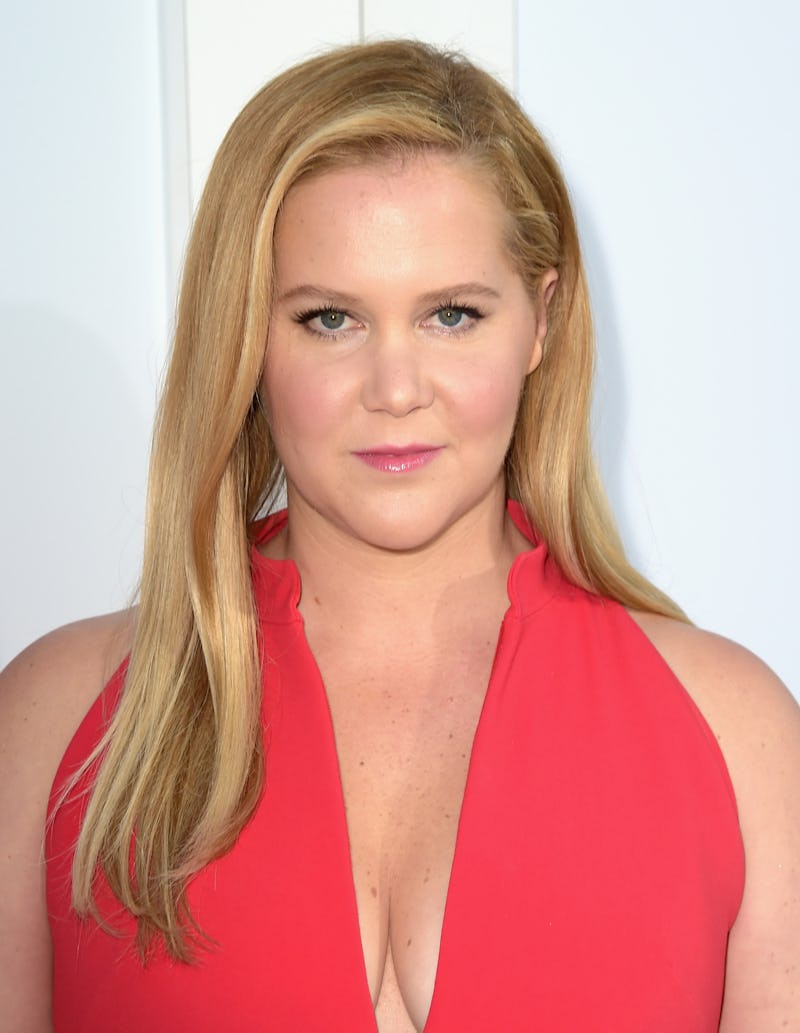 Kevin Winter/Getty Images Entertainment/Getty Images
Leave it to Amy Schumer to shut down gossip in the most on-brand way possible. Following the spread of fan speculation on Thursday, Schumer denied pregnancy rumors with a video on Instagram. Wearing sunglasses and sipping a cocktail, she made things incredibly clear — even though she probably shouldn't have had to explain herself in the first place. Still, props to her for shutting down the rumors with a sense of humor.
In the brief clip, Schumer explained what was really happening:
"I am not pregnant. [Sips drink.] I am not pregnant. I'm sorry, my friend said that my hands were near my — it looked like I was pointing to a bump or something, but I'm not."
Instead, she revealed that she and designer Leesa Evans are starting a clothing line "for all sizes and shapes and at a chill price point." Schumer clarified, "That's what I was trying to allude to, but thank you for thinking of my womb." She also jokingly captioned the IG video, "I always have a bump alert!"
So, wait, why did people think she was having a baby in the first place? According to Us Weekly, fans thought Schumer was pregnant because of a seemingly cryptic caption on a photo of her in a red dress with hands placed near her stomach. She wrote, "@leesaevansstyle and i are cookin somethin Up."
Instead of focusing on the fact that Schumer clearly tagged Evans in the caption, comments on the post ranged from, "She's pregnant. Zoom in and you can tell," to "Cooking a little one! You look preggers?" Sure, the hand placement could've been the main reason people thought she was making a family-related reveal, but at the same time, the comments focused too much on her body shape and making assumptions about the size of her stomach.
While this is something Schumer seemingly made light of in her follow-up Instagram caption, the notion that women's stomachs are up for discussion and debate is more than a little frustrating. A similar situation previously happened to Kendall Jenner, where a mirror selfie spurred pregnancy rumors, until she later tweeted the perfect clapback, "i just like bagels ok!!!" Meanwhile, Beyoncé has been subject to baby bump rumors lately, as concert attendees keep posting snaps of her stomach and speculating that a new sibling may be on the way for Blue, Rumi, and Sir.
Sure, the intention likely isn't malicious; people just get excited about celebrities' personal lives, as if they actually know them. But until a person announces their pregnancy, scrutinizing the shape of their body and assuming that they're with child is not the best approach. Plus, then these women have to awkwardly explain themselves in a public platform. Deciding to start a family and bring children into the world should be celebrated — if that's a choice a woman wants to make. And if that's the case, good for her. But still, that announcement should be made on someone's own terms and when she's ready.
Forcing famous people to address ridiculous rumors has gotten, well, a little ridiculous. It's cool that Schumer shut things down before the rumors ran rampant and did so with her signature humor. And if she does decide to start a family with her husband Chris Fischer at any point, that's great. But until then, let's shift our focus to what Schumer actually was trying to convey with her Insta announcement: a clothing line that sounds like it's giving women plenty of styles and sizes to pick from without breaking the bank. That in itself is exciting and something the world could always use more of. As for the unfair speculation? Less, please.