Amy Schumer Shared A "Sexy As Hell" Photo While Being Hospitalized For An Infection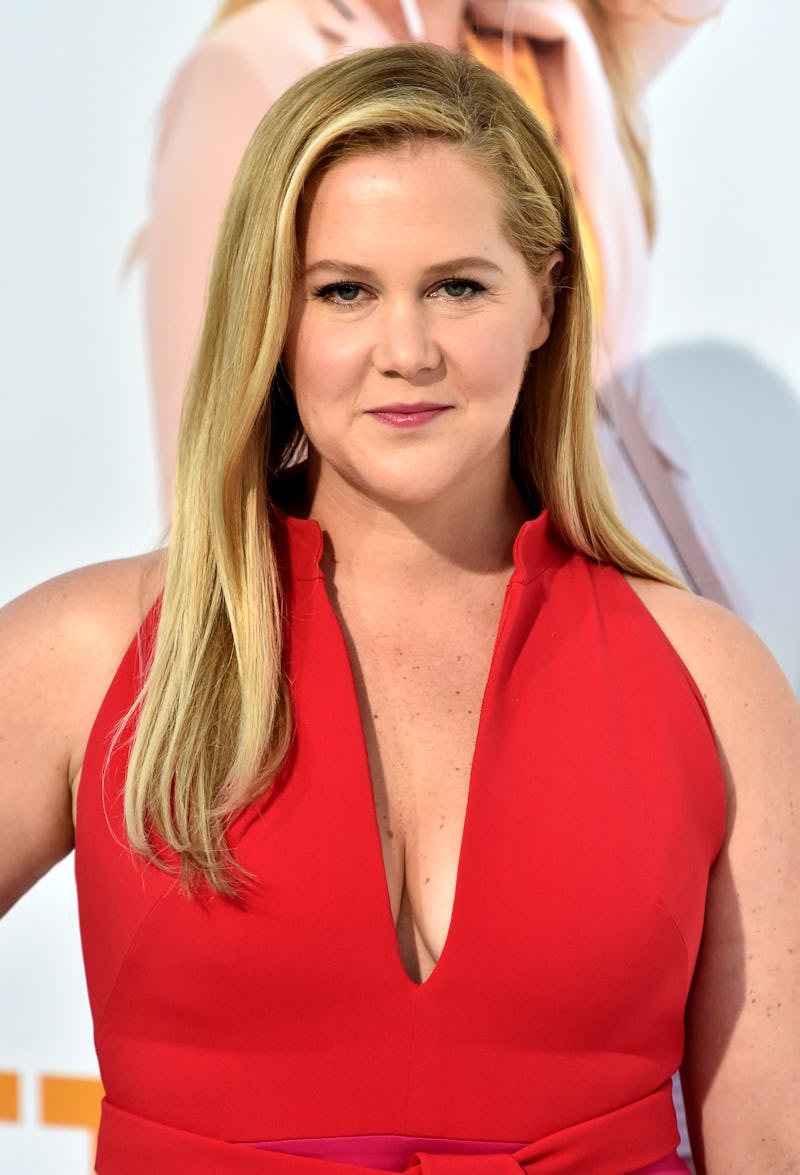 Frazer Harrison/Getty Images Entertainment/Getty Images
Just over a week after her new film I Feel Pretty hit movie theaters in America, Amy Schumer was hospitalized for a kidney infection. The comedian revealed her health scare on Instagram to explain her absence from the movie's May 1 premiere screening in London and to give her fans an update on how she is doing. As to be expected from the Trainwreck star, she kept her sense of humor even as she broached the serious subject.
Schumer posted multiple pictures on Instagram of herself in a hospital room. In the first she's reclining in a bed, with her face clearly in pain or discomfort and needles in her arm. "Here's what I've been up to this week," she wrote on Instagram. "I was hospitalized for 5 days with a horrible kidney infection."
She thanked the people who had been helping her through the infection, but still got in a small joke. She wrote, " I want to give a big thank you to the doctors, the bad ass nurses also my husband who's name is, i want to say, Chris?" She and her husband Chris Fischer married just a few months ago on February 13 of this year. Schumer also revealed that she was also surrounded in the hospital by her sisters "Kimby" (Kim Caramele, Schumer's frequent collaborator and her biological sister), and "mol" (Molly, Schumer's assistant and Fischer's sister — the happy couple met through her).
Schumer explained in her Instagram post that her illness would get in her way of traveling to England. She explained, "I wanted to share this with you because this is sexy as hell but mostly because I was meant to go to London for the opening of I Feel Pretty and my doctors have told me that's a no go." She explained that despite loving England and Europe, she needed to put her "health first."
Even though she's not able to attend the premiere, she still got in a good word for the comedy, which also stars Emily Ratajkowski, Aidy Bryant and real life best friends Michelle Williams and Busy Phillips. "I am so grateful for all the support the movie is getting," she wrote. "I hope people check it out in England and everywhere else in the world. It's sweet and fun and you will walk out feeling better." She added, "Which is something I hope to feel soon too."
I Feel Pretty is a comedy that covers topics like body image and self confidence. In the movie Schumer plays a woman who is insecure about her looks until she suffers a blow to hear head during a freak spin class accident. After she gets hurt she believes that her looks have altered and she suddenly she looks like a supermodel. As she gains confidence in herself, she becomes happier and more successful in her daily life.
Friday's batch of Instagram pictures was not the first time Schumer has documented a trip to the hospital. In the fall of 2016 she shared pictures of herself in a Paris hospital on Instagram, and on the same France vacation she detailed in several other posts her experience with a severe case of food poisoning. In one picture she posted, she and her boyfriend at the time, Ben Hanisch, can be seen lying in bed looking miserable. "Thanks for everything Paris! Except the food poisoning," she captioned the photo.
Though food poisoning certainly wouldn't be fun, Schumer was able to makes lemonade out of spoilt, rotten lemons when she turned the experience into a hilarious story on The Ellen DeGeneres Show. Though Schumer may be in pain now with her kidney infection, don't be surprised if in a few months from now it serves as fodder for her next stand-up routine.