'Andi Mack' Brings More Diversity To TV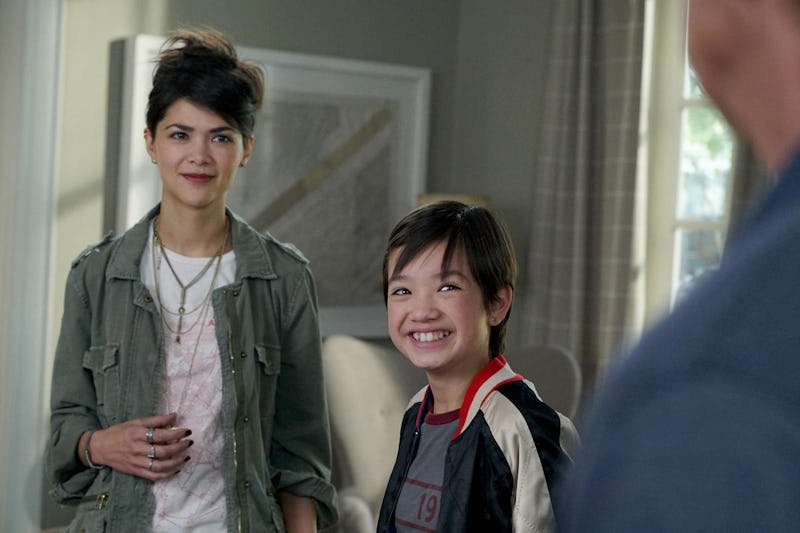 Disney Channel
I can pretty much name mainstream television shows that feature Asian-American families on one hand — Fresh Off The Boat, Dr. Ken, Master of None — and most of the shows that do put Asian characters in the spotlight are newer. So, while it's sad it's taken this long, it's great that the tide appears to be shifting. One more show that can be added to the short, but growing list? Disney Channel's Andi Mack which stars Peyton Elizabeth Lee, Lilan Bowden, and Lauren Tom as three generations of an Asian-American family. "The fact the show is so racially diverse makes it that much more special and it makes it stands out that much more," Lee tells Bustle. "Racially diverse leads are uncommon, so it's really exciting that I get to portray that kind of Asian American story."
Even as a pre-teen, Lee is wise beyond her years when it comes to serious topics like racial representation on television. And, she's excited that, though Andi Mack does bring diversity to TV, the show isn't just about race. Andi deals with problems that every other teenager encounters, and she's extremely relatable because of that. "I think it just goes to show that we're all the same, you know? Race has nothing to do with how you live your day-to-day life. Everyone is really the same inside, and I think this show celebrates being different and celebrates standing out. I think that's something that's really important."
The show, which hit the Disney Channel App and respective digital platforms on March 10, is already making waves for its diversity in casting and in the topics approached. (Episode 2 debuts April 7 on the Disney Channel.) Creator Terri Minsky says she didn't create the show with a specific actor in mind for the lead role of Andi Mack, but she's so happy with how Lee has developed the role. "Casting Andi Mack was a huge part, she was in every scene and the show just depended so much on finding the right girl," she says. "There was no template, and it truly was just that Peyton Lee walked into the room, and that was it."
So, yes, Andi and her family may be bringing more much-needed diversity to TV, but at the end of the day she's just a regular teenager, and that's how Lee intends to play her. "Andi is just like any other kid. She has this crush and she has her best friend and she has her sister and her overprotective parents. I think that kids everywhere can relate to that," she says. "We want people to know that they can be unapologetically themselves."
That's something we all need to remember in 2017.