Andy Cohen & John Mayer's Friendship Is So Endearing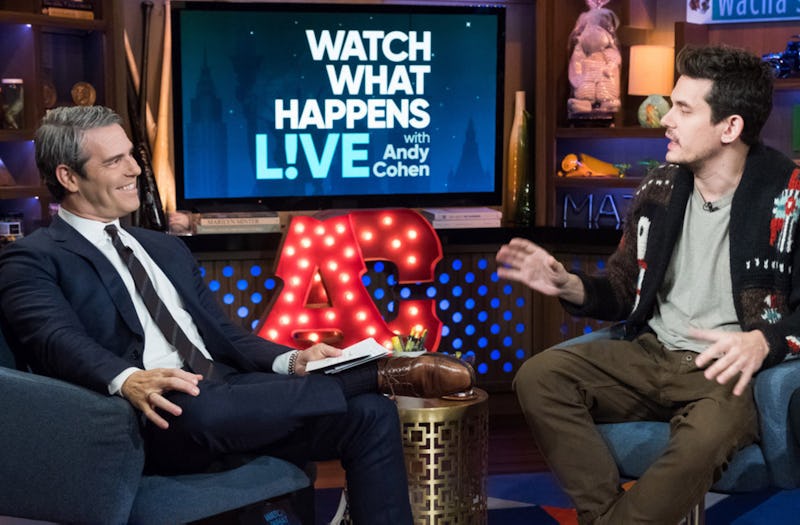 Charles Sykes/Bravo
The day after he kicked off his 50th trip around the sun on Saturday, June 2, Andy Cohen's friend John Mayer surprised him with a gift that may be more memorable than Lisa Rinna's cellophane-wrapped bunny. At the top of the Sunday, June 3 episode, the Watch What Happens Live Clubhouse doorbell rang. Cohen covered his face and wondered, "Oh, my god, who is it?" Would it be Giggy the Pomeranian? Or maybe Allison DuBois? Or could it be Heather Dubrow's machine that makes hexagonal-shaped ice?
For several suspenseful seconds, Cohen waited. And then, Mayer emerged with a cocktail, Cohen flipped out, and the episode was off to the races. The man behind "Your Body Is a Wonderland" proceeded to take over the Watch What Happens Live hosting duties, and it was pretty delightful. It may even pull a "Jelly Bomb" and make your heart melt like a Lush bath bomb in a tub of warm water.
But wait, there's more. On the day of Cohen's milestone birthday, Mayer hopped on Instagram and wrote,
"Happy 50th Birthday @bravoandy! It's been about 30 minutes since I started writing this caption. Congratulations, I have no words. You've done it. Can't find em right now. They're all scattered in a flurry of love and memories OH HERE THEY COME - in conclusion, I love you, and you are such a special person that I'm sure you are known throughout the universe. See you tonight."
Friendship is a beautiful thing.
This friendship is not a new development; the Emperor of Bravo has been buddies with the Grammy Award-winning musician for many, many moons. And not the type of buddies who are stoked to see one another when they bump each other in the Dunkin' Donuts line on a Thursday morning, but never actually come up with hangout plans.
They are the kind of pals who will hop in a car and drive up the I-5 for several hours so they can see the Grateful Dead together. The kind of pals who will make a point to video chat each other on New Year's Eve, no matter how busy they may be. The kind of pals who can laugh on national television about that one time they allegedly smoked pot with George R.R. Martin. (Well, if that isn't the best Mad Libs of all time.)
Cohen and Mayer are the kind of pals who wind up in each other's autobiographies. According to Bravo's The Daily Dish, Cohen mentions Mayer 14 times in his 2014 memoir, The Andy Cohen Diaries. And one of those mentions included a recap of his trip to Mayer's home in Montana. When Howard Stern asked Cohen about his visit to Big Sky Country on his SiriusXM show 2014, the WWHL host said,
"He picked me up from the airport, which I loved, in a truck. Went from the [Real Housewives of Atlanta] reunion straight to John Mayer's house in Montana ... We get to his house, he showed me around. I can't remember what time of day it was, I think we had to stop at the store on the way home. And then he showed me around, and then it was like, 'Alright, we're going to eat in a few hours,' and I was like, 'Great, I'm gonna chill out.' I went and worked. I talked on the phone. I think I took a nap."
Oh, and Mayer also cooked breakfast. The whole thing sounds chill and fun and perfect.
Speaking of perfect, please enjoy Cohen's reaction to Mayer's acoustic rendition of "It's My House" by Diana Ross. Who among us wouldn't grin and snap our fingers and melt in our chair if John flippin' Mayer was literally singing to us? Whew.
These two pals have a friendship that's built to last, and here's hoping they keep celebrating birthdays together for years to come.