Another Kim Kardashian Robbery Suspect Has Been Arrested By French Police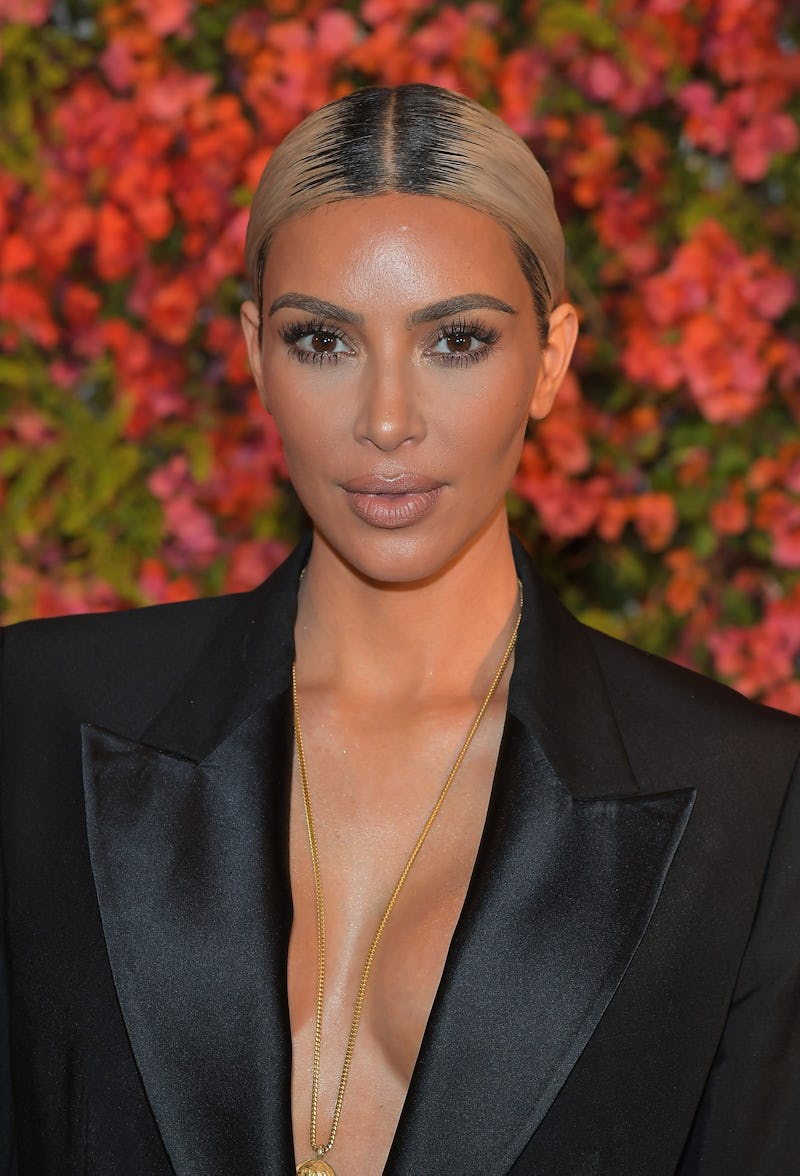 Charley Gallay/Getty Images Entertainment/Getty Images
On Friday, The Guardian reported another Kim Kardashian robbery suspect was arrested by French police after being caught in Côte d'Azur, the French Riviera, according to sources involved in the investigation. A judicial source also told the publication the male suspect will be brought before the court and could face possible charges.
USA Today reported Friday, per a judicial official, the suspect was detained Tuesday and is set to meet with an investigative judge on Friday, who will probably file charges against the suspect allegedly involved in the October 2016 Paris jewelry heist involving Kardashian. According to USA Today, the judicial official couldn't be named due to the ongoing investigation. The suspect was also not identified.
According to People, the suspect is a 28-year-old man, who was arrested at his French Riviera home. He was also reportedly transferred to Paris to meet with the investigative judge. (Bustle reached out to the Paris Police Prefecture for comment, but did not receive a response at the time of publication.)
Ten people have already been charged in the case for allegedly robbing the Keeping Up With the Kardashians star at gunpoint and tying her up. More than $10 million worth of jewelry was taken from Kardashian. In January 2017, USA Today reported all 10 suspects were men and range in ages from 29 to 72. The preliminary charges they face, include the following crimes: "armed robbery in an organized gang; kidnapping; criminal association; illegal possession of firearms — including a Kalashnikov rifle — and ammunition; use of forged papers and a fake identity, and complicity."
After the 10 suspects were caught, Khloé Kardashian responded to the news by telling the Associated Press (via USA Today) the arrests were a "kind of closure" and called the robbery a "disgusting act".
Originally, 17 suspects were arrested in connection to the robbery, but three men and one woman were released, including Kardashian's driver, Michael Madar. After the 17 suspects were arrested, Kardashian's French lawyer, Jean Veil, told French 2 television (via Reuters), "She is very happy, very satisfied and to a certain extent reassured by the efficiency of the French police."
According to CBS News, Aomar A. is said to be the mastermind behind the robbery. His DNA was also allegedly found on the plastic tie allegedly used to tie up Kardashian. CBS News reports he faces preliminary charges of "armed robbery in an organized gang, kidnapping, criminal association, illegal possession of ammunition, using a fake identify and false papers."
You can also read the full list of suspect names and details about their charges over at CBS News.
Warning: This section contains commentary about rape, which some may find triggering. Kardashian discussed the ordeal during a March 2017 KUWTK episode, where she admitted she thought she was going to be raped. "Then [one of the armed men] duct tapes my face, my mouth, to get me to not yell or anything and then he grabs my legs and I wasn't, I had no clothes on under [my robe] and he pulled me towards him at the front of the bed and I thought, 'OK, this is the moment. They are going to rape me.'" She added through tears, "And I fully mentally prepped myself and then he didn't and he duct taped my legs together."
After the robbery, Kardashian took some much-needed time for herself away from the public eye. She opened up to Ellen DeGeneres in April 2017 about her horrific experience.
"I know this sounds crazy, but I know that was meant to happen to me," the reality star said on The Ellen DeGeneres Show. "It was probably no secret, you see it on the show me being flashy, but I was definitely materialistic before. Not that there's anything bad about having things and working hard to get those things — and I'm really proud of everyone that's around me that's successful. But I'm so happy that my kids get this me. And that this is who is raising my kids. Because I just don't care about that stuff anymore, I really don't."
She's definitely come along way since the robbery, in addition to having another child, daughter Chicago West, via surrogate. It's good to see her doing so well after experiencing what can only be described as a terrifying event. Bustle reached out to Kardashian's rep regarding the new reports, but did not receive a response at the time of publication.
If you or someone you know has been sexually assaulted, call the National Sexual Assault Telephone Hotline at 800-656-HOPE (4673) or visit online.rainn.org.