Anthony Rapp Addressed The Kevin Spacey Allegations In A New Interview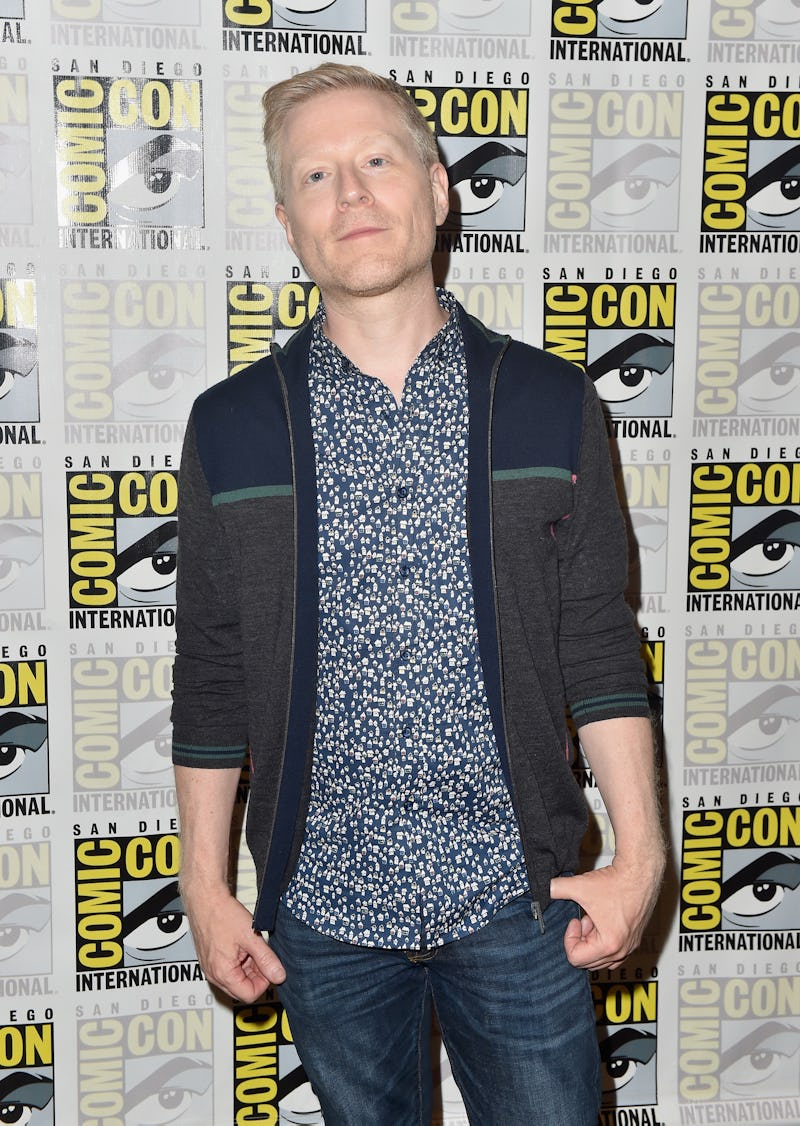 Jerod Harris/Getty Images Entertainment/Getty Images
What a difference a year has made. After sharing his #MeToo story last October, Anthony Rapp addressed his Kevin Spacey allegations once again with BuzzFeed News on Oct. 17, expressing surprise at the ripple effect that has ensued. Following BuzzFeed's 2017 publication of Rapp's allegation that the actor had made sexual advances toward him when he was 14 years old (and Spacey was 26), Netflix quickly announced that the sixth season of House of Cards, which had, for five seasons, starred Spacey as Frank Underwood, would be the political drama's last.
A few days after Rapp's allegations were published, several others came forward with accusations of sexual assault and harassment against Spacey, leading to the streaming service's subsequent statement that production of House of Cards had been suspended "until further notice." (Spacey categorically denied the allegations of sexual misconduct.) Spacey was also recast in the 2017 film All the Money in the World. The actor has remained out of the spotlight since.
Spacey denied Rapp's allegations in a statement via Twitter, saying that he had no memory of the incident with Rapp, but that if he "did behave then as he describes, I owe him the sincerest apology for what would have been deeply inappropriate drunken behavior."
Netflix's firm stance that they would not air any new episodes that included Spacey marked the first moment that Rapp fully realized that his voice had been heard. "I knew that House of Cards was in production," he revealed in the new interview with BuzzFeed News' Adam B. Vary, posted on Wednesday, Oct. 17. "So, I was just curious, what's going to happen on the set? Like, how's that going to be? I did not think they were going to shut down."
With the fate of House of Cards as a whole hanging in the balance, however, Rapp says he felt "upset and sad" for what he called "an unintended consequence" of his coming forward about Spacey. "I felt bad for the hundreds of people who were working on the show," he explained to BuzzFeed.
The Rent alum, who's now appearing in the CBS All Access series Star Trek: Discovery, credits a close friend with helping to ease that guilt, explaining to BuzzFeed: "One of my fellow actors said when House of Cards shut down production, 'They wouldn't have done that if they didn't have good reason,' ... And it turned out, they had good reason."
Indeed, in Nov. 2017, CNN further reported that similar sexual misconduct had also allegedly occurred on the House of Cards set. "I have no doubt that this type of predatory behavior was routine for [Spacey] and that my experience was one of many and that Kevin had few if any qualms about exploiting his status and position," a former production assistant told the news outlet at the time, speaking on the condition of anonymity. (Spacey did not respond to CNN's request for comment on the new allegation.)
Rapp experienced a backlash from people after coming forward with his allegations, which, according to BuzzFeed, "ranged from questioning Rapp's motives for coming forward after 31 years to questioning why Rapp's mother had let him go alone to the late-night adult party where he said Spacey made his advance to questioning Rapp's motives for going to that party in the first place." Rapp said that he did, however, also "get a tremendous amount of support" from strangers and loved ones alike.
While Spacey's apology received some backlash as well, Rapp said he would still consider giving Spacey a chance at a do-over. "Somebody asked me a while ago, if he did want to talk to me, would I," he told BuzzFeed, with a sigh. "And I think I would. I guess I'd have to really think about the circumstances and the environment and the safety factor ... I mean, potentially. I wouldn't rule that out. I would need him to fully own what he did. Not just to me, but to so many people."
In the meantime, Spacey is no longer taking on major movies and shows and is mostly out of the Hollywood spotlight. Frank Underwood's fate on House of Cards has since been revealed in trailers for the Netflix series, which will debut its sixth and final season on Nov. 2. Following a three-month hiatus, production resumed in January, with Frank's wife Claire (played by Robin Wright) taking the lead — and the presidency.
In a July interview with TODAY, Wright also addressed the Spacey scandal: "I think we were all surprised, of course, and ultimately saddened ... [but] we forged ahead, and we were so thankful that we were able to complete the series as planned."
Rapp said he was also "relieved" that House of Cards has moved forward — and that he, now, can try to do the same.
If you or someone you know has been sexually assaulted, call the National Sexual Assault Telephone Hotline at 800-656-HOPE (4673) or visit hotline.rainn.org.