Aaron Paul Calls Out YouTuber Who Posted Video Of Dead Body: "You Are Pure Trash"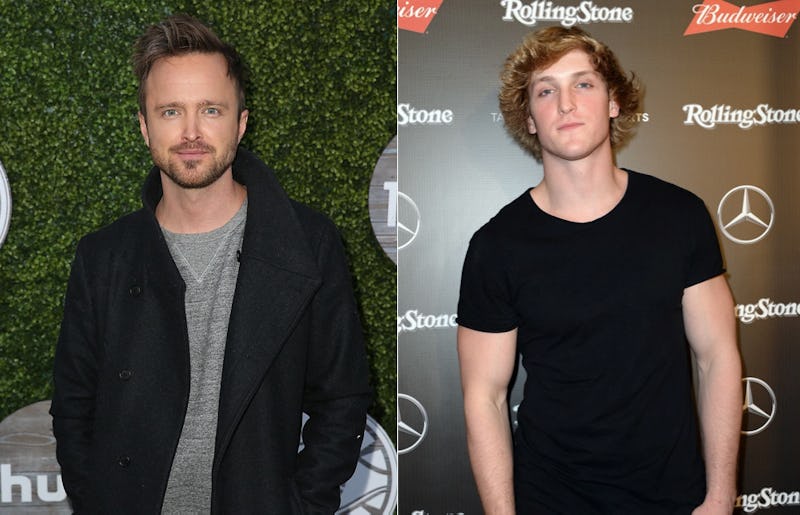 Getty Images
On December 31, YouTube star Logan Paul posted a video of a dead body hanging from a tree. Another famous Paul — Aaron Paul of Breaking Bad — tweeted a particularly heated response to the vlogger, which might lead you to wonder if Aaron Paul and Logan Paul are related. According to several outlets — including TMZ, Huffington Post, and Deadline — despite the fact that the two stars share a last name, they are not, in fact, related.
The video in question was recorded as Logan, along with a few friends, were visiting the Aokigahara Forest — known to many locals as the "suicide forest," due to the high-number of self-inflicted deaths that occur there each year —  in Fujikawaguchiko, Japan. With more than 15 million subscribers to his YouTube channel, Logan's videos are incredibly far-reaching. Much of the content he posts has an immediate and direct influence on his young fan-base (as noted in AdWeek), which Aaron called out in his now-viral response. (His tweet had more than 260,000 likes at the time of this article's publication.)
"How dare you! You disgust me," he wrote. "I can't believe that so many young people look up to you. So sad. Hopefully this latest video woke them up. You are pure trash. Plain and simple. Suicide is not a joke. Go rot in hell."
Thousands of users have applauded Aaron for his statement, but within the direct responses to his tweet, larger conversations have been sparked. One conversation within the responses is in regards to YouTube's responsibility. In a separate tweet, Chrissy Teigen posted that "Youtube should make a statement and condemn the actions of one of their most popular users."
The video streaming service commented on the situation in a statement, as reported by the AP:
Our hearts go out to the family of the person featured in the video. YouTube prohibits violent or gory content posted in a shocking, sensational or disrespectful manner. If a video is graphic, it can only remain on the site when supported by appropriate educational or documentary information and in some cases it will be age-gated. We partner with safety groups such as the National Suicide Prevention Lifeline to provide educational resources that are incorporated in our YouTube Safety Center.
Many users think that YouTube should either temporarily suspend Logan's account or remove him from the platform entirely. Others have been calling for a YouTube boycott, which has caused controversy in-and-of-itself, due to the potential financial damage that a boycott on YouTube would inflict on other vloggers.
Logan, for his part, issued an apology via Twitter on Monday night. On Tuesday, he uploaded an additional video apology to both YouTube and Twitter.
Another comment by Teigen, however, has fueled an entirely different — yet equally important — conversation about backlash, mob mentality, and how people are prosecuted online. "Re: Logan Paul," she wrote. "Something I always think about is when people make...ethical mistakes, as in, not-illegal, should we really be trying [to] ruin their lives and end their careers or accept the apology, personally make a choice to stop watching and move on."
More than 1,000 users have responded to Teigen's controversial take, which has garnered rapid, impassioned, and wide-ranging comments. Some users have expressed that Teigen's comment lets Logan off too easily, with others backing up her defense of the internet's ability to "ruin lives" as the result of a misstep or mistake by a public figure. Teigen, herself, has been engaging with users on both sides of the argument, citing personal instances where she's been publicly shamed.
No matter where you stand on the many issues that have surfaced as a direct result of Logan's video, his depiction of the suicide victim in Japan was unsettling and irresponsible at the very least.
If you or someone you know are experiencing suicidal thoughts, call 911, or call the National Suicide Prevention Hotline at 1-800-273-8255.