Are Chokers In For Spring 2017?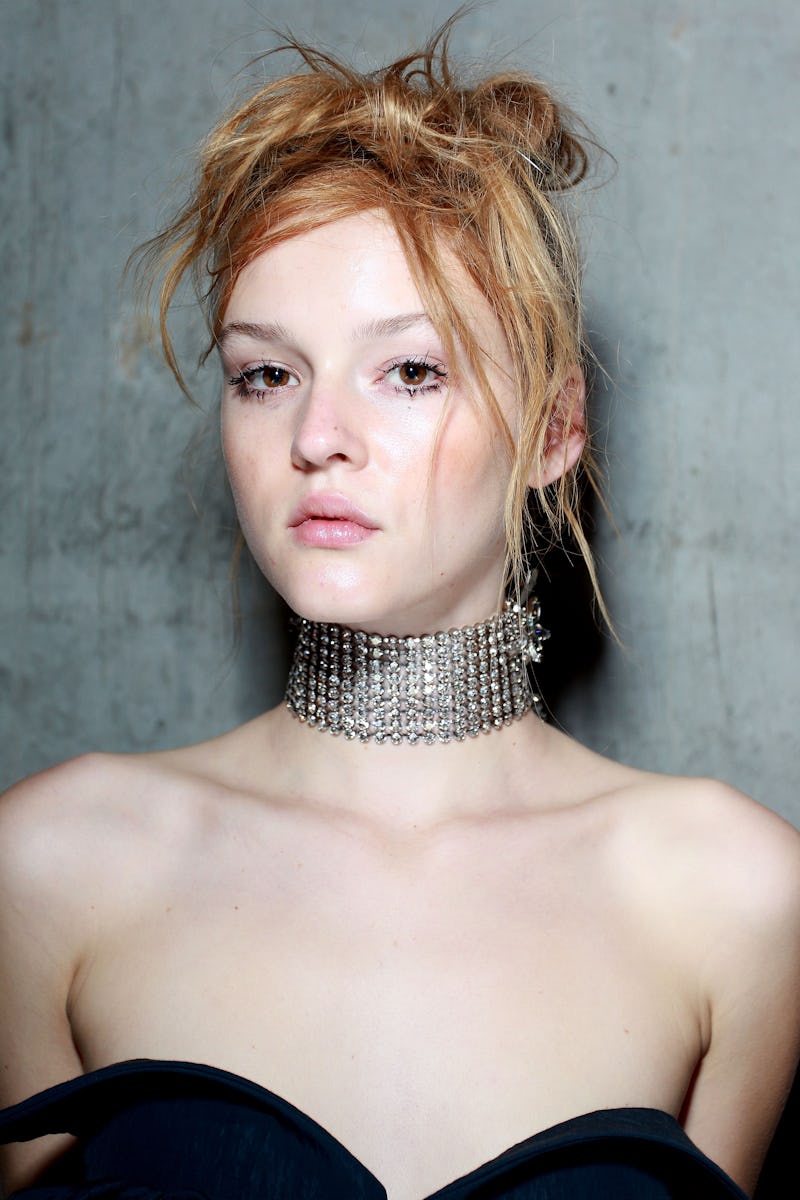 Lisa Maree Williams/Getty Images Entertainment/Getty Images
In recent years, the chokers from our childhood came back in a huge way. From high end designs on the runways, to thrifty versions found in your favorite online stores, chokers were made available to the masses. But, are chokers in for spring 2017 or are millennials trying to squeeze this nostalgic accessories trend until it's bone dry?
It's difficult to pinpoint exactly when chokers came soaring back into popularity, but it's safe to say they caught a ride on the back of the '90s trend, that resurfaced a few years back and is currently on the decline — prepare to feel very old as the early '00s trend will hit the masses imminently. Damn you cyclical fashion.
No matter the exact moment that chokers came back into vogue, 2016 was a big year for them. A ton of celebs were seen sporting this retro accessory including Kylie Jenner, along with an array of celebs on the Cannes Film Festival red carpet. Even the spring/summer 2016 catwalks showed models wearing ribbons in their hair that doubled as chokers. Then, in the final quarter of 2016, we saw a girl wearing a shoelace as a choker, who gained internet "fame" and started a new trend; which likely linked in with the minimalist fashion trend that increased in popularity throughout 2016.
But now that it's 2017, have we seen the end of the trendy choker or is this just the beginning? I spoke to a couple of experts to find out.
"Chokers are still on the map for spring 2017, albeit in a more delicate way, with designers like Céline and Tommy Hilfiger showing them back to several looks on the runway," GoodLooks fashion stylist Ali Call, tells Bustle over email.
Beauty and lifestyle expert Jeanette Zinno agrees, saying, "The choker is definitely not out for spring, but the trend is going to evolve into something a little more dainty."
"This spring we'll be seeing more of a delicate style choker and layering chokers is also going to have a big moment," continues Zinno in an email to Bustle.
"Personally, I prefer the ultra feminine pairings shown by Dior and would recommend a more dainty choker, like this one by Brooklyn jewelry designer Catbird, layered with a longer necklace or lariat," Call recommends.
Sweet Nothing Choker, $154, Catbird
"That said," adds Call, "if you want to be on point with your spring 2017 accessories, I'd opt into the statement earring."
While Zinno explains, "Long necklaces and necklaces with large pendants that make a statement were all over the spring/summer 2017 runways. They'll definitely be competing against the choker for a spot on your neck."
The choker doesn't appear to be leaving the fashion spotlight anytime soon, but if you're tired of chokers there are plenty of other on-trend accessories to try out this spring instead!
Image: Courtesy Brand