Here's Everything You Need To Know Before Seeing 'Infinity War'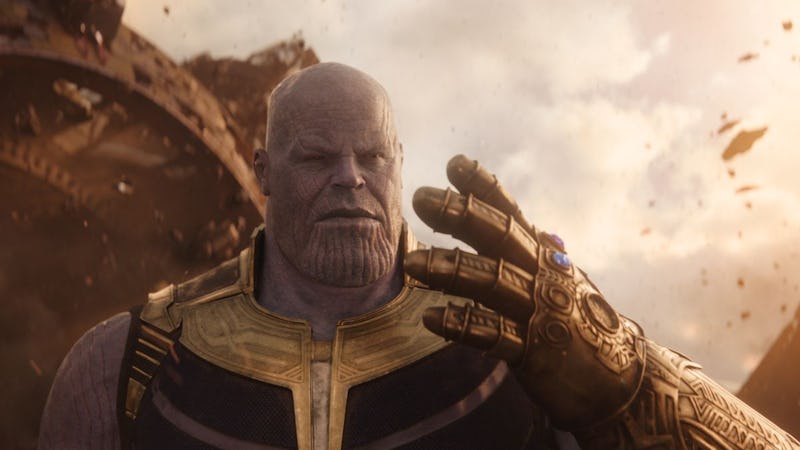 Marvel Studios/Walt Disney Pictures
There has never been a movie like Avengers: Infinity War. That's not hyperbole, either... literally no one has ever produced a crossover film of this magnitude. The movie is the nineteenth installment in the Marvel Cinematic Universe, and crosses over the Avengers, Spider-Man, Black Panther, Doctor Strange, and Guardians of the Galaxy franchises. It's a massive undertaking that's expected to compete as one of the highest-grossing films ever made, so naturally, you're going to want to uncover everything to know about Infinity War before going into the movie so you won't be confused by all of the busyness on screen.
The basic plot of the film is derived from a classic Marvel comics storyline called "The Infinity Gauntlet." That story, written by Jim Starlin and first published in 1991, saw the alien Mad Titan Thanos come into possession of all six Infinity Gems. These gems (referred to as Infinity Stones in the film, and from this point on in this article to avoid confusion) are cosmic artifacts that, when combined, offer their owner the powers of a god. Once Thanos obtains all six, which he wears in a gauntlet, he destroys half the life in the universe in an effort to appease the embodiment of Death, with whom he is in love (it's a weird story). Eventually, he is defeated by a collective of Marvel heroes and his actions are reversed by Adam Warlock after he takes the gauntlet for himself.
The film will not be following this story to the letter, and will instead tell its own original story that's a continuation of what the prior 18 films of the MCU have been building toward. So here's what you need to know about it.
This article was originally published on