People Can't Stop Speculating About The Clooney Twins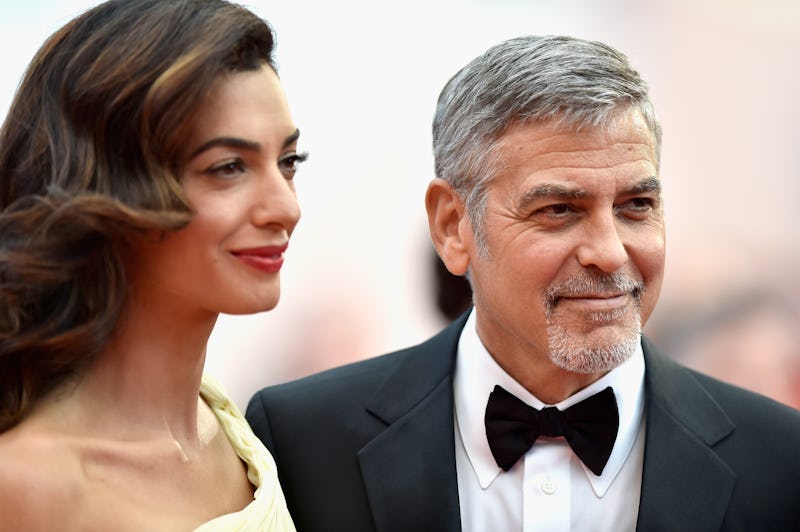 Pascal Le Segretain/Getty Images Entertainment/Getty Images
Ever since The Talk's Julie Chen broke the news that George and Amal Clooney are expecting twins, the world has felt like a more hopeful place. Sure, sometimes things seem a little cray-cray banay-nay, but at least the world's most beautiful/intelligent couple is going to produce two more beautiful and intelligent people. Still, fans have been wondering: Are George and Amal having a boy and a girl?
Thanks to Cindy Crawford and George's mother, Nina Clooney, the genders of the world's third most iconic twins (after the Olsen twins and Beyoncé's twins, of course) have been a topic of discussion. We might not know if George and Amal Clooney are having a boy and a girl until the twins make their way into the world this summer, but for now, there have been some confusing hints.
The first hint was from Nina Clooney, who reportedly told Radar Online in February 2017 that the Clooneys were expecting a boy and girl. While that news was certainly exciting, the silver fox who once played Fantastic Mr. Fox refuted the claims shortly thereafter to Bravo. George claimed, "I don't know where this rumor comes from that we're going to have a boy and a girl. We ourselves don't know yet and don't want to know." (That doesn't mean that fans don't want to know, though.)
Then, Cindy Crawford got into the baby gender subtle hint game. For those of you who aren't completely aware of George's business dealings, the Oceans 11 actor co-owns Casamigos — an award-winning (and delicious) line of tequila — with Crawford's hubby, Rande Gerber. At CinemaCon on Tuesday, March 28, while promoting his film in collaboration with the Coen brothers' titled Suburbicon, George joked, "My wife says I can't name them Casa and Amigos. That's the one thing I'm not allowed to do. It was just a thought. I mean, you know, it's a family business."
Crawford reportedly took the joke a step further by sending onesies to the future babies with the text, "Casa" on one and "Migos" on the other. This move seems innocent enough, until you realizes that one of the outfits is written with blue writing and the other with pink. That's got to mean something, right? If Crawford's husband is Clooney's business partner, it wouldn't be that surprising if she knew the gender of the future actor and human rights lawyer. At the same time, just because something is written with pink or blue that doesn't necessarily mean "boy" and "girl."
For now, we don't really know the gender of these future babes. All we know is that they've got some of the most successful and talented parents the world has to offer. I'm not trying to put pressure on these babies, because they haven't even been born yet, but I think it's pretty clear that, regardless of gender, the Clooney babies are going to take the world by storm.