Every Possible Clue About Where Jamie & Trevor Stand After 'Bachelor: LTYH'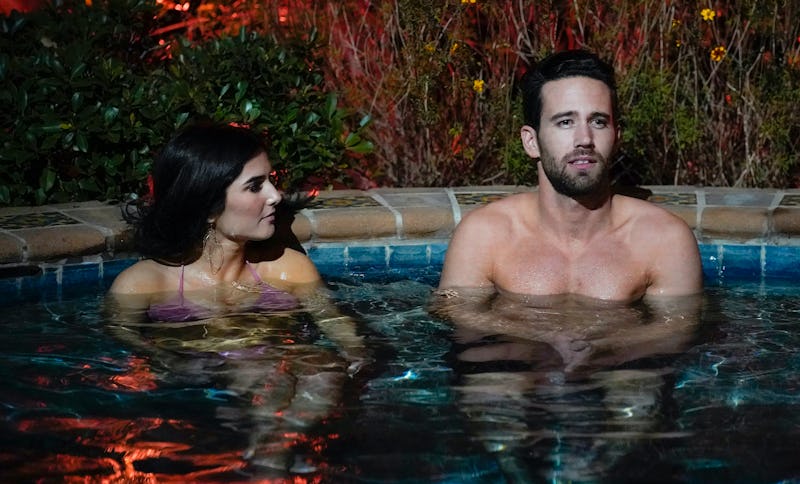 ABC/John Fleenor
We're only one week away from the Bachelor: Listen to Your Heart finale, and Jamie and Trevor seem stronger than ever. But will that be enough for them to win in the end? Will their relationship even outlast the show?
So far, the two have already weathered a few storms. First, Jamie was torn between Trevor and Ryan. Then, Natascha came in and stirred the pot, claiming that Trevor cheated on his ex, who just so happened to be a good friend of hers (we see you, Bachelor producers). Trevor admitted that he had cheated, but that it was only "emotional," not physical. This was hard for Jamie to hear: she'd just told Trevor earlier that day that she's been cheated on in all of her previous relationships.
Nonetheless, Jamie decided to move forward with Trevor, and it seems to have worked out for the best. They're in a good place and appear to really be falling for each other, while Ryan is happy with Natascha.
As for where Jamie and Trevor stand now, the two have been careful not to leak any spoilers, though they have been reflecting fondly about their time together on social media. Trevor wrote on Instagram that he "couldn't be more proud of" Jamie for facing her stage fright and that it was an "honor" to stand next to her, while Jamie called their date in the May 11 episode a "movie magic moment" she'll never forget.
Jamie has also posted several original songs primarily about learning self-love, but one more recent track that also mentions a love interest. As the lyrics go:
"You kept me safe and warm, when I look at you I know for sure. I've dated men before you, some were good but most were worse. If you give me love I know I can in return, because I finally love myself first."
Is this about Trevor? Someone new? Someone old? It's hard to tell. The only thing we know for sure is that the two aren't currently quarantining together. Trevor has been busy working on a camper van, posting throwbacks to life before quarantine, watching Tiger King, sharing original songs, and spending time with the most important girl in his life: his dog Koda. Jamie, meanwhile, has been hanging out in Nashville, promoting Listen to Your Heart, posting music, and switching up her hair color (which she did before the quarantine, to be clear). Which basically all amounts to a lot of mixed signals.
Looks like we're going to have to wait until the Listen to Your Heart finale for any answers, but Bachelor blogger Reality Steve has teased drama ahead.
This article was originally published on