Kourtney Kardashian & Younes Bendjima Are Sparking Rumors That They're Back Together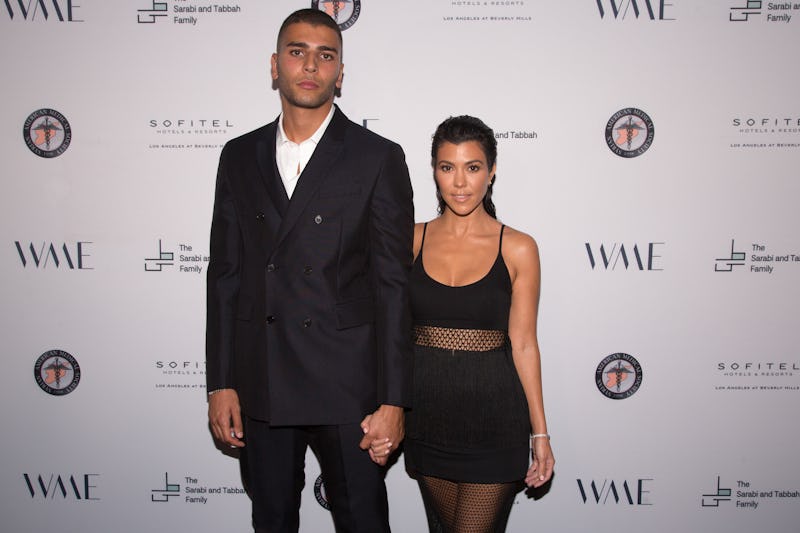 Gabriel Olsen/Getty Images Entertainment/Getty Images
One Kardashian sister might be off the market again. According to Us Weekly, Kourtney Kardashian and Younes Bendjima are back together. A source claimed to the publication on Tuesday the two had "some miscommunication," but "they worked it out and are giving it another shot." (Bustle reached out to Kardashian's agent for comment, but did not receive an immediate response.)
On Tuesday, both the Daily Mail and TMZ released photos of Kardashian and Bendjima hanging out. According to the Daily Mail, the reality star and Bendjima grabbed dinner. They reportedly picked up food at Bui in Malibu, rather than dining inside the restaurant. The Daily Mail also released photos of the two sitting in Kardashian's Range Rover SUV. Bendjima can be seen in the driver's seat and the Keeping Up With the Kardashians star is sitting on the passenger side. TMZ also shared photos of Bendjima driving Kardashian's car, along with the two outside the Malibu sushi restaurant.
Per the Daily Mail, after driving on the Pacific Coast Highway, they found a parking spot somewhere and and stayed in the car for "several hours." Later on, they reportedly they went through the In-N-Out drive-thru in Calabasas and went back to her house. The Daily Mail also reported when picking up food at Bui, they both seemed to be in "somber moods."
According to an Entertainment Tonight source, the two have been communicating since their breakup was initially reported. "Kourtney and Younes have remained in contact since ending their relationship," the source claimed. "The two caught up recently and talked about their breakup and relationship and where they stood. Kourtney and Younes had a great relationship and both are figuring out if it's worth figuring out what is next for them."
This is the first time they've been seen together since breakup reports surfaced in early August. On Aug. 7, TMZ reported Kardashian and Bendjima broke up after almost two years together. The outlet also posted photos of the model with another woman in Mexico and described the images as "rebound pics." TMZ reported further that Kardashian was responsible for their split. (Bustle previously reached out to Kardashian's agent for comment, but did not receive an immediate response.)
After breakup rumors surfaced, Bendjima posted on his Instagram Story, where he defended the photos TMZ shared of him and the woman. He responded to a Daily Mail article claiming Bendjima was rebounding with the woman by sharing a screenshot of the post and writing, "They really want me to be the bad guy. F*ck your Hollywood bullsh*t (can't have friends no more." He also said in a separate post, "I'm not attached to this 'life' so you can't touch me. I know who I am where I'm from and where I'm going and that bothers you."
At the time, it appeared that even Kim and Khloé Kardashian responded to Bendjima's comments, all while defending their sister.
On Aug. 7, ET reported a source revealed, "Kourtney and Younes recently broke up after the couple decided it wasn't working out. Kourtney was the one who initiated the split." The source continued, "Near the end of the relationship, the two weren't getting along and the age difference ultimately played a part. Younes is young, and although mature for his age, he and Kourtney are at different stages in their lives." On Tuesday, TMZ reported sources "connected" to Kardashian said her split with Bendjima was mainly about them maintaining a long-distance relationship.
Who knows if Kardashian and Bendjima really are back together, but they could very well comment on the news eventually, or, you know, keep whatever is going on to themselves.