Kim & Khloe Call Out Younes Bendjima On Insta After His Split From Kourtney In A Brutal Way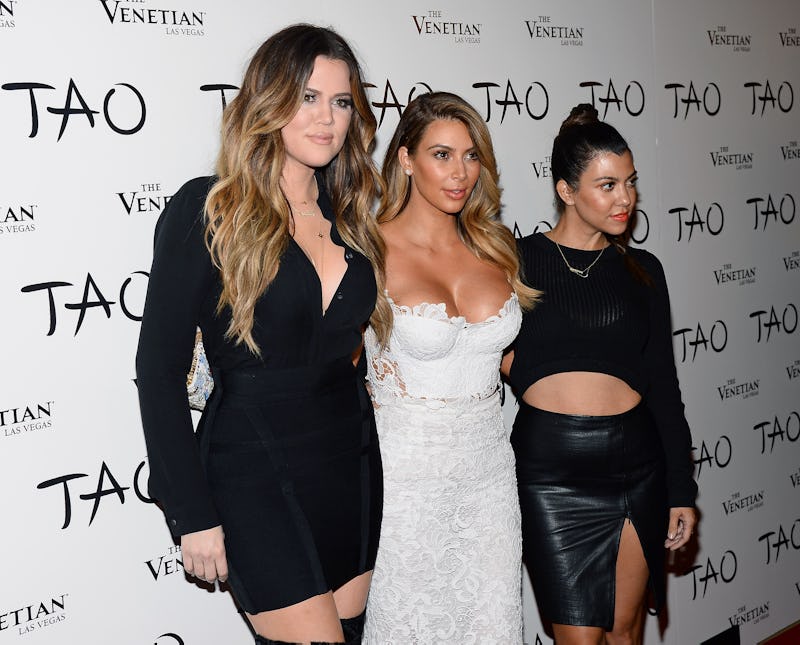 Ethan Miller/Getty Images Entertainment/Getty Images
Boyfriends come and go, but sisterhood is forever — just ask the Kardashians. On Tuesday, Kim and Khloé Kardashian defended Kourtney Kardashian on social media after Younes Bendjima spoke out about his breakup with Kourtney. After reports that Kourtney Kardashian and model boyfriend Younes Bendjima split after two years, Bendjima slammed reports that implied that he had cheated on the famous reality star, and seemingly slammed the famous family on Instagram. And his comments did not go unnoticed
TMZ was first to report the split on Tuesday, sharing the news alongside photos of Bendjima with another woman on vacation in Mexico. However, the model posted a photo from his group vacation with friends on his Instagram story, insisting that he wasn't doing anything romantic. He then shared a screenshot of an article from the Daily Mail that claimed that the snaps of him and his female companion were proof of a rebound. "They really want me to be the bad guy," Bendjima wrote on his Instagram Story. "F*ck your Hollywood bullsh*t (can't have friends no more," he added.
In a separate post, Bendjima continued to distance himself from the reports, writing, "I'm not attached to this 'life' so you can't touch me. I know who I am where I'm from and where I'm going and that bothers you."
All of Bendjima's posts seemingly rubbed Kim the wrong way, as the KKW Beauty founder commented on one of his photos, which were reposted by The Shade Room Instagram account. "Nice pics from your 'boys trip,'" Kim commented on the repost, along with the Pinocchio emoji, implying that Bendjima was lying about what went down between him and Kourtney.
As noted by The Shade Room, Khloé reportedly commented on a different one of their Bendjima reposts, writing, "Alexa play 'heard it all before' by Sunshine Anderson," on a screenshot of his story. (Bustle was unable to find the comment, as Khloé appears to have since deleted it.)
Khloé and Kim's defense of Kourtney comes in the wake of a vicious family fight in the Season 15 premiere of Keeping Up With the Kardashians over scheduling for the Christmas card photo shoot, in which Kim declared that her big sister was "the least exciting to look at." The trio then continued their argument on Twitter on Monday, sending jabs back and forth.
However, Kim made sure to clarify that, despite their big on screen blow out, "me, Kourtney and Khloé are GOOD." And, if their messages to Bendjima are any indication, the sisters will have each others' backs no matter what argument they're in.
The Kardashian sisters have often talked about how family comes before anything else and though they have never shied away from sharing their most intense fights and disagreements on KUWTK and on social media, they are always quick to close ranks and protect each other whenever someone hurts a member of their family. Think of Kim banging down Scott Disick's door while on a trip to Dubai over suspicions that he might be seeing someone other than Kourtney or even how the sisters stuck by Khloé in the wake of Tristan Thompson's cheating scandal.
Though Kim, Kourtney and Khloé's most recent argument may seem to have splintered the sisters' bond — after all, Kourtney did declare her family to be "disgusting" on camera — it's clear that above all else, the Kardashian sisters value their relationship with one another, and will do whatever it takes to protect each other.