Are Lady Gaga & Taylor Kinney Still Friends?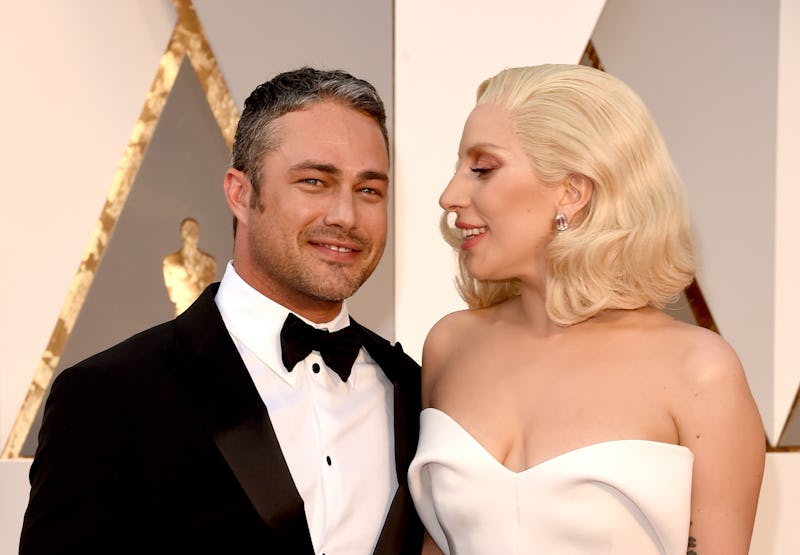 Jason Merritt/Getty Images Entertainment/Getty Images
When Lady Gaga and Taylor Kinney announced their breakup last July, I took it as a very personal attack. As a huge Gaga fan, I always loved their supportive relationship and they just seemed to have the perfect balance when it came to being friends and lovers. Well, at least from what they shared with us. Since their unfortunate breakup, they've each been rumored to be dating other people and are busy with their respective careers, but after all of this time, are Gaga and Kinney friends? It is a question I often ask, because I know how difficult it can be to maintain a cordial relationship after breaking up with someone you had once been so close too, and I can't imagine how much harder it must be in the public eye.
But there is a shining light at the end of the tunnel for Gaga/Kinney fans. While they're not together — with Gaga recently being rumored to be dating her agent, Christian Carino — Gaga and Kinney still seem to be friends, and they have been dropping hints about this next step in their relationship for quite a few months.
They were still very friendly as of December 2016 and looked to be able to put aside any differences for a greater cause. Gaga posted a photo of Kinney with her mother, Cynthia, at Rockefeller Center during a #ShareKindness even through her Born This Way Foundation:
Before this, while Gaga was promoting her newest album, Joanne, she shared with E! News in October 2016 how her relationship with Kinney had influenced her single "Perfect Illusion" and said,
"I would just say that my music on my album as well as all my albums is inspired by my personal life and this one more than others. I have said it before — I love Taylor so much and he's my best friend."
Just a couple weeks later during an appearance on SiriusXM's The Howard Stern Show, Gaga confessed that their relationship was still very strong. She said,
"I'm actually very close to Taylor...He's been my lover and my friend for a really long time. He's been so supportive of the [new] album [Joanne], and I support him on his show, Chicago Fire...To be fair, I think that Taylor's pretty f*cking cool that over the years no matter what creative transformation that I've gone through, he's always been very supportive of that and loving."
These are some pretty wonderful words to say about an ex, and it really does seem like Gaga and Kinney are genuine in their support for each other, even after their breakup. In December 2016, Kinney appeared on the Today show and spoke about Gaga's Born This Way Foundation in a positive light, although he expertly maneuvered having to speak any further on their relationship.
During her Howard Stern interview last October, when asked how she would feel if Kinney started dating someone new, Gaga replied, "I'm not going to f*cking throw a party!" I think this attitude goes for them both and while they might not be as close as they once were, I think it's safe to say they each have a friend for life.