Nikki Bella Went On A Date With One Of Your Favorite 'Bachelorette' Alums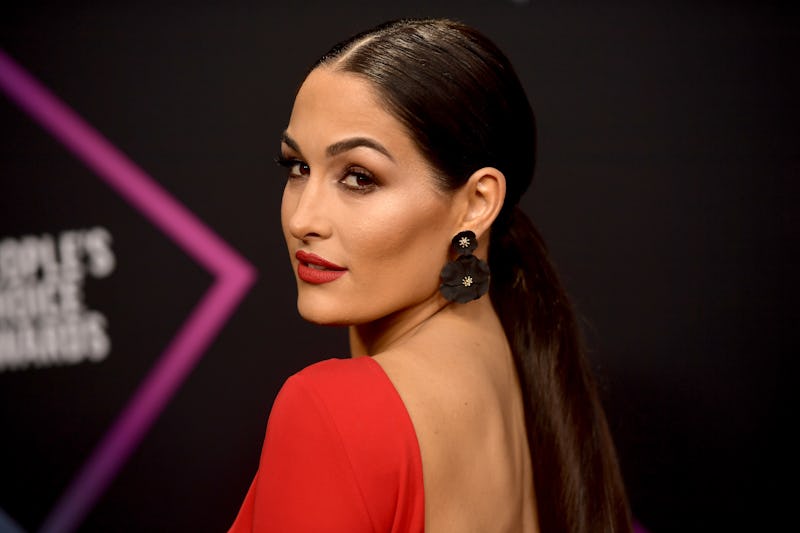 Matt Winkelmeyer/Getty Images Entertainment/Getty Images
Get ready for your reality TV worlds to collide, everyone. According to E! News, Nikki Bella and Peter from The Bachelorette went on a date, as seen in a promo for the upcoming season of Total Bellas. Seeing as though they've both been in the spotlight for their dating lives, could this be the love connection they've been waiting for?
Apparently, Bella has her twin sister to thank for hooking her up with The Bachelorette's Peter Kraus. In the clip, Brie Bella remarked that her sister let her set up the date. So, naturally, she thought of the most gorgeous man in Bachelor Nation. She said, "Nicole gave me permission to set her up on a date. Alright, let's see… Peter from The Bachelor!"
It looks like the pair have a truly Bachelor-approved date, as they can be seen enjoying a gondola ride as they sip on some wine. Kraus also appears to lean in for a kiss, but the WWE Diva isn't entirely sure that she wants to make that move. She can be heard saying, "I don't know if I'm ready for this," in reference to seeing the Bachelorette alum following her recent split from John Cena, per Page Six. So, it looks like fans will just have to tune into Total Bellas to see if sparks can fly and whether Bella accepts Kraus' rose.
As previously mentioned, both Kraus and Bella are used to being in the spotlight when their dating lives are concerned. For Kraus, it was only natural since he was on The Bachelorette. On the series, he dated the lead, Rachel Lindsay during Season 13, which aired in 2017. Kraus was a front-runner during the season and made it all the way to the final two before he and Lindsay parted ways in the finale.
Of course, Bella was previously in a relationship with fellow WWE star John Cena. After six years together, they announced that they had split in April, only weeks before they were set to exchange vows, according to People. At the time, Bella released a statement on her Instagram that first said, "After much contemplation and 6 years of being together. Nikki Bella and John Cena announced today their decision to separate as a couple." It then continued to detail what appears to be a more direct, joint statement from the couple:
"While this decision was a difficult one, we continue to have a great deal of love and respect for one another. We ask that you respect our privacy during this time in our lives."
Of course, it seemed as though Bella and Cena briefly reunited in May. But, it wasn't meant to be. As People reported in July, the former couple had split for good after they tried to work on their relationship. In a statement to people, the Total Bellas star told the publication, in part, "I had a beautiful and loving 6-year relationship with a wonderful man. I have the utmost respect for John, but I know this is what's best for me."
Considering that both Bella and Kraus are currently and officially single, could they be the next reality TV power couple? Only time will tell.