Why Olivia & John From 'BiP' Might Be The Real Deal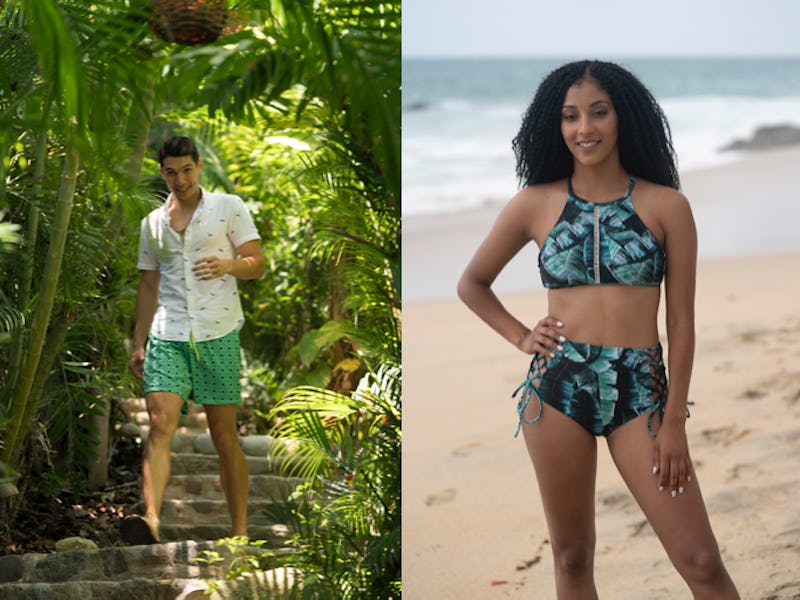 Paul Hebert/ABC/Paul Hebert/ABC
One of the few people who is doing Bachelor In Paradise right is John Graham, aka Venmo John. After a slew of dates, he has found romance with Olivia Goethals. But with the show wrapping up, are Olivia and John still dating after Bachelor In Paradise? The paid got a relatively late start compared to the other Paradise couples and Olivia most recently went on a date with Diggy of Rachel's Bachelorette season. So, as of right now, it seems safe to say that this couple won't be getting engaged during the finale on Tuesday night. But it's very possible that John and Olivia's connection lasted outside of Mexico.
John has become THE most eligible bachelor in Paradise this summer, going on dates with almost all of the women. Chelsea and Angela gave him roses, he kissed Kendall, and he has gone on dates with Caroline, Jubilee, Olivia, and Christen. But while Olivia was out on her date with Diggy, Jenna gave John a pep talk that inspired him to really pursue Olivia. And while Olivia said that John "will always be in the back of my head during this date," she wanted to test out her connection to Diggy. She called her kiss with Diggy "hot and steamy," but it won't be clear until Week 6 whether that kiss was enough for Olivia to move on from John.
Diggy live tweets Bachelor In Paradise and writes recaps for Betches. Yet, even though he's often very open about his Paradise opinions, he's keeping his own fate on the show a secret. "Diggy and Olivia's date was simple, but romantic, and from what I hear, they didn't let him eat prior to, nor at the date, so he was HANGRY, but that can't be confirmed. Olivia and Diggy end the night by being serenaded by a one man Mariachi band," Diggy wrote in his Betches recap. He then jokingly questions how Paradise will end, "But more importantly, DOES OLIVIA GIVE ME MY GLASSES BACK?!"
Olivia's social media presence also doesn't offer any clues about her romantic future. She hasn't tweeted since March 22 and her Instagram is private. Meanwhile, John is very active and clearly has stayed in touch with her Bachelor Nation friends — including the women he had romantic links to. He shared how he FaceTimed with "good friend" Chelsea and he responded to Christen's tweet about how she requested a Venmo payment after their date led her to faint at the rose ceremony. But for all of his Paradise-themed posts, Olivia is suspiciously absent from his social media.
Yet, in the preview for the final week of Bachelor In Paradise Season 5, Olivia is shown with John — not Diggy. They hold hands and wave toward the sky while Chris Harrison asks in a voiceover, "Who will get engaged?" But Olivia also has a more emotional moment when she cries to Krystal in the preview, "He cheated over and over and over again — and that's so scary." Considering she just met John and Diggy, she's probably not talking about either of them and instead is most likely reflecting on a past relationship. Perhaps, she wants to get serious with John but is scared because of her dating past.
No matter where John and Olivia end up, Venmo John's social media presence certainly implies that he's doing just fine post-Paradise. And whether Olivia has been by his side since Mexico will be revealed during the Season 5 finale of Bachelor In Paradise.