Post-'BiP,' Raven & Adam Found Out What Kind Of Couple They Were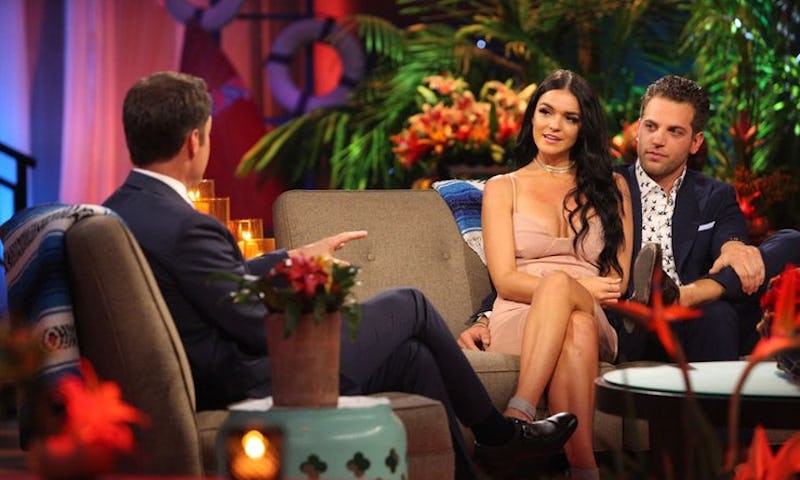 Paul Hebert/ABC
Skeptics would say that the couples that end up together on The Bachelor and The Bachelorette don't stay together for long. They would mostly be correct, but in the spirit of everlasting love and for giving people the benefit of the doubt (which is an idea that is slowly evaporating in our judge-everything-now culture), let's say that most people who set out looking for love on The Bachelor really hope to find it. The ones that claim to have done so seem happy, and it's easier to wish the best for them than to be snarky (even though I live and breathe on snark). For example, Raven Gates and Adam Gottschalk left Paradise together in 2017, hand in hand, heart in heart. Are Raven and Adam still together in 2018?
For some reason, the couples that leave Bachelor In Paradise together just seem to stay together longer. Jade and Tanner. Carly and Evan. Taylor and Derek. The filming is shorter, but maybe the time spent is just better quality time? For whatever the reason, Raven and Adam took together like gangbusters, and that was that. And now, six months later, these two really do appear to be going strong. In this messed up world, it's nice to see some people that love each other, no? They're spending plenty of time getting dressed up for holiday parties:
And, like any other couple in their late 20s, they're hitting a lot of weddings.
They even have matching jackets, which, my husband and I have been together for like 10 years, and he would never want to wear matching clothes. These two love each other, y'all.
A look through their respective social media feeds shows that these two are indeed very much in love, and they're very much together. They just seem pretty normal — they go to concerts and football games together. They Venmo each other. They laugh and play and kid and seem to really like each other, which is the best that you can expect out of a relationship. Leave it to Bachelor In Paradise to form long-lasting relationships between random contestants. According to Us Weekly, they're even mulling moving in together.
In a very adorable Instagram post, Raven revealed the moment she fell in love with Adam, saying (and get ready for the waterworks, people):
"I knew I was gonna keep Adam around the first weekend we spent together outside of paradise... we met in Memphis & had a blast that weekend (after the initial awkward moment we realized okay this isn't paradise anymore.. this is our REAL lives.) & the morning after a night of dinner, drinking & dancing. Adam had put my phone on the charger, left a glass of water by my bed, food & an Advil (hah!) . I immediately text my mom & my best friend since pre-school "y'all, I didn't know there were boys that did these things?" I couldn't believe he thought about me when I wasn't even thinking about myself. And I laughed bc I realized how ridiculous I was to [have] settled for anything less than Adam before... and that how an Advil, a phone charger, a banana, and a glass of water was so impressive to me. Later after dropping him off at the airport, Adam had left a note in my car telling me he appreciated ME... again, I just couldn't believe how sweet, kind hearted and loving he was. hat [sic] was the first time in a long time, I felt safe enough to fall in love. I hope everyone finds an Adam."
I'm not crying, you're crying. Raven was the runner-up on Nick Viall's season of The Bachelor, so when she arrived in Paradise, fans wanted the best for her. She was heartbroken when Nick dumped her, and Raven is a special gal. Adam went a long turn on Rachel's season of The Bachelorette, and he and Rachel never really connected. It's like the universe was setting these two up for something much bigger — each other. And I for one am wishing them well in 2018.