All The Signs Taylor & Derek Are Still Together Will Make 'BiP' Fans So, So Happy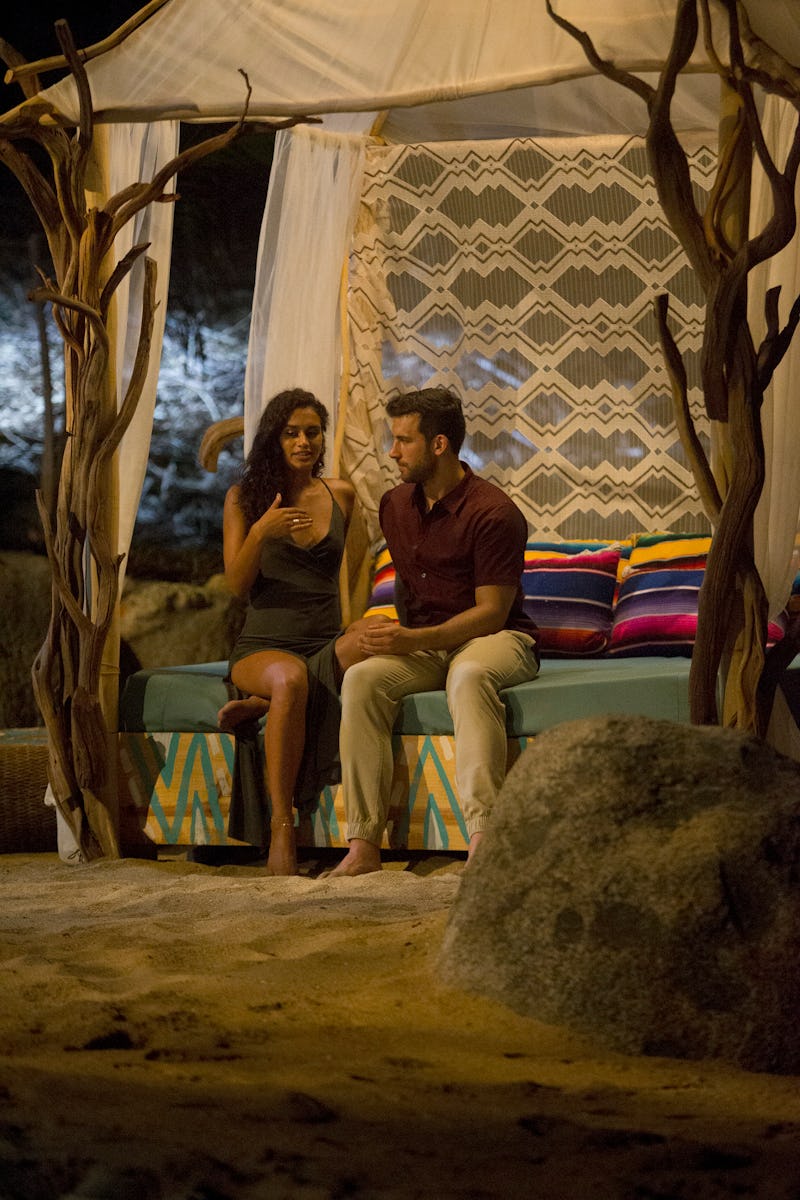 ABC/Paul Hebert
Taylor Nolan and Derek Peth are quickly falling in love on Bachelor In Paradise and it's very endearing to watch. Taylor and Derek are unique for this show — they're both a little awkward and introverted — so watching them navigate feelings is very relatable. While it's fun to watch the extroverted, confident characters flirt and date, there is something special about watching Derek and Taylor fall for each other. They've already been on their first date, spend most of their time snuggling on beach couches, and seem to be the most stable couple in Paradise. So, are Taylor and Derek still together after Bachelor in Paradise? They're certainly one of the most likely candidates for post-show coupling.
Taylor got heat on The Bachelor for her fighting with Corinne Olympios and all that time she spent talking about "emotional intelligence." On The Bachelorette, Derek stayed mostly in the background and kept to himself. Taylor and Derek both walked into Bachelor In Paradise without huge raucous social circles to greet them and spent most of their time together as a result. Initial flirtations lead to real chemistry and after returning from the production break, it was clear these two had become a solid couple. Here are all the reasons why Taylor and Derek may go the distance.
There Are Social Media Clues
A tweet can say a thousand words. Well technically, a tweet can only say a 140 characters but it can also serve as a huge clue for the Bachelor In Paradise couple predictions. Taylor has not been shy about reacting to Derek mentions on social media, whether commenting on Instagram or responding to tweets. This isn't a definitive clue that she and Derek end up together, but it's definitely a good sign.
Her response to Raven Gates' praise of Derek above seems like a lady in love just joking around (Derek has had similar tweets). But who knows? Maybe she is just messing with all of us...
The Break Seemed To Solidify Something
Bachelor in Paradise filming was put on a temporary hiatus, while claims of sexual misconduct were investigated. Ultimately no wrongdoing was found and the show resumed filming, but this break in production had a major impact on the couples. Taylor and Derek were beginning to flirt, but nothing was set in stone when production was shut down. When production resumed, they were pretty much full on falling in love and by each other's side at every moment. If they kept speaking during the production shut down it seems like their flirtatious fling turned into a real possible relationship — perhaps one that's already been tested in the "real world."
Their First Date Was Realistic
Taylor and Derek's first date on the show was filled with specifics about why they might be compatible outside of the show: Both are skeptical, believe in love but not "the one," and both want to be "their own puzzle" instead of needing a partner to complete their puzzle.
Derek articulated their compatibility on the date saying, "So we both came in here skeptical and I've think we've come a long way from not considering each other as a viable option, to essentially being the reason we're each here." Say it with me, awwww.
This Show Produces Real Love
The past two seasons of Bachelor in Paradise has resulted in a successful couple each season. Jade Roper and Tanner Tolbert fell in love, got married and now have a baby. Carly Waddell and Evan Bass had a roller coaster of a love story before getting married and are now expecting a baby girl. The probability of a success story out of the current season is high, and Taylor and Derek are definitely in the running.
They're On Fire
Taylor wanted a man who can build a fire and so Derek literally built her a fire. Ultimately, only time will tell if Taylor and Derek are still a couple, but it's hard not to root for them. They're adorably unconventional within The Bachelor world and seem genuinely into each other. Basically, this is the couple 2017 needs right now — and it's looking pretty likely that what they built in Paradise can last.