The Reusable Starbucks Holiday Cups Are Coming Back — Here's How To Get One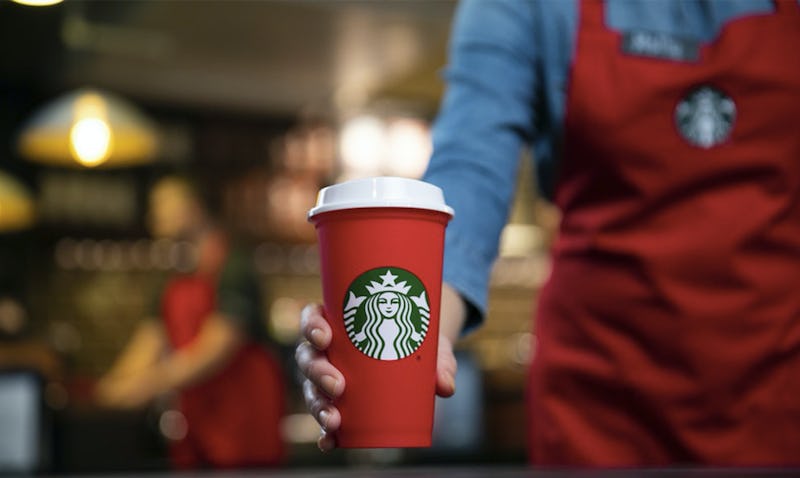 Starbucks
Odds are if you're reading this, you are among the many humans who were excited about Starbucks offering free reusable holiday cups with the purchase of a holiday drink during a one-day promotion on Nov. 2 — and are likely among the many who didn't manage to snag one. Unfortunately, a lot of stores ran out of them quickly, and many others were having issues with the mobile app, per social media. Now, a few days later, some people are wondering if the reusable Starbucks holiday cups are coming back. The good news is, they are definitely coming back — in fact, you can buy them in stores right now.
"We are seeing an enthusiastic response to the return of Holiday beverages and cups at Starbucks, and to Friday's limited-edition giveaway of our reusable red holiday cup," a Starbucks spokesperson told Bustle over email. "Each store had a limited supply for Friday's giveaway, and we're aware that some stores ran out — however, customers can now purchase the reusable red holiday cup for $2.50 to receive $.50 off their grande (16 oz) holiday beverage order through Jan. 7."
In the meantime, though, if your store isn't stocked and you're especially determined to get your hands on one, there are vendors selling them on eBay; while this does kind of defeat the purpose of using them to save money on drinks, it's certainly a route worth exploring for people who are interested in them as collector's items. At the time of publication, vendors are selling them in the ballpark of $10 to $25 apiece.
Along with Starbucks' reusable holiday cup, which comes in a festive holiday red, Starbucks also released four new patterns for their disposable holiday cups, which are all currently in stores. Not quite as many as the year that Starbucks released a whopping 13 designs, but definitely enough to keep us all entertained by playing the "can I get all four cup designs by the end of the week" game.
With the launch of all these holiday cups comes, of course, Starbucks' holiday drink lineup, which hit stores on Nov. 2. Among them is your favorite, the iconic Peppermint Mocha, as well as the return of Toasted White Chocolate Mocha, the Caramel Brulee Latte, the Chestnut Praline Latte, the Eggnog Latte, and the Gingerbread Latte — so you've got something to indulge in no matter what kind of holiday dessert person you are.
And speaking of holiday desserts ... those launched, too. And they are decadent. This year includes three holiday pastries, which are — drumroll, please — the Chocolate Swirl Brioche, Sugar Plum Cheese Danish, and Pistachio Honey Croissant. They also added some cute Instagram-y things like a Penguin Cake Pop, so it's definitely worth poking your head into your local store to see the new displays.
In the meantime, if you're still waiting on the reusable holiday cups, they should be back for $2.50 soon — a small price to pay for a memento that will cheer you up all season long.