Why Claire's Discovery On 'Outlander' Might Mean Even More Time Travelers Are Out There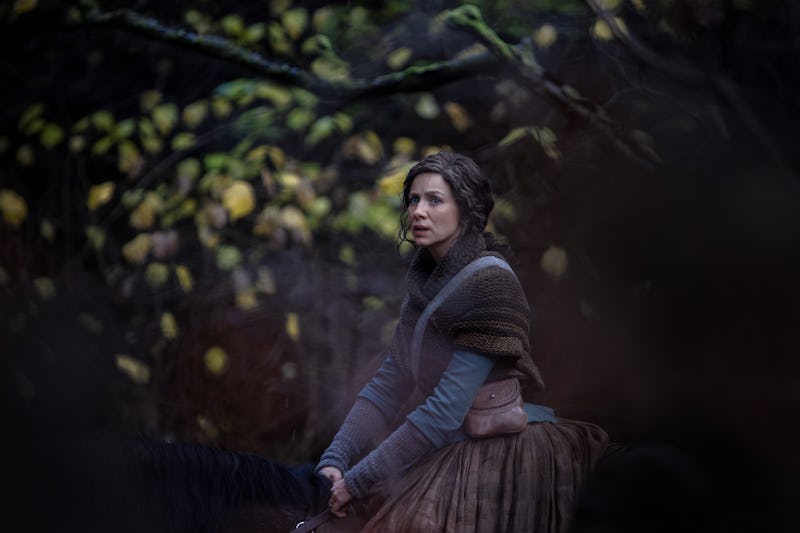 Starz
Spoilers ahead for Outlander Season 4, Episode 3. While the previous episode of Outlander focused on the real-world horrors of slavery, "The False Bride" reminds viewers of the fantastical elements of Claire's story. Claire finds a skull with silver fillings and it seems that there are more time travelers on Outlander. Claire learned she wasn't alone in her mystical abilities back in Season 1 when she met Geillis Duncan. Both Gellis and Claire traveled to the past through the time portal at the ancient circle of rocks of Craigh na Dun. Geillis led Claire to make another time travel discovery in Season 3 and "The False Bride" highlights again that there's still a lot to learn about time travel in the world of Outlander.
The third episode of Outlander Season 4 does some time jumping of its own as it follows Brianna and Roger reuniting in the 20th century and Claire and Jamie trying to find a new home in the 18th century. After what happened to Rufus, Claire and Jamie decide to leave Aunt Jocasta's River Run plantation since they aren't comfortable with owning slaves. While traveling, Claire goes off by herself to find their mule that ran off at the sound of thunder. But the thunderstorm also spooks the horse that she's on and she's thrown off the animal. She's left lost in the woods, hurt and disoriented, until she finds a skull that has been scalped. Then, the spirit of a Native American appears to her and she makes the connection that the skull belongs to this ghost.
Claire and Jamie find each other the next morning, thanks to the apparition using her boots to lead them to a stream. Her medical training kicks in as she examines the skull and she sees he had silver fillings. As Claire notes and the FDA website confirms, that type of filling wasn't invented until the 1800s. So the Native American ghost she saw was most likely also a time traveler — and probably didn't come to colonial America via Scotland like Claire.
While Claire doesn't get many answers in "The False Bride" since she's busy finding her new home of Fraser's Ridge with Jamie, it seems there must be another time portal in North Carolina — or at least, somewhere in the colonies. And Outlander has already established other portals since the Season 3 finale, when Geillis attempted to travel back to the future through the Abandawe cave in Jamaica. Claire and Jamie stop her since Geillis intended to sacrifice Young Ian and kill Brianna, but the cave was a time travel spot.
The first scene of Outlander Season 4 showed ancient indigenous peoples creating a circle of stones like Craigh na Dun in what appears to be America. The Native Americans then performed a ritual at this spot as Claire gave a voiceover narration of the importance of circles, so the location is clearly significant this season. Perhaps, as Claire and Jamie settle in North Carolina, they will discover this sacred location. And maybe it will even somehow connect them to their daughter, since Brianna should be traveling to the past as well. Sure, the Season 4 trailer seemed to show Brianna at Craigh na Dun, but maybe there's a connection between all these time travel portals.
Even if this new discovery doesn't lead Brianna to Claire and Jamie, the ghost of this fellow time traveler already assisted Claire and may be helpful to her again. So expect there to be more people who are able to travel through time as Outlander Season 4 continues.