Tiffany Haddish Just Gave A Major "Who Bit Beyonce" Update & It'll Make You Feel So Relieved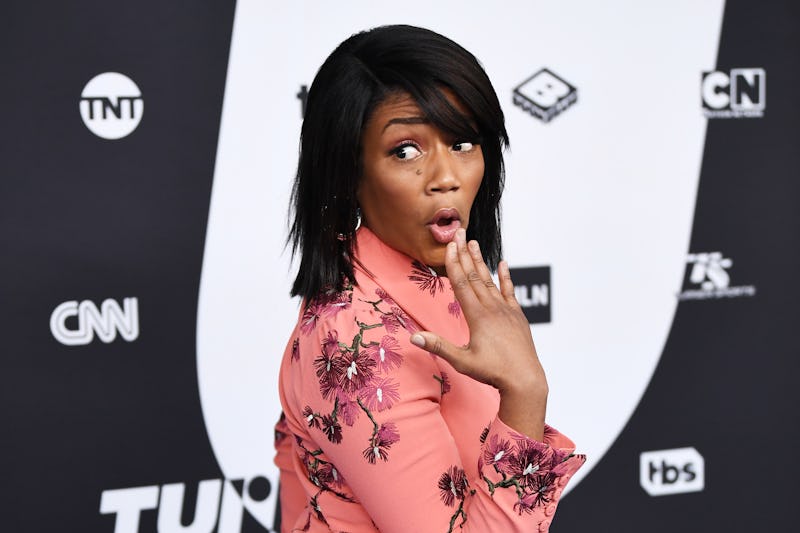 Dimitrios Kambouris/Getty Images Entertainment/Getty Images
As perhapsone of the most talked about pop culture mysteries of current times, the "Who bit Beyoncé?" mystery has become a phenomenon that continues mystify fans around the world. After spilling the beans about the biting moment in the media, Tiffany Haddish revealed that her friendship with Beyoncé still remains the same, according to People.
During a chat at Turner's upfronts presentation on May 16, Haddish shared that Queen Bey wasn't upset about her revelation to GQ back in March of this year. Shocked about how big the situation has gotten, the Girls Trip actor told People, "I didn't think it was going to blow up like that."
Revealing that she talked to the hugely private entertainer following the incident, Haddish explained, "We've talked since then, and it's been cool. Nobody's trippin' except for everybody else." It seems that although the drama caused a major calamity on the internet, Haddish and Bey have continued to maintain a pretty decent relationship through it all.
Hype surrounding the bite controversy was stirred-up after an interview that Tiffany Haddish gave GQ that was published on Monday, March 26. In the interview, Haddish recounted a moment in which she allegedly witnessed Beyoncé being bitten on the cheek by a well-known actor at a JAY-Z concert after party in December of last year.
The news, of course, sent the entire Beyhive into major frenzy as they began scrambling to figure out who the alleged culprit was. While many names circulated throughout the drama, including Sanaa Lathan, Lena Dunham, Sara Foster and Taraji P. Henson (all have denied their involvement), the truth continues to elude fans.
Chrissy Teigen (who was also present at the JAY-Z after party) even joined in with her two cents about the alleged Bey-bite-gate, coming to her own conclusion of who may have taken a nibble of the "Single Ladies" singer's face. At the height of the drama in March, Haddish revealed that she had signed an NDA regarding the matter, preventing her from exposing any further details on the subject. She took to Instagram to share:
"Once you sign an NDA... if ya'll would've asked me this back when I did the interview, like a month ago — NDAs are real, so I'm not saying sh*t about nothing."
Earlier in the year, Haddish also detailed a moment when witnessed Beyoncé approach a woman who put her hand on JAY-Z's chest. Speaking to TV One's Uncensored, Haddish revealed:
"Beyoncé came walking up like ... 'B*tttchhh!' But, she didn't say that. But her demeanor, her body from the way she walked up on them, said 'get your hands off my man's chest.'"
Despite meeting the Lemonade entertainer mere minutes before the incident occurred, Haddish seemingly had Beyoncé's back in the matter, offering to fight for the singer.
She told TV One:
"I'm not at liberty to say what had went down at the party, but Beyoncé was just telling me to have a good time, and I was like, 'No, I'm gonna end up fighting this b*tch!' She was like, 'No, have fun, Tiffany,' and I said, 'I'm only going to have fun if you take a selfie with me.' She said, 'Okay,' and then she buried her face in my wig."
In the weeks following, Beyoncé was featured alongside her husband, JAY-Z, Future and on DJ Khaled's "Top Off," where she rapped: "If they're tryna party with the queen, they gon' have to sign a non-disclosure." The line was quickly perceived to be a direct reference to Haddish. Offering a response to that notion, Haddish took to Twitter to share that she would be more than willing to sign an NDA for the iconic singer.
While it seems that fans are never going to get to the bottom of this scandal, it's great to hear that Beyoncé and Tiffany Haddish still have each other's backs.