Female Entrepreneurs Reveal How Interactions With Male Investors Are Different Post #MeToo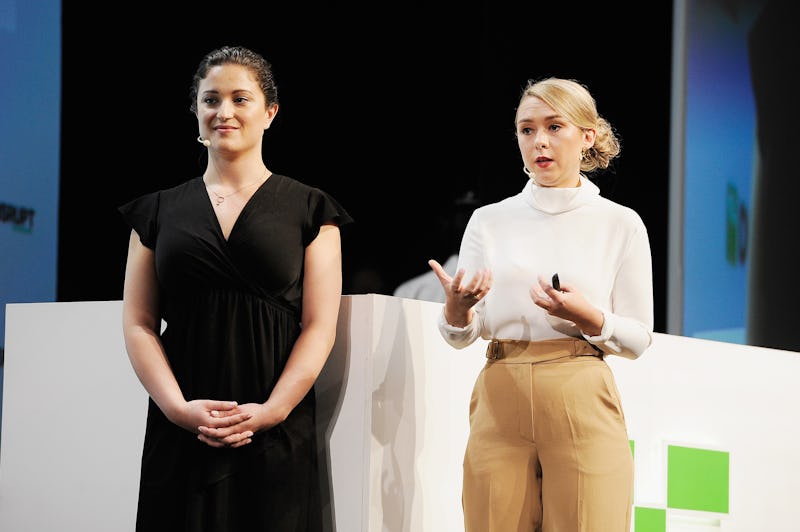 Steve Jennings/Getty Images Entertainment/Getty Images
Before #MeToo joined the mainstream conversation, Polly Rodriguez got used to late-night texts from male investors. They weren't exactly "U up?" but they still felt… weird. Rodriguez, CEO of the women's health and sexual wellness company Unbound, says that these male investors never quite crossed the line — but they walked right up to it. She also suspects that male founders they worked with weren't expected to chat at 11 p.m.. And they probably didn't receive unsolicited topless selfies from pool parties, either.
But since the #MeToo movement went viral last October, Rodriguez has seen a marked change in behavior.
"They're not testing anymore," Rodriguez tells Bustle. "Because they know that if it's perceived the wrong way, they could lose their job. And, quite frankly, it's not a female entrepreneur's job to entertain you at 1 a.m., even if it's about business."
In the past year, the #MeToo movement has affected nearly every industry. There have been changes in Hollywood; changes in the literary world; changes in the Catholic Church. And, yes, changes in the tech world, where women entrepreneurs only receive two percent of venture capital funding and sexual harassment is an open secret. Nearly every woman entrepreneur I've spoken with in the seven years I've been writing about startups has at least one story of a male investor making personal comments, overtly hitting on her — or worse.
Brianna Rader, CEO and founder of Juicebox, started her company — which is an app that connects people with sex therapists and counselors — two years ago. She says she wishes she'd started a year later, because she's seen a change not only in how investors interact with her post #MeToo going viral but also in the general approach to conversations around sexuality.
"One investor actually said that my personal sex appeal didn't match my product," Rader tells Bustle. "And he said that very openly and directly and didn't think anything of it."
Lauren Schulte, CEO of Flex, had an experience that falls under the "worse" category. A couple of years ago, Schulte asked a question during an event at an industry conference. Afterward, as she was walking to her car, a man ran up and said he'd been impressed with her question and wanted to hear more about her company. When she realized he was not only an investor but also one of the main sponsors of the event, she was thrilled. After all, that's the entire point of going to events like that: Networking with the right people; the people who can help move a company forward.
Schulte made an appointment to meet with the investor in his office on a Monday, but when she arrived, the place was dark and no one else was there. She realized then that it was a federal holiday, "like Columbus Day or Veteran's Day — one of those ones that not everyone gets off." The investor had her sit on the couch and then sat in a chair right next to her, with his legs spread open. He started asking about her sexuality, her prior relationships, her current relationship status, and even made derogatory comments about Asian men, both before and after Schulte told him her fiancee was Chinese.
"He was making me beyond uncomfortable," Schulte tells Bustle. "I realized there was no one in the office; nowhere I could turn. So when he had to take a call, I stood up and literally ran out. I hid in the parking structure because I was terrified he was going to come out and find me."
Rodriguez is also often asked to meet with investors in spaces she doesn't always feel are comfortable or appropriate. Most commonly? Bars. But these days, she no longer feels obligated to do so.
"When investors say 'Let's meet at a bar' or 'Let's meet at night for drinks,' I feel more comfortable pushing back and saying, 'I'd really prefer to meet in the office, so let me know when you're free during the day,'" Rodriguez says. "When you're a female founder meeting an investor alone in a bar, no matter how great they are or appropriate they are, there's always a component where it feels or looks to people around you like a date."
"It makes it so you can't focus on the business," Rodriguez says. "And because only two percent of venture capital goes to female founders anyway, you really have to bring your A game. I think the #MeToo movement has made it possible for women to ask for the environments they need in order to do their jobs well."
As for Schulte, when she was asked to come and be a speaker at the same conference where that investor was again a sponsor, she told the organizer what happened. Despite the fact that the organizer knew the investor and had worked with him for almost 20 years, he believed Schulte. The investor was dropped as a primary sponsor and banned from the conference completely. And Schulte was happy to be a speaker.
"I don't know that before #MeToo [went viral], I would have ever shared that experience or been so honest and blunt," Schulte says. "Before, I didn't want to go to the conference or speak at the conference ever again, because it was a really, really scary, creepy experience."
And while there has been plenty of criticism of how the #MeToo movement tries people in the court of public opinion rather than the court of law, Rodriguez thinks that has directly affected the behavior of male investors. Now, they know that anything they say might end up "on the front page."
"It shouldn't be on women to have to do that [threaten to go public]," Rodriguez says. "But now investors realize that their actions have consequences, they don't test those boundaries. They don't use their power over an entrepreneur as an excuse to solicit other things that are not professional, be it a late night text that's completely PG and appropriate — or one that isn't."
But while all three women acknowledge that there have been noticeable, positive changes in their interactions with male investors since the #MeToo movement went viral a year ago, they also all say that this is just the start. Is sexual harassment in the tech world fixed? Definitely not. Are women getting their share of investment? Not even close. But things are clearly changing and that's something to celebrate.