"Thank U Next" Inspired The Best Instagram Exchange Between Ariana Grande & Her Ex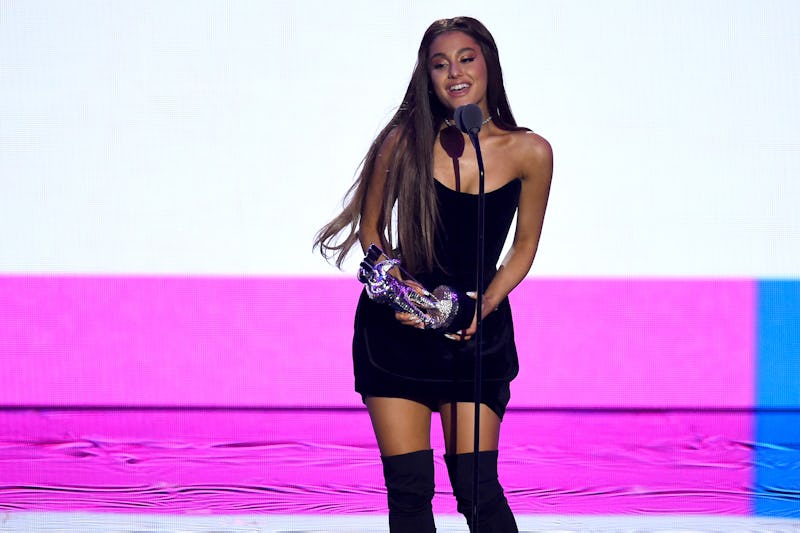 Theo Wargo/Getty Images Entertainment/Getty Images
As Ariana Grande makes clear on her new song "Thank U, Next," her exes taught her love, patience, and pain, but one of her past loves kind of thinks he got a raw deal. And honestly, she agrees. Grande apologized to ex Ricky Alvarez for "Thank U, Next," admitting he got the "worst line" on the track. She wanted him to know, though, that it was all out of love.
Alvarez, who Grande was dating when she licked that doughnut (remember that?), posted a video of himself on Instagram listening to "Thank U, Next," and when it gets to the line about him he pulled a total Jim Halpert. Looking directly into the camera he looked confused as Grande's voice came through in the background: "Wrote some songs about Ricky/ Now I listen and laugh." According to Refinery29, those songs are "Moonlight," "True Love," and "Forever Boy," which came out after the couple, who dated from 2015 to 2016, broke up.
Now, Alvarez's video was all in good fun, but Grande came back with a response that shows just how much she still respects her ex. ""HAHAHAHAHAHAHAHA," she posted on her Instagram Story. "I'm sorry u got the worst line it was meant v lovingly."
Since Grande said she played "Thank U, Next" for Alvarez and her other ex Big Sean, who also gets a shout out on the track ("Thought I'd end up with Sean/but he wasn't a match") before it's release, it's hard to believe that it wasn't out of love that she wrote the line.
Grande dropped "Thank U, Next" weeks after breaking off her engagement with fiancé Pete Davidson, and almost all of her exes are mentioned on the song, but it's not a diss track. Instead, it's Grande letting the world know she's found a new love in her life. "I know they say I move on too fast/But this one gon' last," she sings. "Cause her name is Ari/And I'm so good with that."
And fans are too, even if they agree that Alvarez's line on "Thank U, Next" isn't the best. Of course, people had jokes on Twitter about her former backup dancer and what his response might be to the song, which Grande shut down pretty quickly.
Of course, none of these jokes were as good as the "Thank U, Next" memes, which are pure *chef's kiss*. Or, even as good as Alvarez's response, which as Twitter user @willycosmic pointed out was definitely a "mood." Not to mention, a great way to poke fun at Grande's lyrical assessment of their relationship.
But, his response to the track really was just some good-natured ribbing. On his Instagram Story, Alvarez wrote he had "nothing but gratitude" for Grande and seemed to tease that he's gotten to hear more than just "Thank U, Next."
"Those songs are fire tho," he wrote, adding "you're welcome," which should leave fans wondering if Alvarez or Grande's other exes inspired more songs that she'll hopefully drop soon.
Grande is currently in the studio working on the follow-up to Sweetener, which dropped less than three months ago. Now that Grande's explained that line in her song, it's time for her to officially start that new chapter in her life. Basically, thank you, next album, please.