You Need To Hear Ariana Grande's "Thank U, Next" Lyric About Pete Davidson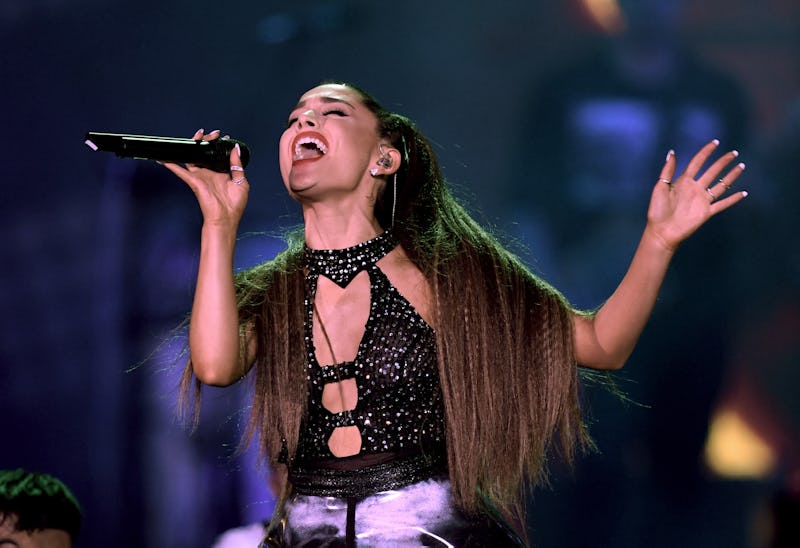 Kevin Winter/Getty Images Entertainment/Getty Images
How do you heal a broken heart? Well, if you're Ariana Grande, you write a fresh new bop that name-drops your ex — but in a like, really respectful way. Grande mentioned Pete Davidson in "Thank U, Next" — the new surprise single she released on Nov. 3 — and it seems as if she's got nothing but love for her former fiancé.
Grande hasn't really said a whole lot about Davidson since she and the Saturday Night Live comedian split in October. She doesn't really say a whole lot about Davidson on "Thank U, Next" either, but what she does say about him — in addition to what she says about her other exes that get name-dropped on the track — is a true testament to her class and maturity.
The lyrics read,
"Thought I'd end up with Sean / But he wasn't a match / Wrote songs about Ricky / Now I listen and laugh / Even almost got married / And for Pete, I'm so thankful / Wish I could say 'thank you' to Malcolm / 'Cause he was an angel."
So, just to clarify, "Sean" is Big Sean, "Ricky" is Ricky Alvarez, "Pete" is, obviously, Pete Davidson, and "Malcolm" is Malcolm McCormick aka Mac Miller. Her break-up with Davidson is the most recent, though, so let's start with what she says about him first.
If you were holding onto hope that Grande and Davidson would get back together, well ... it might be time to start letting that go. She references "almost" getting married to him in the lyrics above, and then brings up getting married again later in the song — just not to Davidson.
OK, she doesn't straight-up say that she'll never marry Davidson, specifically. She just refers to him in a "part of the past" kind of way, and her second reference to marriage — "One day I'll walk down the aisle/Holding hands with my mama" —  seems like it's very much focused on the future.
Despite their break-up, Grande said she's "so thankful" for Davidson. That's kind of the theme of the whole song, though — being thankful for what she's learned from her exes.
According to the track's lyrics, "One taught me love/One taught me patience And one taught me pain/Now, I'm so amazing." It's not clear who taught her what, exactly, but the point is that each of her relationships has helped her learn about, and love herself, more.
Grande and Davidson were first rumored to be dating back in May, and on June 21, Davidson confirmed on The Tonight Show With Jimmy Fallon that he and the singer had gotten engaged. The couple would spend the next few months gushing about one another and looking very much in love, but in October they decided to part ways.
Grande and Davidson's love just wasn't meant to be, it seems. At least Grande's trying to look at the split in a positive way, though — and her new track makes it clear that she learned so much from her time with the SNL performer.