Ariana Grande Changed The Name Of This Song For A Pretty Romantic Reason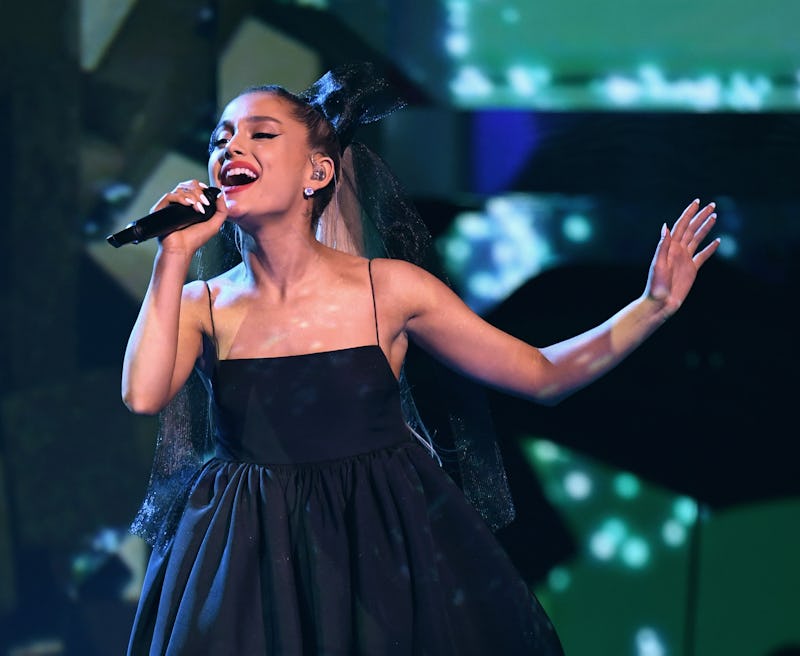 Kevin Winter/Getty Images Entertainment/Getty Images
Ariana Grande and Pete Davidson's whirlwind romance isn't slowing down anytime soon. The happily engaged couple has already found plenty of ways to show their love for each other through tattoos, but it looks like Grande found another way to honor her fiancé. Ariana Grande renamed her song "Pete" to "Pete Davidson," making it crystal clear who the track is about.
Earlier this month, Grande shared the track list from her upcoming album, Sweetener. It included a song titled "Pete," which fans naturally assumed was about the Saturday Night Live actor. But a look through the Sweetener track list shows that the song, which is listed as 14th on the album, is now titled "Pete Davidson," so there's no ambiguity about whom the title refers to now.
Fans noticed the change, and Grande responded to a fan's question on Twitter about what inspired her to change the title. Her answer was super sweet, and it sounds like she wants her music to be a lasting tribute to her boo. Here's what Grande wrote to the fan:
i [sic] like the way it looks
i love his name and i love him
music lasts forever. it'll outlive any tattoo, any memory, any anything, even myself so i want my love for him and how i feel to be a part of that
Cue the "awws."
That's pretty romantic, and it's understandable why Grande wanted to include Davidson's full name in the song title. The two of them have only been dating, at least officially, since May, but they seem to be really happy together. Grande and Davidson got engaged in June and moved into a new apartment together the same month. The two of them clearly have a strong connection, even if their relationship is still relatively new.
As for the song itself, it hasn't been released yet. Only a few singles from Sweetener, including "No Tears Left to Cry" and "God Is a Woman," have been released so far. It's still anyone's guess what "Pete Davidson" will actually be like, until the album's release on Aug. 17. Maybe it's a ballad about their love story? (There's a verse on Genius that's purportedly from the song, but it looks like it's a mixture of things Grande has written about Davidson on Instagram.)
Some of the other track listings on Sweetener are just as mysterious, at least for now. There's a song called "Borderline," which could also be a tribute to Davidson. The actor has been open about his experience with borderline personality disorder, so it's possible the song is about mental illness in some way. (On the other hand, it's just as possible that Grande is a Madonna fan, and she's paying tribute to the pop icon's 1983 hit.)
Grande and Davidson have shared plenty of photos and flirty banter on Instagram (though Davidson recently deleted all of his Instagram photos). But her new tweet marks one of the most in-depth things she's said about Davidson and their relationship. Clearly, Davidson means a lot to her, and fans will get to hear more about their relationship when the new song is released next month.