Ariana Grande & Pete Davidson's New Apartment Sounds As Over-The-Top As You'd Expect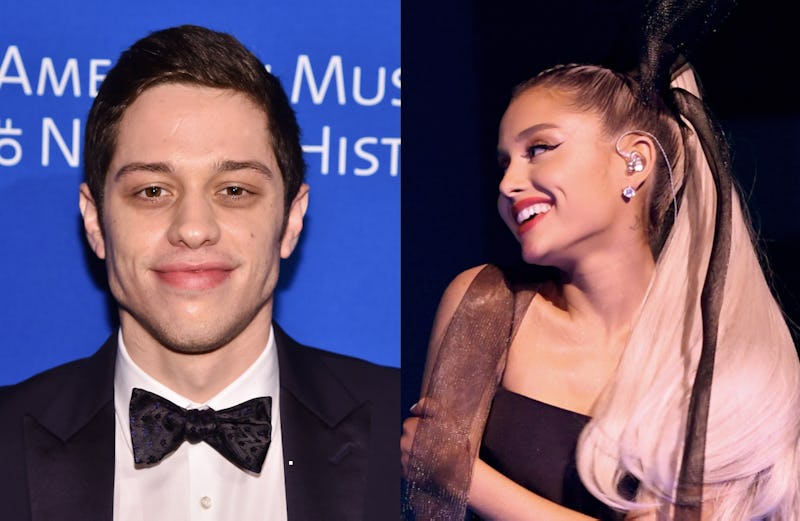 Michael Loccisano/Getty Images Entertainment/Getty Images; Kevin Winter/Getty Images Entertainment/Getty Images
Another day, another Ariana Grande and Pete Davidson relationship update. These two are basically moving full speed ahead. So, what's the latest on the agenda? Grande and Davidson just moved into a new apartment together in New York City, according to TMZ. Truthfully, this was only inevitable since they are engaged and intend to get married. It's assumed they would live together eventually, and considering how quickly this relationship has progressed, sooner was expected rather than later.
It makes sense that these two decided to get a place in NYC, since Davidson is a Saturday Night Live cast member and that's where the show films. According to TMZ's report, the freshly engaged couple has an apartment valued at $16 million in Manhattan. That's a big chunk of change, but the singer and the comedian seem to live by the "go big or go home" mantra. After all, they got engaged a few weeks into dating and that ring was valued at almost $100,000, according to reports.
So what did the future Mr. and Mrs. Grande-Davidson get for $16 million? The two live in an apartment that is more than 4,000 square feet with five beds and 4.5 baths — which seems like a lot for just two people, but maybe it's a good amount of space for visitors or future children (if they choose to have any). Their place as view of the Empire State Building, a fitness center, a 75-foot sky-lit pool, and a private IMAX theater. TMZ also reports that the pair is now neighbors with singer Sting.
On June 16, the singer confirmed the cohabitation when she posted a picture of Spongebob with the words, "Us in our new apartment with no furniture 1 speaker and red vines" in an Instagram Story.
The very next day, Grande shared a photo of herself standing on top of the couch with the caption, "super big and mature looking."
It's unclear if that couch is in Grande and Davidson's apartment, but apparently they have been on the hunt for some new furniture.
On June 18, TMZ posted photos of the couple with their arms linked while they shopped for furniture in the city. It's possible that trip was not super successful based on a screenshot of text conversation that Grande shared on June 19. Someone texted, "remember when we went furniture shopping" and followed that up with "and came home with starbucks."
So maybe that isn't the couple's couch that Grande was standing on in her Instagram post. It might not be clear at this moment, but these two have been very transparent about other aspects of their relationship, so they are likely to share photos and videos of their place once it's decorated and furnished to their liking.
The couple has been very open about the progression of their relationship on social media. Grande and Davidson are all about affectionate Instagram photos and captions. They first became "Instagram official" on May 30 when the SNL star shared a photo of the couple wearing coordinating Harry Potter-themed robes.
With many Instagram posts and stories in between, the news of the couple's engagement broke on June 11. Of course, it's possible that the two of them were dating before their relationship went public, but that still seems like a rather quick progression.
Nevertheless, Grande does not care about what anyone thinks about the milestones in their relationship. Recently a "fan" called Grande "dumb" after she revealed that there will be a song called "Pete" on her next album and Grande was not having it. The Twitter user wrote, "'Pete' girl we know you love him but are you dumb." Instead of ignoring the hater, the singer replied with, "nah."
Another fan jumped in on that conversation by tweeting, "u really don't give a f*ck do u." Grande replied with, "forreal. the truth is [teacup emoji] i been the fuck thru it and life's too short to be cryptic n shit about something as beautiful as this love I'm in. so ǝʇǝԀ it is."
Even though the couple's fans (and haters) have a lot to say about every step in their relationship, it doesn't seem like any outside opinions actually matter to the duo. They went public with their relationship, got engaged, and moved in together at their own pace, so it's safe to say that they will continue to "not give a f*ck" as they move forward with other major decisions.