You Need To Read Ariana Grande's Defense Of Her & Justin Bieber's Quick Engagements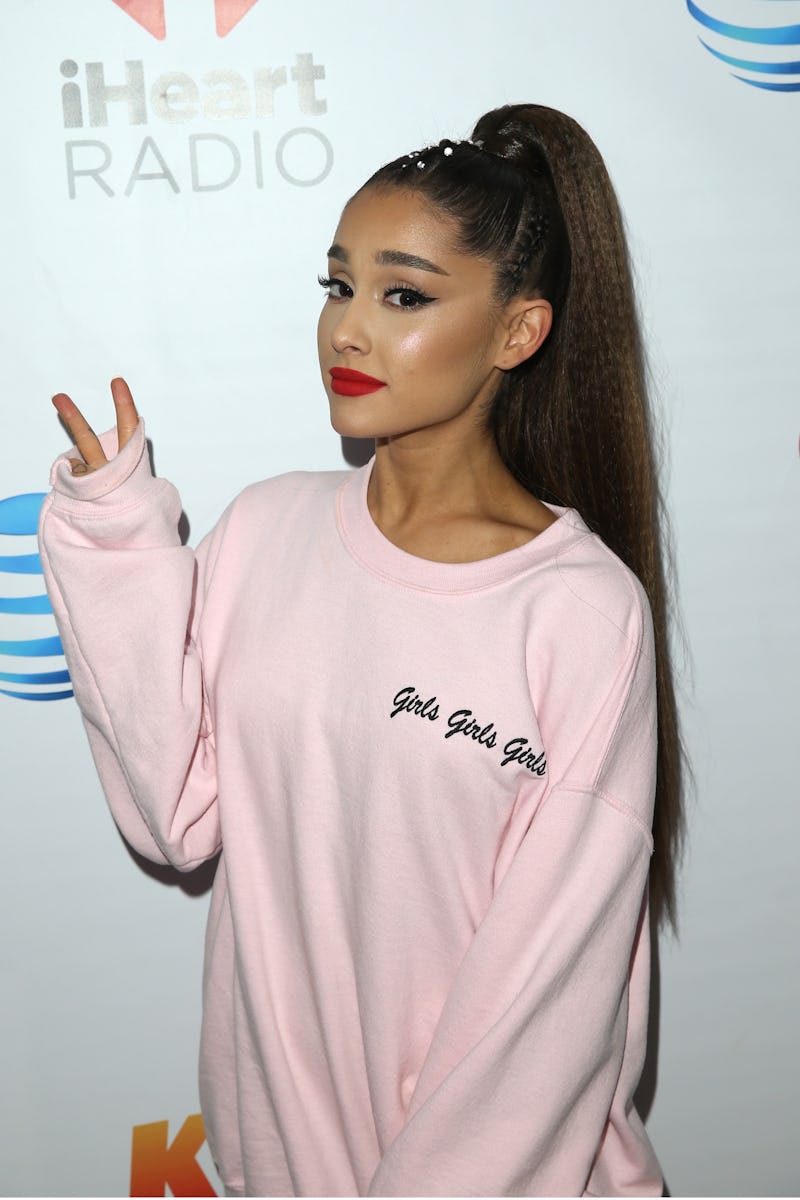 Jesse Grant/Getty Images Entertainment/Getty Images
It's been quite a summer for celebrity engagements already, and it feels like it's only just begun. On Sunday, news broke that Justin Bieber and Hailey Baldwin are reportedly engaged, sending many fans into the same tailspin they went into when they found out that Ariana Grande and Pete Davidson had done the same thing a few weeks ago. But now, Grande is defending her and Bieber's seemingly quick engagements, and her tweet on the subject makes a lot of sense. (Bustle reached out to Grande's rep for comment, but did not receive an immediate response.)
UPDATE: On Monday afternoon, Bieber confirmed his engagement to Baldwin with a lengthy Instagram caption. He also shared two black-and-white photos of the pair together, writing, in part:
"Was gonna wait a while to say anything but word travels fast, listen plain and simple Hailey I am soooo in love with everything about you! So committed to spending my life getting to know every single part of you loving you patiently and kindLY."
EARLIER: According to Us Weekly, it all started when a fan tweeted, "First Ariana get engaged to Pete Davison and now Justin Bieber to Hailey Bladwin [sic] the devil works hard but Scooter Braun works harder."
After seeing this, Grande apparently couldn't help but reply, and according to the fan's screenshot of their exchange, she said:
"You do realize we are human beings who love and have lives ...... right ....? And that Scooter is a wonderful human being too who cares first n foremost ab [sic] our health and happiness? Love is lit. Sh*t happens. I hope to god it happens to you too. U deserve it."
And later, when another fan pointed out that the original tweet was just a joke, Grande replied with a message about how she just wanted to make it clear that Braun, who manages both Grande and Bieber, would never orchestrate their relationships or engagements like that.
It makes sense that Grande would snap into action when it comes to defending Braun. As her manager, she and Braun have worked together for years, so it's understandable she'd feel protective of him. And obviously, no one wants the idea out there that their own relationship isn't 100 percent genuine; there's no real reason to believe that Grande didn't choose Davidson or that they're together for publicity after all.
The first reports that she and Davidson were a couple began to emerge in May. Ever since, there's been a ton of speculation about the situation... and that speculation only ramped up when the world found out they were engaged. It has to be hard for Grande to see total strangers debating the finer points of her future marriage. Who wants that?
And even though fans have had a few weeks to absorb Grande's engagement news, but Bieber's is brand new. According to TMZ, two witnesses reportedly watched Bieber propose to Baldwin during a trip to the Bahamas while they were at a restaurant, salsa dancing. Later, Baldwin's father, Stephen, confirmed their engagement when he congratulated the happy couple on Twitter in a since-deleted tweet.
Being that Baldwin was recently rumored to be dating Shawn Mendes (something she and Mendes both denied), this news has come as a shock to a lot of fans. But it seems like this is really happening, and obviously, it's totally up to Bieber and Baldwin only to make a life changing decision like this. If they're happy, fans should be happy. And it doesn't seem like Braun had to do any orchestrating at all to make this engagement happen, no matter what jokes might be floating around on Twitter.
No matter what people may think, Grande's right — she and Bieber are real humans with real lives, and only they can decide if their engagements are right for them. And despite the curiosity many fans are feeling, all the rest of us can do is sit back and be happy for them... and wait for wedding photos. It goes without saying that both events are destined to be absolutely gorgeous.