Ariana Grande & Pete Davidson's Relationship Really Was Love At First Sight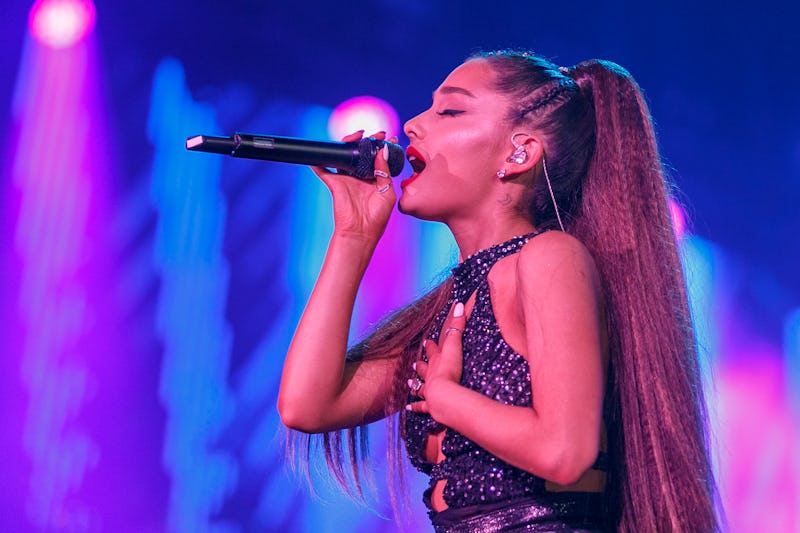 Rich Polk/Getty Images Entertainment/Getty Images
Earlier this week, Pete Davidson shared that he wanted to marry Ariana Grande the day he met her. And based on what Grande said to Jimmy Fallon on Thursday night, it sounds like the feeling was mutual. Ariana Grande wanted to marry Pete Davidson as soon as they met — and her story about their initial time together is too sweet.
As E! News points out, Grande and Davidson met when she guest hosted Saturday Night Live in 2016. They didn't start dating right away, but it sounds like the sparks were definitely there. Grande told Fallon,
We met on SNL, like, two, three years ago, or whenever that was. We never, like, exchanged numbers or anything. We weren't even, like, friends for a long time. But I had the biggest crush in the whole world on him the whole time. Like, forever. Like, my friends used to make fun of me for all that stuff.
Grande also shared with Fallon that long before she and Davidson started dating, she thought she'd end up with the SNL star. She told the Tonight Show host,
I jokingly said to my tour manager — I was like, "I'm marrying him, 100 percent." I was like, "I'm literally marrying him."
Grande also did a brief impression of her fiancé, and she really nailed Davidson's voice. You can catch the impression starting at 6:14 in the below video.
Fallon also asked Grande when she wrote "pete davidson," one of the songs on her new album, Sweetener. She revealed that she wrote the lyrics just a week after the two of them "started hanging out." The song's lyrics show that the two of them are really enjoying their engagement, too. Grande uses the word "happy" many times in the song, which is just over a minute long. And the lyrics refer to Davidson as her "soulmate."
Earlier this week, Davidson's feelings about marrying Grande were revealed in a GQ interview that was published Thursday. Davidson told the magazine of his fiancée,
The day I met her, I was like, "Hey, I'll marry you tomorrow." She was calling my bluff. I sent her a picture [of engagement rings]. I was like, "Do you like any of these?" She was like, "Those are my favorite ones," and I was like, "Sick."
Davidson also shared with GQ that he and Grande don't have any wedding plans yet. It sounds like right now, they have a more pressing task ahead: decorating their New York apartment. "We have six beanbags, but we have no forks," Davidson joked to the magazine.
It sounds like both of them had marriage on the brain before they'd even really gotten to know each other. If that's not love at first sight, nothing is. Grande and Davidson's relationship may be moving faster than many people's, but the two of them really do seem happier than ever. And it looks like they only fall more in love the more they get to know each other, too.