Ariana Grande Is Taking A Social Media Break For A Reason That Fans Will Totally Understand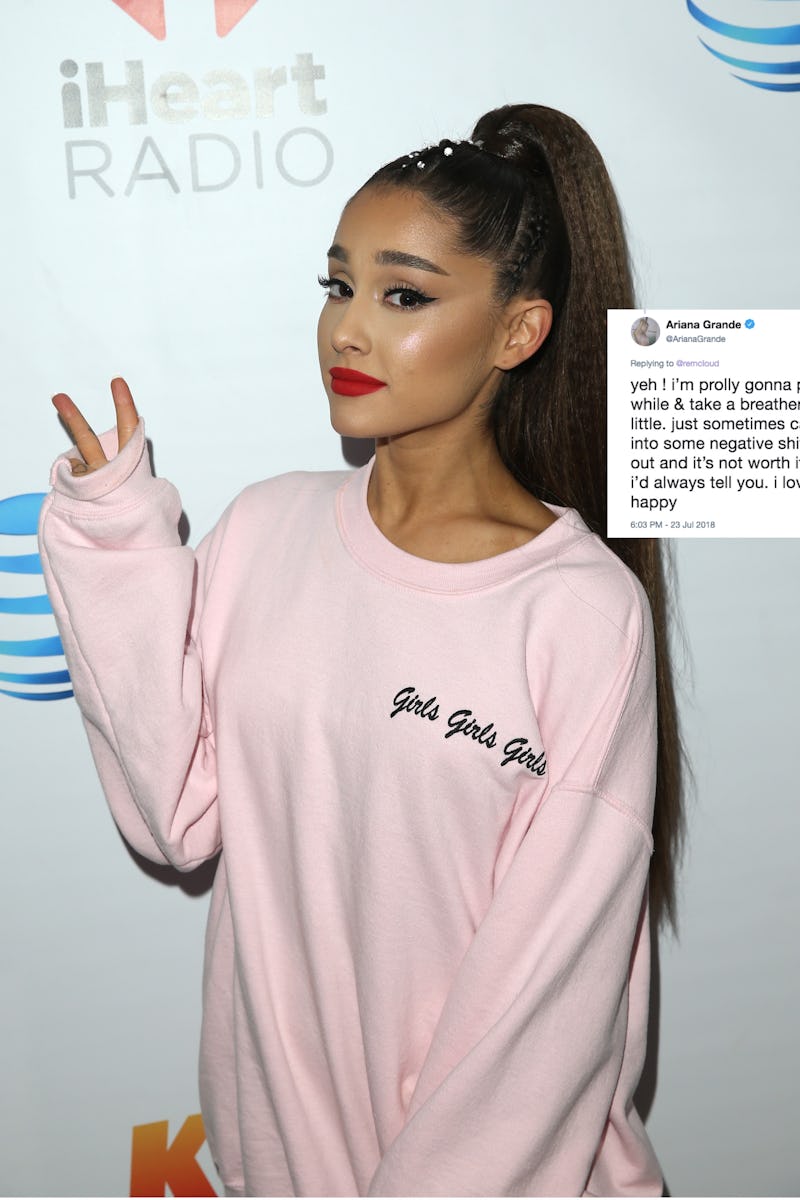 Jesse Grant/Getty Images Entertainment/Getty Images; Ariana Grande/Twitter
This summer has been a wild ride for Ariana Grande fans, and now, she's changing things up again. As she explained on Twitter, Grande is taking a break from social media, which isn't exactly surprising, considering the fact that both she and Davidson changed up their Instagrams over the weekend (Davidson removing posts, while Grande appeared to remove fan comments). But in a tweet, she explained her decision to take some time away from social media, and it's something anyone can relate to who has felt overwhelmed by it from time to time.
On Monday night, one of Grande's fans shared screenshots of her recent Snapchat posts, letting everyone know that she's back on the app. The singer replied with an explanation of how she's feeling about her experiences on Twitter and Instagram recently, and in light of her recent engagement and the major spotlight on it, it makes a lot of sense that she'd want to take a step back.
"I'm prolly [sic] gonna post on der for a little while & take a breather from Twitter & IG for a little," she wrote in her tweet. "Just sometimes can't help but bump into some negative sh*t that really can bum u out and it's not worth it honestly. Promised I'd always tell you. I love u sm ! Be well & happy."
Even though many people have had experience dealing with online trolls and can understand wanting to take a break from online negativity, Grande's is on a much bigger scale. Being that she lives in the spotlight, it's probably safe to assume that dealing with rude comments on Instagram and Twitter has become part of Grande's daily routine, and that can certainly wear on you after awhile.
And after news broke of her engagement to Davidson, which did happen pretty fast, there's no doubt that these kinds of comments have ramped up. It seems like so many people have opinions about their relationship, even though they don't know her or her husband-to-be. That has to get old fast.
And when it comes to taking a social media break, this isn't something Grande is doing alone. Davidson also seems to be keeping a low profile online, and it's something he explained to his followers too. And actually, it sounds like his reasons are pretty similar to Grande's. In an Instagram Story on Monday, he wrote:
"no there's nothing wrong. no nothing happened. no there's nothing cryptic about anything. i just don't wanna be on instagram anymore. or on any social media platform. the internet is an evil place and it doesn't make me feel good. why should i spend any time on negative energy when my real life is f*cking lit. the fact that i even have to say this proves my point. i love you all and i'm sure i'll be back at some point :)"
Sounds like this might be a change that Grande and Davidson decided to make together, and if it's working for them, good for them. We could probably all use a break from social media for awhile, and if these two want to celebrate their engagement without everyone's opinions, more power to them.