Ariana Grande Described Her First Kiss With Pete Davidson As "So Dope"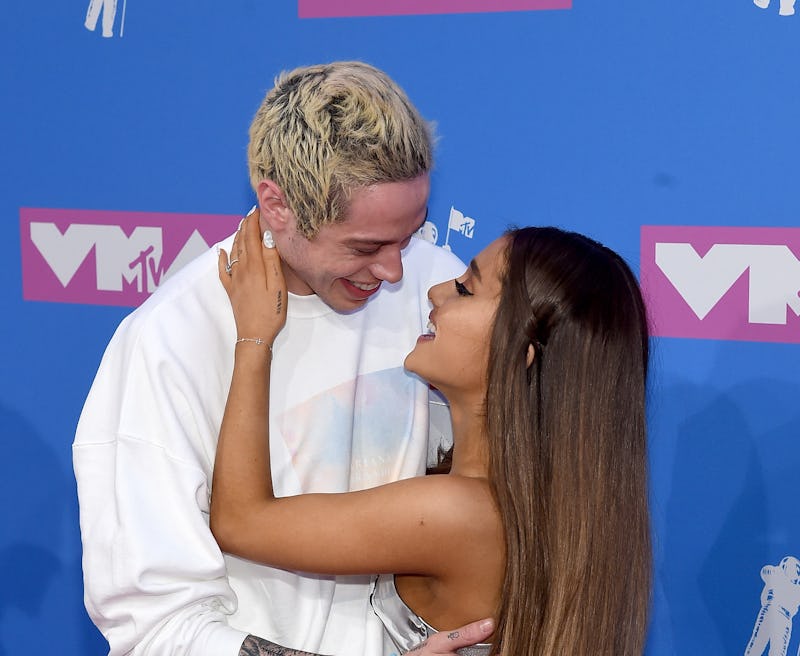 Jamie McCarthy/Getty Images Entertainment/Getty Images
Ariana Grande and Pete Davidson are so into each other, and in their own words, their love is "so dope." On Thursday, the Ponytail Princess was on an episode of Nicki Minaj's Queen Radio to talk about her relationship with Davidson and all the fun they're having, according to E! News. And Grande's story about her first kiss with Davidson is just more proof of their instant chemistry.
While on the radio show, Grande revealed the story of how her first kiss with Davidson went down, and according to E! News, he was quite a gentleman: "It was so cute," the singer said. "He asked my permission to kiss me." Now a lot of people might think it corny for dudes to ask before a kiss, but it's Ariana Grande; you better ask permission to even stand next to her. Plus, it's super respectful.
She said the kiss was "so sick," and "so dope," which is the cool kids' way of saying that it was like a movie kiss. Minaj asked her if that first smooch was of the sexy type, and Grande said yes and no: "It's kind of complicated because it wasn't like, too naughty of a kiss," she explained. "It was really sweet, but it was also sexy, you know what I mean?" Perhaps like a sweetener.
Grande and Davidson, no matter what you might think of their whirlwind summer romance, definitely have the giddy chemistry of two teens falling in love for the first time, except they're in their mid-20s, hella famous, and living in a $16-million apartment. Grande ended her two-year relationship with ex-boyfriend Mac Miller at the beginning of May, right around the time when Davidson and Cazzie David split. It might seem like Grande and Davidson got together real quick, but they had been secretly crushing on each other for years.
The couple met in 2016 when Grande did the double duty of hosting and musical guesting on Saturday Night Live. She stopped by The Tonight Show Starring Jimmy Fallon on Aug. 16, and according to E! News, it was crush at first sight:
We met on SNL, like, two, three years ago, or whenever that was. We never, like, exchanged numbers or anything. We weren't even, like, friends for a long time. But I had the biggest crush in the whole world on him the whole time. Like, forever. Like, my friends used to make fun of me for all that stuff.
You know it's a real crush when your friends give you crap for it. And though she was kidding, she also accidentally predicted the future. Grande told Fallon, "I jokingly said to my tour manager — I was like, 'I'm marrying him, 100 percent.' I was like, 'I'm literally marrying him.'" Well, now she literally is.
And the feeling was way more than mutual. Earlier that same week Davidson said in a GQ profile that he knew he wanted to wife her immediately:
The day I met her, I was like, "Hey, I'll marry you tomorrow." She was calling my bluff. I sent her a picture [of engagement rings]. I was like, "Do you like any of these?" She was like, "Those are my favorite ones," and I was like, "Sick."
These two are just enjoying the ride of their intense love, and why not? They're having a great time, which is always evident. Grande told Minaj on Queen Radio: "He has a lot of light. He's like my best friend. It's just really fun. It gets better everyday." And that kind of love really is so sick, and so, so dope.