Um, Ariana Grande & Pete Davidson May Have Been Dating Longer Than You Thought & Here's Proof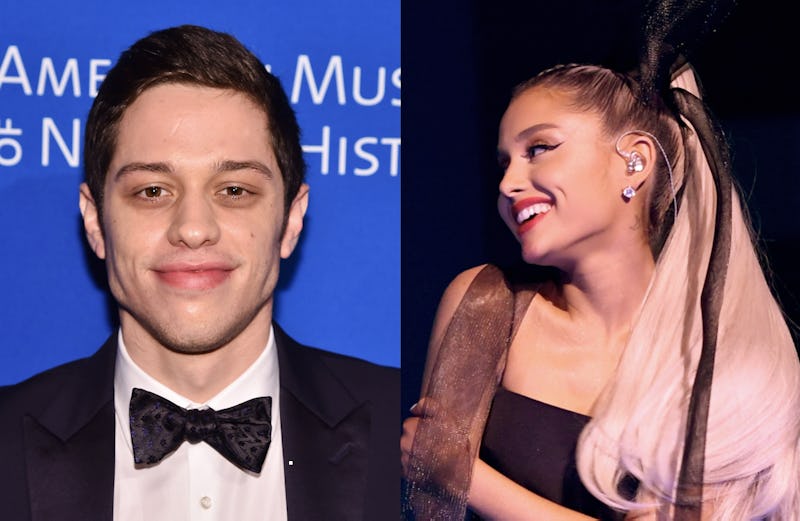 Michael Loccisano/Getty Images Entertainment/Getty Images; Kevin Winter/Getty Images Entertainment/Getty Images
Arianators, you better sit down for this one. Based on some recently discovered information, the Ariana Grande and Pete Davidson relationship timeline isn't what it seems and is way more confusing than originally believed. Davidson reportedly had an engagement planned for awhile, and he may have even revealed he was planning to get married all the way back in April. (Bustle has reached out to Grande and Davidson's reps about the engagement rumors, but did not receive an immediate response.)
On Wednesday, New York City celebrity jeweler Greg Yuna spoke with E! News and said the Saturday Night Live star contacted him last month. "Pete called me at the end of May and said, 'Look, I'm getting a ring. This is what I want,'" Yuna dished. "And I told him that I had the right ring for him. He didn't tell me who it was for but told me to keep it a secret. He didn't tell me anything about it."
Yuna told E! News Davidson paid $93,000 for the ring, which is 3-carats and pear-shaped. According to Yuna, it took two weeks to make the ring. On June 2, Grande was first spotted wearing the ring at her iHeartRadio's Wango Tango performance in Los Angeles. Since it took two weeks for the ring to be made, then Davidson probably would've had to phone Yuna around May 19 (11 days prior to the singer and comedian confirming their relationship). Flash forward two weeks and it's the same time Grande was seen wearing the diamond ring.
Based solely on this information about the ring, when Davidson reached out to Yuna, and how long it took to make, you could say his rumored engagement to the "No More Tears" singer happened super fast.
Just look at this incredibly detailed calendar posted by @nicolewboyce on Twitter:
Really, their entire relationship seems to have moved at lightning speed. On May 9, TMZ reported Grande and Mac Miller broke up after almost two years together. One day later, on May 10, Grande confirmed she and the rapper had split. She revealed on her Instagram Story, "I respect and adore him endlessly, and am grateful to have him in my life in any form, at all times, regardless of how our relationship changes or what the universe holds for each of us!"
On May 12, Grande was spotted with a cloud cell-phone case at an SNL after-party, which looked a lot like the cloud case Davidson has. On May 16, Davidson confirmed his breakup with Cazzie David during an interview with Complex's Open Late with Peter Rosenberg. "We're not together anymore." He added, "Very talented girl, she'll be great and she'll be fine. Yeah, I think she'll be OK." The comedian didn't reveal when they actually split. Although, on May 3, David posted an Instagram with Davidson and captioned it, "Bffs [heart with arrow emoji]". So, there's a possibility these two were still together in early May.
On May 21, People reported Grande and Davidson were dating. A source told the publication the relationship "just started" and it was "very casual". It wasn't until May 30 they went public with their romance when when Davidson posted an Instagram of the two wearing Harry Potter robes. He captioned it: "the chamber of secrets has been opened ..."
Then, on June 11 (12 days after they revealed their relationship on social media), Us Weekly reported Grande and Davidson are engaged. Again, neither of them have commented on the rumors.
So, if you take a look at all of the information stated above, well, it just seems like a whirlwind romance. But, if you factor in a show Davidson did in April at Kenyon College it changes the timeline greatly.
As reported by Refinery29, Grande and Davidson may have been dating longer than originally assumed. While performing at Kenyon College, in Ohio on April 21, Refinery29 reports multiple sources who were at the show told the publication Davidson talked about his girlfriend at the time and how they would probably get married. (Bustle reached out to Davidson's rep about these comments, but did not receive an immediate response.)
Of course, many thought he was referring to David. It's unclear if he mentioned said girlfriend by name, but, if he did mention David's name, then this would mean they were still together in April. However, if he didn't say a name, there's a chance he was talking about Grande. As for David and Davidson's May 3 IG, well, maybe that was her way of saying they were still close friends, despite no longer being a couple.
So, yeah, Grande and Davidson could've been dating all the way back in April and nobody knew. Who knows, maybe they were dating before April. If so, them announcing their relationship and possibly getting engaged in May isn't as fast-paced as everyone thinks. Though, if they did start dating in April, they've definitely moved faster than the typical relationship.
The exact timeline of when Grande and Miller's relationship ended, David and Davidson stopped dating, and when Grande and Davidson got together is all unclear. It's best not to jump to conclusions when so many facts are still unknown, but there's no denying Grande and Davidson's relationship timeline is super confusing and making fans more determined than ever to figure it out.