Ariana Grande & Pete Davidson's Rumored Split Has Fans Concerned — For Their Pig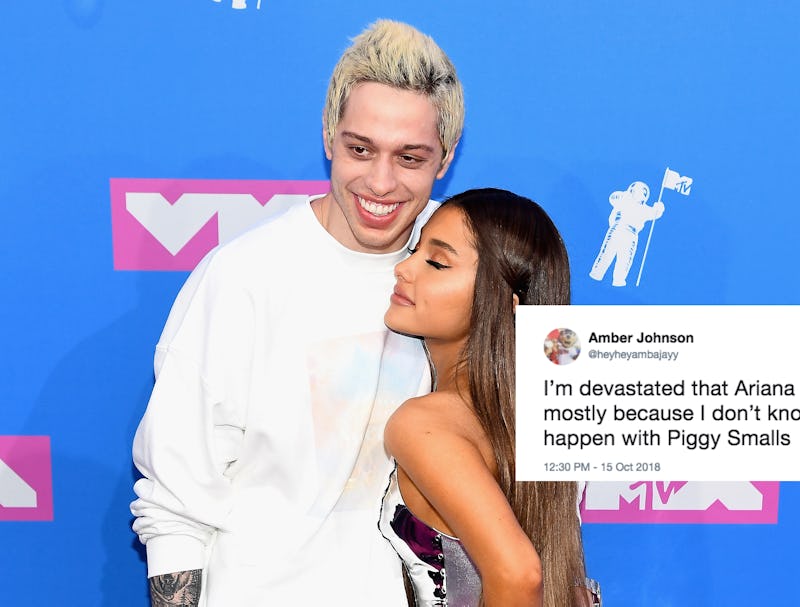 Nicholas Hunt/Getty Images Entertainment/Getty Images; heyheyambajayy/Twitter
Arianators really need to know what's going on with Ariana Grande and Pete Davidson's pig, Piggy Smallz, now that Grande and Pete Davidson reportedly split and called off their engagement. If you haven't heard the news, on Oct. 14, TMZ reported the two are no longer together due to this not being the "right time" for their engagement. The report was definitely shocking, but what might even be more surprising is the biggest question fans are asking on Twitter involves Piggy Smallz. (Bustle reached out to both celebrities' reps for comment regarding the breakup reports, but did not receive an immediate response.)
For example, one person tweeted on Oct. 15, "Okay, I know that Pete & Ariana got engaged hella fast, but I'm still not okay. WHO WILL HAVE CUSTODY OF THE REAL PIGGY SMALLS??" Another individual wrote on Oct. 14, "Concerned for Piggy Smallz but I assume Ari will get full custody."
These are only two of the many questions about Grande and Davidson's pig. In September, news broke that the singer and Saturday Night Live star got a pig after she posted a video on her Instagram Story with the tiny animal. Since then, people have been wanting to see more of Piggy Smallz and learn all of the details that they can. And, now, they're tweeting about the pig's custody.
Here are just a few of the tweets:
The Question Of The Hour
This is something many people want to know.
It's A Main Concern
This person is apparently rooting for Ariana.
The Custody Talk Continues
Is split custody of a pig even a thing?
There's Even Reading Material About It
This person shared a snippet from a Jezebel article published on Oct. 15.
It's Upsetting To Some
Grande and Davidson are probably taking good care of Piggy Smallz, don't you think?
Even Non-Fans Are Curious
When it comes to a cute pig, people are invested.
On Sept. 27, Davidson discussed Piggy Smallz with Seth Meyers on Late Night With Seth Meyers. "You guys have taken a big step for a couple that is engaged. You bought a pet," Meyers mentioned, before Davidson confirmed, "Yep. We got a pig."
The SNL star also made it clear that he had no idea how Grande obtained Piggy Smallz. "She was like 'I want a pig' and then an hour later it was just there. You know what I mean? I'm still trying to get a Propecia refill for the last two weeks and this chick got a pig in a f*king hour."
Not only did Davidson get a tattoo of the pig, but Piggy Smallz serves as the star for Grande's "Breathin'" music video. If that isn't enough, Grande also revealed Piggy Smallz is an emotional support pig. Seeing as "Breathin'" about Grande's personal struggle with anxiety, it makes sense why the pig is in the video.
You can see why so many fans are wondering about the pig and her living arrangements. She's genuinely a huge part of Grande and Davidson's lives. Seeing as Grande said Piggy Smallz is her emotional support pig, it seems more than likely she'll get to keep the pig, you know, if she and Davidson really did break up. All that said, Grande and Davidson will probably continue taking good care of Piggy Smallz no matter what.