Pete Davidson Has No Idea How Ariana Grande Brought Piggy Smallz Into Their Lives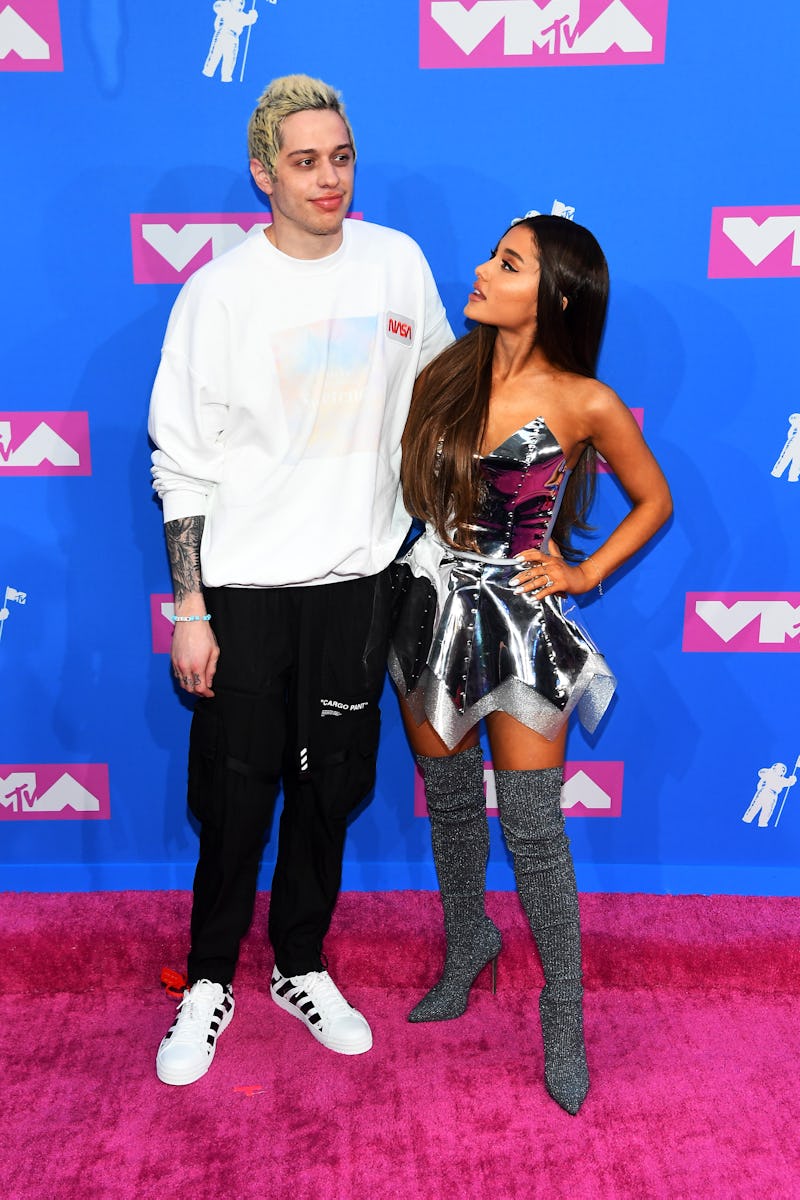 Nicholas Hunt/Getty Images Entertainment/Getty Images
Ariana Grande and Pete Davidson's relationship is getting stronger day by day. They just keep reaching more milestones together. First, the two got a fancy New York apartment, then they got matching tattoos, and now, they even own pets together. In fact, Pete Davidson discussed the pet pig he shares with Ariana Grande during the September 27 episode of Late Night With Seth Meyers. Sure, the duo is already engaged, but sharing a pet together is really solidifying their relationship, right? Host Seth Meyers told the Saturday Night Live cast member, "You guys have taken a big step for a couple that is engaged. You bought a pet." Davidson confirmed, "Yep. We got a pig." Very casual.
He elaborated about how it all went down, albeit vaguely. Davidson shared, "She was like 'I want a pig' and then an hour later it was just there. You know what I mean? I'm still trying to get a Propecia refill for the last two weeks and this chick got a pig in a f*king hour." How does she do it? Maybe God really is a woman, and She knows that when Grande wants a pig, she needs it right then and there.
Meyers wondered, "Does she just say it to the universe and the universe hears?" It sure does seem that way, doesn't it? Davidson remarked, "She was like 'I want a pig' and then it was there. It was f*cking nuts."
Meyers wondered, "This is a Manhattan pig?" Davidson confirmed and added, "Oh, it's a top b*tch. It's a boujee pig." Then he revealed, "That's Piggy Smallz," which is, really, the perfect name for a pet pig.
Meyers reacted with "That is not a joke. You named the pig Piggy Smallz." Yes, they did. Meyers also pointed out, "You already got a tattoo of the pig." He replied with "Of course." Getting a tattoo to commemorate a life milestone is just a #TotalPeteDavidsonMove at this point. As he also confirmed in the interview, he has at least 50 different tattoos. If he didn't mark this occasion with some ink, it would be concerning.
Even though Grande has been more low key these days, she has been sharing some sweet times with their new pet Piggy Smallz on her Instagram page and in Instagram Stories. In fact, just after Davidson appeared on the talk show, she took to social media to share some sweet videos and photos of Davidson and Piggy Smallz.
Grande posted another photo of Piggy Smallz on her blanket with the word "lil angel." He really does look angelic resting on those white linens.
Grande isn't the only one posting about the pet pig. The fans are also on board and can't contain their excitement. One fan tweeted, "ariana grandes pig is so cute im crying @ 5 am." And they're not the only fan invested in Piggy Smallz.
Others couldn't help wishing that they too had a pet pig like Grande and Davidson's new bundle of joy. One person tweeted, "ariana is legit living my dream by having a baby pig, i can't even express how badly i want to rescue one lol."
Another fan suggested a nickname for the pet, or maybe some name inspiration for some future pigs if Grande and Davidson add any more to their family: "Arioinka Grande."
Grande wasn't the only one having fun with the Instagram Stories. One fan tweeted, "ok welp the stories of ariana's pig made this early morning a little better." They really did. It really doesn't get any more adorable than Grande and Davidson with a pet pig.
In a short time, Davidson and Grande's relationship has progressed so much. They got tattoos in each other's honor, they are engaged, they moved in together — all in less than six months — and now they are parents to an adorable pig. No matter what is next for the couple, their fans will be eagerly anticipating (and supporting) their relationship updates.