Ariana Grande's Reaction To Pete Davidson's Adorable Childhood Photo Is SO Priceless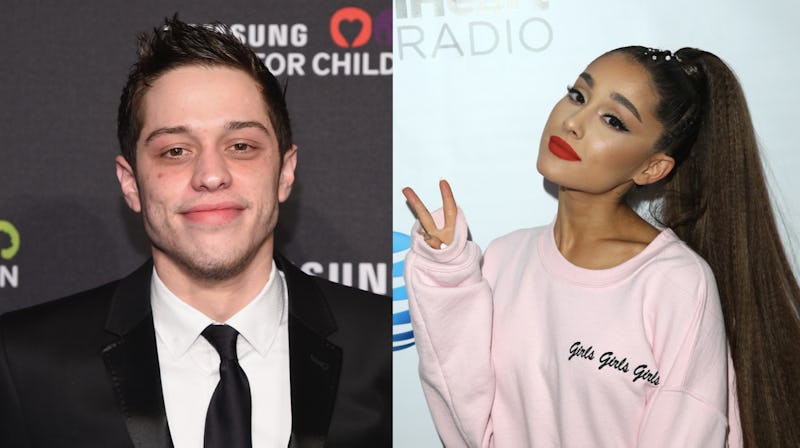 Bryan Bedder/Getty Images Entertainment/Getty Images; Jesse Grant/Getty Images Entertainment/Getty Images
Some people wear their heart on their sleeve, while others like Ariana Grande prefer to have the one who's stolen their heart screen printed on a shirt. Grande wants fiancé Pete Davidson's childhood photo on a sweatshirt and honestly, after you see his throwback Instagram, you might want one, too. It's so good, Grande should start selling Davidson merch immediately.
The photo in question is one of a young Davidson in a white tank top and a gold chain. His arms are crossed and his face definitely seems to say he's bad to the bone. At least as bad as a middle schooler can be. Davidson's take on the photo was a little less kind: "every photo of me growin' up is like this," he wrote posting the emoji face with a medical mask on.
Davidson expressed a similar sentiment days earlier when he shared another photo of his eighth grade self, this time shirtless wearing a "Tarheels" blue baseball cap, as Drake so helpfully pointed out, but still rocking that gold chain. "My mom just sent me this from 8th grade," he wrote, "I cant stop laughing at the fact that I always been pure trash." His fiancée though seemed to disagree, though. In her opinion, he looked like the kind of kid who deserves to be on a T-shirt, more specifically, a crewneck sweatshirt.
Grande's commented on Davidson's photo, writing, "i need this on a crewneck immediately." And, honestly, same. Just imagine this cross-armed kid staring back at you from a crewneck sweatshirt in your favorite color.
Now, Davidson's post wasn't fashion-related in the slightest. In fact, he was plugging his friend Bo Burnham's directorial debut, Eighth Grade. "It's legit the best movie I've seen since @goodtimemov." That's a real compliment since Davidson has been very vocal about how much he loves Good Time, which stars Robert Pattinson, who he also really loves.
When Davidson appeared on the Tonight Show last month, he was there to promote Set It Up, but spent his time gushing over Good Time instead, even showing a clip of it. "What? I'm going to promote a film I was in for ten seconds?" Davidson joked. "[Robert Pattison] should have got an Oscar!"
Let the record show that Davidson did all this while wearing a shirt of Robert Pattinson from Good Time with Pattinson, who was also a guest on the Tonight Show to promote his new film Damsel, sitting right next to him. More importantly, this means both Davidson and Grande like to use their fashion to promote the things they love, which may mean they're truly a match made in heaven.
Knowing all of this, I can't help but wonder if Grande's response to Davidson's Instagram is actually a hint that she's starting her own line of Pete Davidson shirts. Especially, since Grande has already worn a sweatshirt with Davidson's face on it, which brought their PDA to a whole 'nother level.
Grande was seen wearing the shirt in an Instagram story of her dancing in her new apartment she shares with Davidson. The photo used for that sweatshirt is more current and looks pretty homemade. Did Grande make that sweatshirt herself, or did someone make that for her? Also, where can fans get one?
Since these were commonly asked questions after Grande appeared in the shirt featuring the mug of her beloved, it makes sense that she might make it her side hustle. For those who are as obsessed with Davidson as Grande is, a crewneck sweatshirt feels like perfect way to show it. Here's to hoping Grande will start selling this sweatshirt as part of her Sweetener merch. That would certainly be a sweet lewk.