Ariana Grande Took Her Pete Davidson PDA To The Next Level — With A New Sweatshirt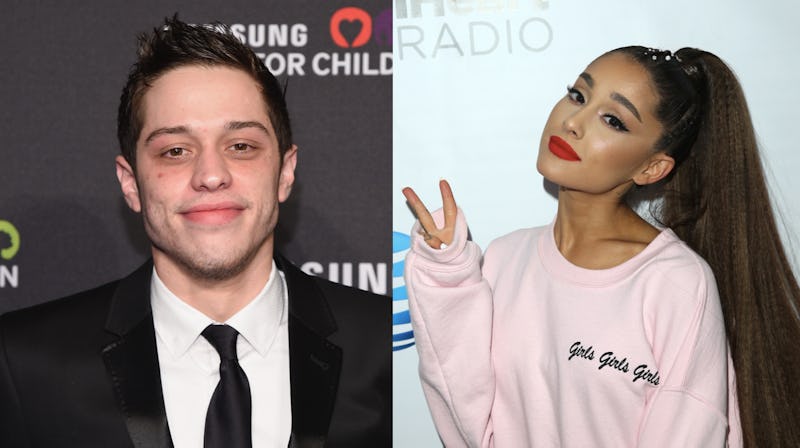 Bryan Bedder/Getty Images Entertainment/Getty Images; Jesse Grant/Getty Images Entertainment/Getty Images
Ariana Grande and Pete Davidson haven't shied away from showing PDA in their new relationship, and it doesn't look like that's going to change anytime soon. In an Instagram Story posted early Friday morning, Ariana Grande wore a Pete Davidson sweatshirt while dancing in what appears to be their new NYC apartment.
Getting a shirt made with your fiancé's face on it might seem a little extra for most people, but most people aren't Grande and Davidson. After all, Davidson already has multiple tattoos in honor of Grande, including the bunny ears mask from her Dangerous Woman album cover and her initials, "AG."
The two of them reportedly have matching tattoos, too, including clouds and the acronym "h2gkmo," which stands for "honest to god knock me out." Grande doesn't have more tattoos in honor of Davidson, at least that fans know about, though, so the sweatshirt could be her way of quite literally wearing her love for the Saturday Night Live actor on her sleeves.
Grande's caption on the Instagram video hints that it was taken in the apartment she and Davidson are rumored to have moved into together recently. "This is what @dougmiddlebrook is blasting over the apartment sonos #taste," Grande wrote on Instagram, tagging a friend who was apparently in charge of the music. She also used a bunny-ear filter in the video, and horrifyingly, the filter briefly appeared on Davidson's face on the sweatshirt, too.
Grande and Davidson haven't shared too many images of their new apartment, but dedicated fans have found details about the building that the two of them have reportedly moved into. According to TMZ, Grande and Davidson's New York City apartment has five bedrooms and four and a half bathrooms. But the extra space is only one of the building's many perks. Their apartment building apparently has its own IMAX theater, as well as a sky-lit pool and a fitness center.
Based on Grande's recent Instagram posts, it sounds like the two of them aren't fully moved into the apartment yet. Grande recently posted a SpongeBob SquarePants image in an Instagram story, captioning it "Us in our new apartment with no furniture 1 speaker and red vines." The two of them were also seen furniture shopping in New York, according to TMZ.
Davidson also echoed the empty apartment vibes with an Instagram post on Thursday, sharing an image of one of the couple's friends sitting on a ladder while watching a movie at their apartment, because they apparently haven't bought all of their furniture yet. "When @sebobear comes to movie night and there's no furniture in the crib yet," Davidson captioned the Instagram post. It looks like they're making due with the empty apartment for now, though, with some blankets and pillows on the floor in place of a couch.
The apartment photos and Grande's sweatshirt video are only the latest entries in the couple's recent string of Instagram posts about each other, too. Grande shared a video of her and Davidson dancing together on Thursday, and it's honestly too cute. Davidson also wished Grande a "happy birthday" with two Instagram posts earlier this week, calling the "No Tears Left to Cry" singer his "favorite person that ever existed." And in the caption of his second Instagram post, Davidson wrote, "one more for the queen. words can't express what a real fucking treasure this one is," adding a crown emoji.
It looks like Grande and Davidson are settling into their new apartment — and their new engagement — quite nicely, even if their space isn't totally furnished just yet. And it looks like their PDA-filled Instagram posts aren't going away anytime soon, either.