Ariana Grande's BBMAs Dress Looks Almost Identical To Something She's Worn Before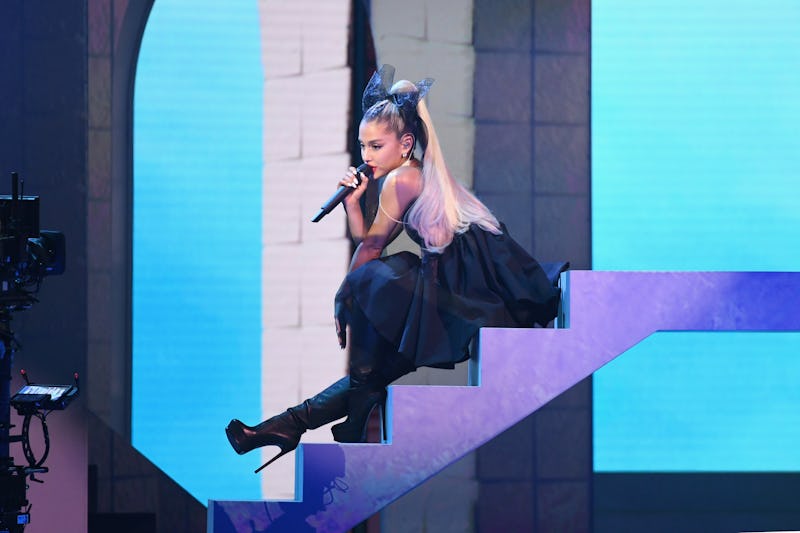 Ethan Miller/Getty Images Entertainment/Getty Images
When it comes to celebrities with fans who love seeing them on the red carpet, Ariana Grande's supporters may be some of the most excited. Her Arianators on Twitter love seeing Grande and her style, Ariana Grande's 2018 Billboard Music Awards dress is no exception. The "No Tears Left To Cry" singer may not have walked the red carpet, but she did look as flawless as ever in her ever so signature pony tail and winged liner, as she opened the entire show with her latest single.
To open the 2018 Billboard Music Awards, Grande wore a look that may look familiar to her fans. As of late, Grande has a real affinity for rocking skirts as dresses, and that didn't change tonight. During her performance, she rocked a solid black baby doll dress that on most people would definitely just be a skirt with a high waist band. Being Ariana Grande, however, she totally rocked it.
Of course, it's not an Ariana Grande look if she's not sporting her classic high pony. Fans won't be disappointed because, of course, she was crushing the now iconic look. Paired with it? Her equally as signature black winged eyeliner. Grande is nothing if not consistent.
Those boots? Also part of Grande's look that she's been sporting since her single came out a few weeks ago.
Let's all just give her a round of applause, though, for her ability to avoid wardrobe malfunctions while wearing a skirt-dress.
Why is Grande performing at the show (other than her smash hit new single and the fact that's she Ariana Grande)? She's nominated for Top Social Artist at the show this year. What does that mean, though? The category is for the artist who are the most active on social media platforms throughout the year, and Grande is clearly one of those artist alongside stiff competition like Justin Bieber, BTS, Ariana, Demi Lovato, and Shawn Mendes.
While it's yet to be seen if Grande will win the award for her social media prowess, she's definitely won the hearts of her fans with her attire. It's not, however, the first time in recent months when she's made them very happy with her looks (though, they're pretty happy with everything she does).
Grande attended her first ever Met Gala this year, and she didn't disappoint in her gown choice, and unlike some attendees, she stayed total on theme with a religiously inspired dress. For the event, Grande wore a stunning ball gown with stunningly draped fabric that featured images of "The Last Judgement" from the Sistine Chapel. Designed by Vera Wang, it was definitely a heavenly sight to behold.
Of course, she was rocking her signature ponytail and winged eyeliner. Because this is Ariana Grande, after all.
The Vera Wang gown came after another dress that also made headlines. During her appearance on The Tonight Show with Jimmy Fallon, Grande wore a micro mini, bubble gum pink baby doll dress that had some fans wondering how in the world she managed to so gracefully perform and interact with Fallon without a major wardrobe malfunction. Other than the texture, it's incredibly similar to her look at the BBMAs tonight.
Pairing the dress with a pair of thigh high camel boots, Grande somehow managed to mix an ultra feminine dress with some seriously sexy footwear and have it not look weird at all. Maybe she actually does have magical fashion powers that mere mortals couldn't fathom.
Grande's 2018 Billboard Music Awards look may just be further proof of that. While there are some staples that she'll always be known for (yes, like her high pony), it looks like she may be adding more to her arsenal. Baby doll dresses and boots, here Ariana Grande comes.