Ariana Grande's 'Billboard' Woman Of The Year Speech Is A Must-Watch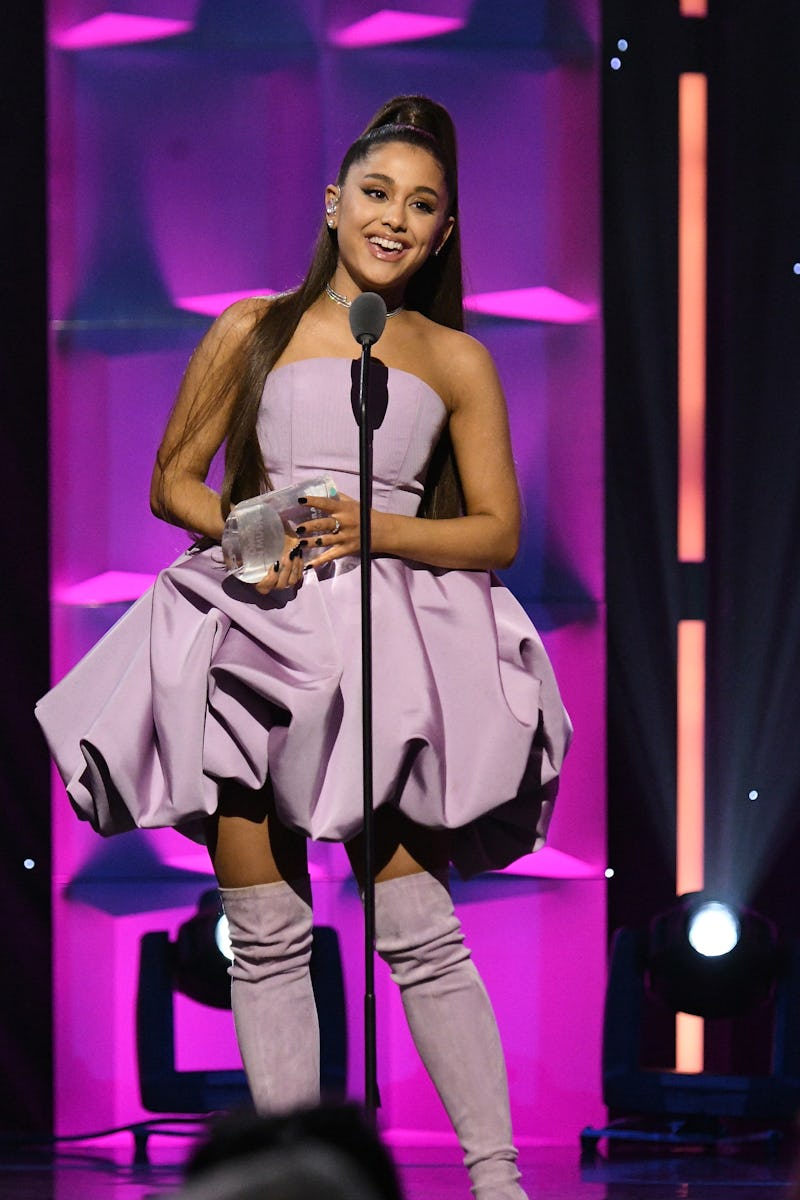 Mike Coppola/Getty Images Entertainment/Getty Images
Ariana Grande has had one of the most newsworthy years, both professionally and personally. During Grande's Billboard Woman of the Year acceptance speech on Thursday, she addressed what it's like to seemingly have it all while simultaneously struggling to figure life out. Despite not wanting to cry, Grande became emotional and while not everyone has Grande's level of fame or talent, her speech showed that doesn't really matter when it comes to people navigating their own personal journeys.
Even though Grande admitted to feeling "completely undeserving" during her acceptance speech on Dec. 6, it was easy to understand why Billboard named Grande its Woman of the Year. She released her album Sweetener over the summer, which was her first album after the Manchester Arena bombing. Then she dropped the single "Thank U, Next" from her forthcoming album after her breakup with Pete Davidson. Along with a YouTube record-breaking music video, "Thank U, Next" is Grande's first number one single. But in her candid speech, Grande brought up how this year hasn't been easy for her. She said:
"I want to say that I find it interesting that this has one of the like best years of my career and like the worst of my life. I'm not saying that for sympathy. I'm just saying that because I feel like a lot of people would look at someone in my position right now, I guess, like Woman of the Year, an artist that could be at her peak, reaching her you know, whatever, and think, 'She's really got her sh*t together, you know? She's really on it. She's got it all'. I do, but as far as like my personal life goes, I really have no idea what the f*ck I'm doing."
Besides Grande's very public romance with Saturday Night Live star Davidson, her previous boyfriend Mac Miller died from an accidental drug overdose. The media has been following Grande's every move during these emotional life events. And so she wanted people to know that they aren't alone if they also don't have life figured out, adding while holding back tears, "I just want to say if you're someone out there who has no idea what this next chapter's gonna bring, you're not alone in that."
To the amusement of the audience, Grande acknowledged how she didn't want to shed tears on stage, saying, "Ew, I'm not gonna cry, that's really stupid. Sorry, I have to stop that immediately, that's annoying." But it's understandable she became emotional during her speech. Especially when she dropped this hard-earned wisdom to a round of applause from the audience: "I look forward to hopefully learning to give some of the love and forgiveness that I have given away so frivolously and easily to men in the past to myself hopefully this year."
As Grande mentioned, she is at the top of her game, but she has remained humble. Throughout the night, Grande kept putting the focus on the other women in the room, including Patti LaBelle who presented the award to her. She opened her speech by thanking for Billboard for the award and for having a Women of the Year event. (Billboard first named a Woman of the Year in 2007 with Reba McEntire.) "I want to thank you guys for also putting on this event every year because it acknowledges how male-dominated this industry is and it gives women a moment to be together and fight for more equality," Grande said. "Hopefully, we can even out the playing field moving forward."
She also discussed the importance of listening to her own voice in an interview with Billboard at the event. "The point of it is to take back my narrative and just express how I'm feeling," she said of releasing "Thank U, Next" when she did.
Grande has truly had one hell of a year with so many ups and downs. But it seems she's looking to the future with optimism. "I'm really looking forward to embracing whatever happens and whatever comes my way," she said in her speech. And clearly, she wants others who may feel unsure about their current path in life to feel the same way.