Ariana Grande's Brother Frankie Posted A Heartfelt Mac Miller Tribute That's Worth Reading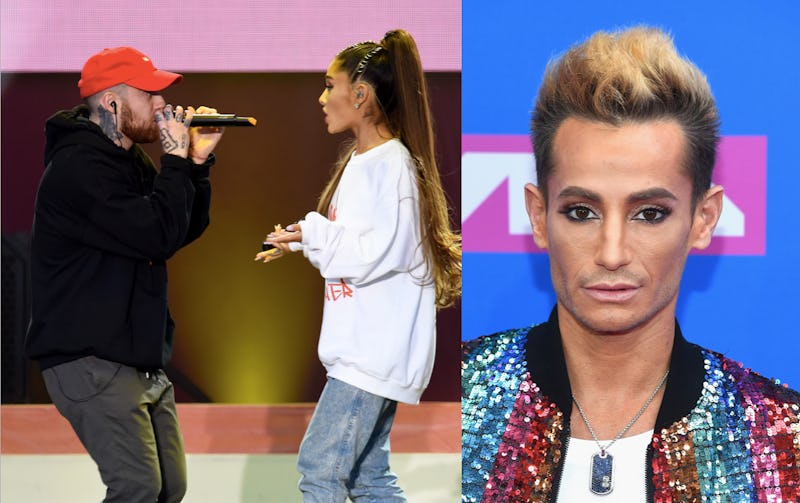 Getty Images/Getty Images Entertainment/Getty Images; Nicholas Hunt/Getty Images Entertainment/Getty Images
Less than a week after the rapper passed away, Ariana Grande's brother Frankie posted a tribute to Mac Miller. In a lengthy Instagram post on Wednesday, Frankie Grande recounted his time knowing Miller, and how the 26-year-old artist helped him through his own struggles with substance abuse. TMZ initially reported that Miller's death was caused by an apparent overdose, although this information has not been confirmed. (Bustle previously reached out to reps for Miller, but did not receive an immediate response.)
Along with a black-and-white photo of Miller, Frankie wrote:
"I am beyond heartbroken over Malcolm's death. He was a good friend and was wonderful to my sister. He was the reason I went to the rehabilitation center where I was detoxed safely from all of the drugs alcohol and medications I was taking, when I couldn't imagine living without them."
The Big Brother alum continued,
"It was the place where I found the community of support that showed me that living life without drugs was a possibility and I would never have discovered that if it weren't for Malcolm. I remember when I would get 30, 60, 90 days clean and Malcom would be there with a gift and a card and words of encouragement... telling me that he knew how hard getting sober is and how impressed he was that I was succeeding."
Frankie's message pointed out, "Addiction is a TERRIBLE disease… many people are suffering from addiction like I am and many many of them are losing. Those of us who are struggling with addiction must stay strong. We must continue to work HARD on ourselves every single day and help each other." He also reminded people who may be struggling that, "This is a difficult road but YOU DO NOT HAVE TO TRUDGE IT ALONE." He concluded the post with phone numbers for Alcoholics Anonymous, Narcotics Anonymous, and the Suicide Prevention Lifeline.
As Frankie's post mentions, his sister Ariana had a close connection with Miller. The pair collaborated on music and previously dated before publicly announcing their split in May of this year. At that time, she wrote in an Instagram Story,
"This is one of my best friends in the whole world and favorite people on the planet. I respect and adore him endlessly and am grateful to have him in my life in any form, at all times regardless of how our relationship changes or what the universe holds for each of us!"
While Ariana hasn't given any statements about Miller's passing (which is more than understandable, given what a major loss this is), she did post a black-and-white photo on her Instagram on Saturday night. Even though there's no caption, the sentiment speaks for itself.
On Friday afternoon, Miller's family released the following statement to E! News:
"Malcolm McCormick, known and adored by fans as Mac Miller, has tragically passed away at the age of 26. He was a bright light in this world for his family, friends and fans. Thank you for your prayers. Please respect our privacy. There are no further details as to the cause of his death at this time."
Miller's mom Karen Meyers also shared an Instagram photo with her son, featuring the two smiling at a baseball game.
In addition to the Miller and Grande families, so many people online have honored the rapper's memory — whether fans or fellow celebrities. And in the time since his passing, it's become more and more clear just how much Mac Miller is missed.
If you or someone you know is seeking help for substance use, call the SAMHSA National Helpline at 1-800-662-HELP(4357).