Mac Miller's Mom Shared A Heartbreaking, Yet Beautiful Photo With The Rapper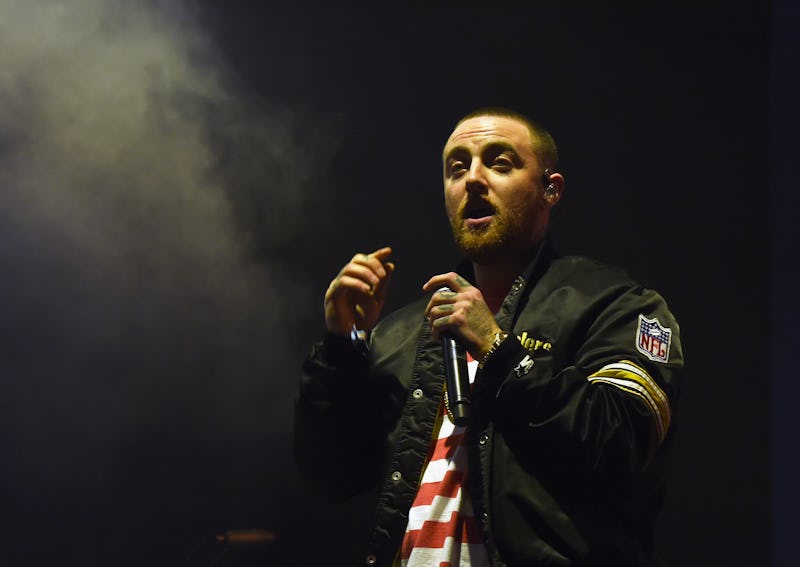 Kevin Winter/Getty Images Entertainment/Getty Images
The world of music is still reeling following the news of Mac Miller's untimely death on Friday, Sept. 7. TMZ was the first to report on the 26-year-old rapper's passing. And over the weekend, Mac Miller's mother posted a tribute to her son that is as sweet as it is heartbreaking. As Mashable pointed out, Miller's mother, Karen Meyers, posted a smiling snapshot of her and her son at a Pirates game. She captioned it with a broken heart emoji that clearly speaks for itself.
Soon after news broke of Miller's death, well wishes and tributes flooded social media. The comments section of Meyers' post with her son is no different — there are ample hearts, prayer hand emojis, and messages sending the family love.
On Friday, Miller's family released a statement to E! News, which reads as follows:
Malcolm McCormick, known and adored by fans as Mac Miller, has tragically passed away at the age of 26. He was a bright light in this world for his family, friends and fans. Thank you for your prayers. Please respect our privacy. There are no further details as to the cause of his death at this time.
While TMZ reported that Miller's death was the result of an apparent overdose, this has yet to be confirmed, and as the family's statement makes clear, there aren't any other details yet. As such, avoiding jumping to conclusions couldn't be more important. (Following the report from TMZ, Bustle reached out to reps for Miller for comment, but did not receive an immediate response. Bustle also contacted the Los Angeles Police Department.)
Although it's undeniably heartbreaking, Meyers' photo with Miller captures a sweet mother-son moment at a baseball game, and the fact that it was specifically a Pittsburgh Pirates game further illustrates how proud the Pennsylvania rapper was of where he came from.
On Meyers' Instagram, there's also a photo of the pair hugging at a Pittsburgh Steelers game from last November. She simply captioned the photo with hearts in the Steelers' colors. Just like with the newer photo, messages of sympathy and support are all over the comments section, with fans lovingly referring to Meyers as "Mama Mac."
Of course, Miller's mother isn't the only one to honor the artist online. Everyone from Chance the Rapper to Wiz Khalifa to Shawn Mendes has tweeted their support. Chance wrote,
I dont [sic] know what to say Mac Miller took me on my second tour ever. But beyond helping me launch my career he was one of the sweetest guys I ever knew. Great man. I loved him for real. Im [sic] completely broken. God bless him.
Donald Glover, aka Childish Gambino, also took a moment to honor Miller at his concert in Chicago over the weekend. According to Rolling Stone, Gambino told the crowd,
He was so nice. He was the sweetest guy, he was so nice. And we were both internet music kids, and a lot of critics were like, 'This corny-*ss white dude, this corny-*ss black dude,' and we used to talk. And this kid, he just loved music.
Another equally devastating, yet touching tribute came from Ariana Grande. The singer — who collaborated with Miller and had dated him for nearly two years before announcing their split in May — unfairly received a lot of online hate after his death. Grande has yet to comment on that (although she shouldn't have to), but she did share a caption-less black-and-white photo of Miller on Instagram, which says all it needs to say.
While fans are still wrapping their heads around the news, it's at least comforting to see those who knew Miller best honoring him in such moving ways. And as the outpouring of support makes clear, he is already so missed.
If you or someone you know is seeking help for substance use, call the SAMHSA National Helpline at 1-800-662-HELP(4357).