Ariana Grande Says Her New Music May Be Released *Way* Sooner Than Expected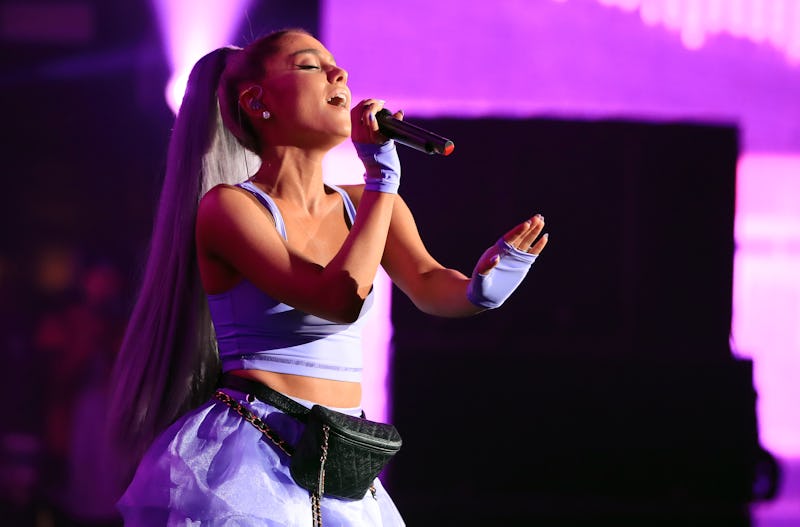 Christopher Polk/Getty Images Entertainment/Getty Images
The oversized sweatshirt-wearing, baby pig-rearing, whistle note-hitting powerhouse who gave us Sweetener less than two months ago returned to the recording studio last week, but the Sweetener era's days are not numbered. Ariana Grande's new music may be here sooner rather than later, but this does not mean Sweetener is going in the vault. And we know this because she tweeted this on Monday evening. The pop star has got new music up the sleeve of her crewneck pullover now, and so, create new music is what she's going to do. Grande is doing what works for Grande, and just because the idea of "AG5" is already out in ether does not mean AG4 has already become dust in a prairie dog field.
This declaration came about after Twitter user @weviibin said though they are confident AG5 (aka Grande's hypothetical fifth album) will be great, they are not ready the move on from the Sweetener era. Ari walked out on the timeline and squashed this concern with the heel of a patent leather over-the-knee boot. She tweeted,
"it ain't ova ! i don't really like 'era's'. i jus wanna make music and drop it whenever and perform it. i don't want to conform to the like ... 'routine' or like 'formula' anymore. i love music i ain't waiting another 2 years to drop it. i want to share it w u when it's freshhh."
Well, looks like we should say goodbye to the Look Forward To An Ariana Grande Album Every Two Years era. We are now in the Ariana Grande Is Dropping Music When It's Fresh era.
She also said this:
And this:
And this:
The hype surrounding AG5 went into full swing last week when Grande posted a lot of content that suggested she's back in the studio and may be working on a followup to Sweetener. In the span of just a few days, she referenced "ag5" in a since-deleted tweet, took a picture of what appears to a be a track list, shared photos and videos she snapped in a studio, and mentioned spending time with a bunch of songwriters.
Oh, also? On Thursday, she shared a 45-second-long clip of what could very well be a new tune.
And by golly, we may eventually hear the full-length version of the track, which fans have dubbed "Needy." When Twitter user @selfloveari asked about the song clip last night, Grande said, "i'm so excited for u to hear all of it."
Again, even though she's got her sights set on new music, she has in no way moved on from the masterpiece that is Sweetener. As she shared on Twitter Monday evening, she does plan to release a music video for "Breathin'," but she had to hit the pause button on that process for some incredibly understandable reasons. Grande tweeted,
"i ...... need to shoot one. don't kill me i took some time off bc i was real sad and we didn't expect the record to pop off like this. i love u. don't kill me pls. i'm on it. promise."
May Ari take all the time she needs, continue to find peace and happiness in the recording studio, and keep on taking videos with that baby pig, because oh man are those videos cute.