Ariana Grande Just Dropped Some Major Photo Hints About Working On New Music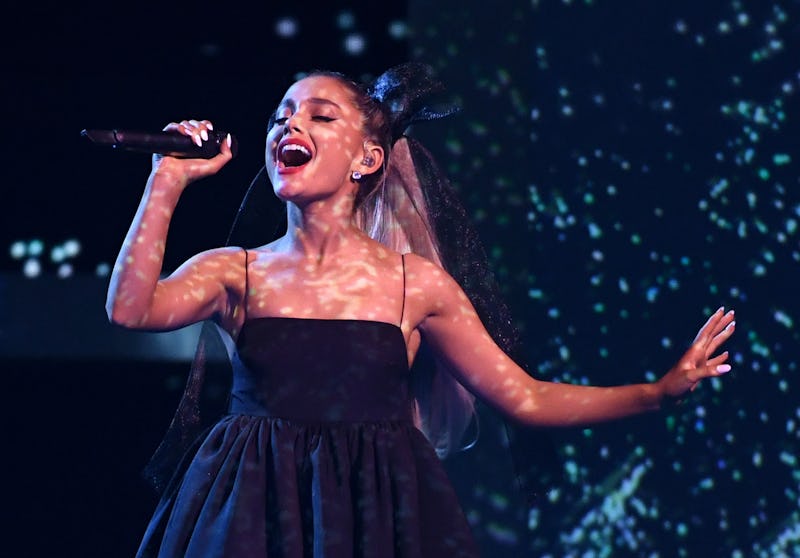 Ethan Miller/Getty Images Entertainment/Getty Images
Less than two months after she released her transcendent fourth album, Sweetener, Ariana Grande is back in the recording studio. Might this mean Ariana Grande is making new music already? The "God Is A Woman" singer dropped quite a few intriguing posts on social media this week that suggest she might be working on some new tunes.
Let us consider the hints. On Monday, Grande posted a photo of a studio on Instagram Stories and tweeted, "music is the best medicine." And on Tuesday, she added even more recording studio content to her Stories. Oh, and — and this is a huge and — on Monday, she apparently mentioned "ag5" in a now-deleted tweet.
According to fans' screengrabs, Grande tweeted, "can't wait for you guys to start being weird ag5 detectives … my lil private investigators." As my fellow Arianators know, "AG[album number]" is the go-to codename format for Grande's forthcoming album before the name is revealed. So, before Grande announced her most recent album would be called Sweetener, fans used the codename "AG4." And before we knew Dangerous Woman's name, we called her third album "AG3."
So when Grande tweets out "ag5," it is a very big deal. She could be working on her fifth album, y'all. That's awesome. And more importantly, after the year and a half she's had, it looks like she's finding solace in the recording studio. And that is a beautiful thing.
Grande may be back making even more magic.
On one of the IG Stories, she wrote, "Two session days are the happiest days :D"
In what may be the most intriguing post of all, Grande shared a picture of a list written out on a whiteboard. We don't get to see what's on the list, but we do get to see how many items there are: nine. A track list, perhaps?
"This is what happens when we hang out for three days yikes," she wrote. She also tagged Kaydence, Victoria Monet, Tayla Parx, Tommy Brown, and Social House's Michael "Mikey" Foster and Charles "Scootie" Anderson. Hm, what could Grande possibly have been doing in a recording studio with that group of musicians and songwriters for three days? Hm, hm, hm.
Grande has endured so, so much over the last few years, and music is there for her in her time of need. In a statement provided to People on Sept. 17, Grande's team said,
"Given the events of the past couple of years, Ariana is going to take some much needed time to heal and mend. She will be staying close to home and using this period to spend time with her loved ones and work on new music without deadline. She thanks her fans for their understanding."
Grande may really be working on "AG5" already, or maybe she just made some tunes for fun/catharsis/will never actually release whatever it is she apparently created this week. Whatever the case may be, all is well. All we fans can and should hope for is that Grande does what is best for her, and hopefully, her time in the studio helped her heal.